Sway vs PowerPoint: Which is Best For Your Next Presentation?
In: Blog
Date: Apr 01, 2019
By: Rachael Worrall
Sway is a new addition to Office 365, allowing you to easily create stylish presentations. In this blog, Senior Trainer Rachael explains why she likes Sway and why it is (sometimes) better than PowerPoint.
Hi, we are Happy
We are leading a movement to create happy, empowered and productive workplaces.
How can we help you and your people to find joy in at least 80% of your work?
More about Happy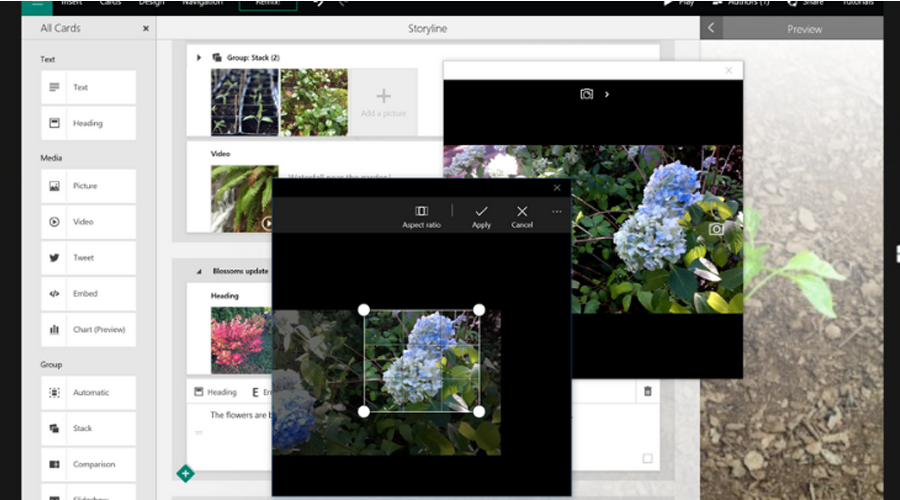 I used to spend hours trying to turn my PowerPoint presentations into stand-alone reports, communications or handouts. But now I have discovered Sway and it has changed everything!
I love PowerPoint, I regularly use it to create slide-by-slide presentations for meetings in front of colleagues and customers. I also use it to create stand-alone pieces of communication; it could be reports or learning material for me to send out so that people can work through it at their leisure.
After many years of use I feel like I know PowerPoint inside out and I love the control I have over the design. I carefully set up my Master Slides and Themes and I set up animations and timings to make it really slick. But the fact is, PowerPoint was created with that first use in mind: a presentation to be delivered in front of a training room. When I try to make PowerPoint do those other things, I have to put quite a lot of extra effort in.
I was intrigued when Sway appeared as part of my Office 365 toolset. It is completely different to PowerPoint. It is online, incredibly easy to share and most of all, it is quick. It is true that you have less control over the fine details but when I train it to other people we all tend to find that quite exhilarating. At the click of a button you can transform your Sway so that it looks completely different.
You can take a simply formatted Word document as the basis for your Sway and make it one that uses Styles, particularly Heading styles as that will give your Sway structure.
It might also have some images or even charts in it. You can import it into Sway and immediately you will be presented with a formatted presentation.
Sway is designed to be a continuous scrolling document, you choose horizontal or vertical. I tend to try both and see which suits the particular content I am working with.
Another thing you can do is switch to edit mode and search for images (Sway will even use the text in your original document to make suggestions for searches).
Sway creates things that are very visual and will even quickly find and lay out a selection of images for you in a way that people can interact with. Like this Stack which users can click through:
You can then easily edit your 'cards' (the equivalent of slides in PowerPoint – although they don't appear separately in the finished Sway).
And once you are finished, you can share your Sway as a link:
Personally, I still stick with PowerPoint for my slide-by-slide presentations but Sway has opened up a new way of presenting information and I am using it more and more for my other communications. It feels really fresh and I am having a lot of fun creating with it.
Why not sign up to our newsletter?
Sign up to our monthly newsletter, full of tips, tricks and news to help you to be happier and more productive at work.
Sign up here
Learn More PowerPoint Tips in Our Online Training Courses
We currently offer Beginner PowerPoint Core Level 1 and Intermediate PowerPoint Core Level 2 as live online training courses. They are a full day of learning from 9:30am to 3:30pm consisting of three 90-minute live online sessions with independent work in between.
Both PowerPoint Core Level 1 and Core Level 2 are available for private group sessions. Learn in the classroom at your location or at Happy's HQ in London, or via Live Online Learning with Zoom.
Why learn online with Happy?
Interactive and engaging - just like our classroom sessions
Bitesize or full-day sessions - fit around your schedule
Learn from home - all you need is a quiet place to call from and an internet connection
IT Helpline - 2 years of free support after your course
No quibble money-back guarantee
Rachael Worrall
Rachael is the IT Product Development Manager, as well as being our Lead IT Trainer. She is responsible for making sure all our courses are of the highest quality. She has worked at Happy for over 15 years. Rachael was awarded Bronze in the Learning and Performance Institute's IT Trainer of the Year Award in 2007.
More by Rachael