Software Rollouts
When deploying new software, your end-user training strategy is crucial. It is important that your people can use the new software with confidence and use it to its full potential. But so often this aspect gets forgotten or rushed.
Imagine your people are feeling confident with their new software. Imagine your people are more productive than ever, as they can use its new features. How would that impact your bottom line?
We can develop your scalable end-user training strategy – stress-free.
We equip your people with the tools to work smarter
Whether in Oracle, Office 365, SharePoint or your own bespoke software, we look after the whole process.
We spend time with your people, understanding their work and their challenges. We explore what success would look like for your organisation and work with you to achieve that. For us, the software is the tool, not the aim.
Once we understand their needs, we can tailor the end-user training to make sure they work smarter. We want to help your staff to be more effective in their roles than before.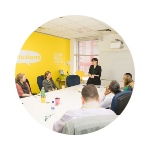 I really appreciated the professionalism, pace and slickness that Happy's involvement brought to the process and that the value for money was eye-opening. Having Happy's support saved money as well as bringing a focus on the learning experience and how to deliver the material that was beneficial both to our organisation and the individual learners.

The Programme Director, Staged Roll out for Large Company
We make the process stress-free – here's how
Here's how it works.
Client awareness. We spend time with your people to understand their work and their needs.
Agree objectives. We discuss what success looks like with your stakeholders. We then look at how to train the software to achieve this.
Learn the software. Only once these two steps are complete, we make sure we understand the software. For us, the software is the tool, not the aim.
Develop and test the course and course materials. We involve you throughout the development process. We run pilot sessions to refine the course, and to make sure that you are happy with the final product.
Training the trainers. We then train our trainers in the new course - as well as your staff trainers. Not only do we cover how to train the software, but how to deliver an effective course too!
Software rollout. With all the trainers skilled up, the course is rolled out across your organisation. We use classroom training, Live Online Interactive Learning and bespoke eLearning - or all three!
Post-course support. We ensure the project's success with our post-course support package. We offer floor-walking, IT surgeries, trouble-shooting workshops and our IT Helpline service.
Our happy Guarantee
We want you to enjoy the process and enjoy working with us. But if you don't, we offer a full Happy Guarantee.
If you don't feel that our services have been useful or if you are unhappy in any way, get in touch with our team. We will be happy to offer you further support free of charge to make your project a success. Or if you'd prefer, we can provide a full refund – no questions asked.