About Us
At our core, we care about you and where you work.
We want to create organisations where people feel trusted and empowered — and where they have the skills they need to succeed.
Our beginnings
Originally set up as Happy Computers by founder Henry Stewart, Happy was established to make learning about IT an enjoyable experience and to discover how to create a truly great place to work. Happy Computers developed quite a reputation — rated one of the UK's top five workplaces for five successive years.
Following this success, in 2003 Happy developed a range of management and leadership programmes so it could bring Happy's management style and philosophy to other organisations.
It is our goal at Happy that all staff find joy in at least 80% of their work (and yes, we do measure it!).
Why not sign up to our newsletter?
Sign up to our monthly newsletter, full of tips, tricks and news to help you to be happier and more productive at work.
Sign up here
Our core values
Be inclusive of all and actively put inclusivity at the heart of every decision
It is everyone's responsibility at Happy to ensure inclusiveness and belonging.
Help people feel good about themselves
People who feel happy and confident are more likely to try new things. They are more likely to form effective teams. They are better equipped to face challenges. The key to being a great manager is to help people feel good about themselves.
Believe the best and trust others
When we get annoyed with people for being 'stupid' or 'slow', we are in fact getting annoyed with our own inability to pass on information easily. Recognising our own shortcomings, we should trust that people always do the best they can. 'Mental blocks' offer us the opportunity to find new ways to overcome them.
Create customer delight
We aim not just to give 'customer satisfaction', but to delight customers and exceed expectations with every interaction.
Celebrate mistakes
We're conditioned from an early age to scold or punish mistakes. However, mistakes are the greatest way of learning! Training and managing should encourage people to try something new. The best way to be bold is to minimise fear of failure and to celebrate mistakes.
Make the world a better place
We donate 4% of our profit to charity (the charities receiving this donation are chosen by staff).
We offer free places for NHS staff on certain courses — since 2020, over 1,200 staff have attended our sessions, representing over £200k of course fees.
We also offer discounted rates for charities and the public sector for all of our courses and services.
Create change, be innovative and creative
Innovation has been at the heart of Happy since it was founded. Happy was conceived as a ground-breaking alternative to the often dour, technocratic IT skills training market of the late 1980s — and we have always understood that our capacity to challenge the norm, develop new ideas and make change happen is central to what makes us Happy.
All of our values are designed to encourage and support the process of revaluation, creative solution making and implementing new ideas across the organisation.
Would you like to work in a workplace like this?
Visit our Careers page to view our current vacancies. Sign up to our mailing list to be the first to hear when we are looking for a new member of the team.
View our current vacancies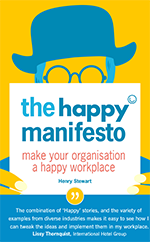 Learn more about our philosophy and how you can create a happy workplace in the Happy Manifesto. Written by Henry Stewart, it outlines our 10 principles to create a happy and empowered workplace.
Awards and Recognition
Our learner-focused approach and our culture have been recognised with multiple awards and recognition over the years — just a few are shown below.