Are You a Good Gardener?
In: Blog
Date: Oct 24, 2011
By: Henry Stewart
Last Friday I gave a talk at London Business School to help launch their report on Employee Centred Management with HCL (a hugely inspirational Indian IT company).
More on that to come. But I was really taken by a blog by Zoe Bunter, in response to what I said about the focus of management being about making people happy. Here's an extract:
"So, surely leadership is about creating the right environment to enable people to use, express and give what is already inside of them. I recently gave a presentation about leadership where I planted a sunflower seed. A sunflower seed doesn't need to be told how to become a sunflower. It doesn't need training to develop from a tiny unpromising-looking small hard thing into a beautiful, astonishingly large, bright yellow flower. It has all that potential and ability to realise this, inside of itself. What it does need though is the right environment."
"It needs somewhere to put roots down – a healthy culture that will give it stability and sustenance as it grows. It needs nutrients and water to feed it and enable it to grow. It needs the light and warmth of the sun. In a similar way, we need a place to put roots down – a sense of belonging and the support of colleagues is very important to many of us. We need food and water – guidance, direction, the passion of others, their skills, challenges, new ideas and new approaches (to name but a few). And we need warmth and light – encouragement, care, support through the tough times, praise, appreciation, love – expressed in many, many different ways."
You can read Zoe's full blog, Are you a good gardener?, on her website.
Hi, we are Happy
We are leading a movement to create happy, empowered and productive workplaces.
How can we help you and your team to find joy in at least 80% of your work?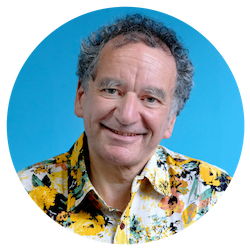 Henry Stewart, Founder and Chief Happiness Officer
Henry is founder and Chief Happiness Officer of Happy Ltd, originally set up as Happy Computers in 1987. Inspired by Ricardo Semler's book Maverick, he built a company with a reputation for some of the best customer service in the country and one of the UK's best places to work, winning multiple awards for its culture and philosophy.
His first book, Relax, was published in 2009. His second book, the Happy Manifesto, was published in 2013 and was short-listed for Business Book of the Year.
Outside of work he is a father of three, was Chair of Governors at his local primary and comprehensive in Hackney and a very keen cyclist.
You can find Henry on LinkedIn and follow @happyhenry on Twitter.
More by Henry