30 Steps to Joy at Work: Get More Done by Being Less Busy
In: Blog
Date: Jul 08, 2019
By: Henry Stewart
Could we get more done if we were less hectic and overwhelmed?
Bruce Daisley, former EMEA Vice President of Twitter, will be speaking about the Joy of Work at the 2021 Happy Workplaces Conference on 22nd July. His new book, The Joy of Work, promises "30 ways to fix your work culture and fall in love with your job again".
Hi, we are Happy
We are leading a movement to create happy, empowered and productive workplaces.
How can we help you and your people to find joy in at least 80% of your work?
More about Happy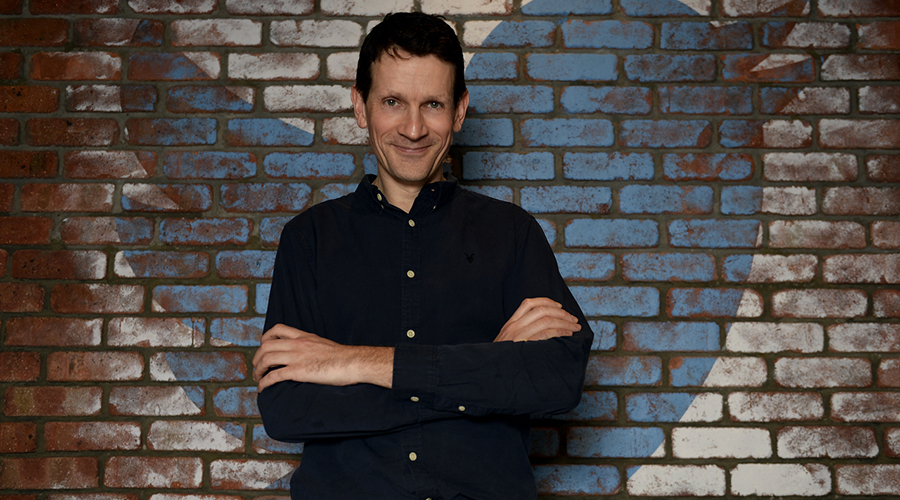 Having email on our phones and tablets has, he reckons, increased our working day from 7.5 hours to 9.5 hours. But rather than improving our productivity, it has created more stress.
And stress leads to being less productive.
He gives the example of Charles Dickens, who wrote 15 books, 200 short stories and edited a weekly publication - and didn't work in the afternoons. Instead he went for walks, of ten to twelve miles. "Nowadays we'd put him on performance review, to get his hours up", commented Bruce.
Above all, sitting at your desk rarely leads to creativity or innovation. Bruce describes how Aaron Sorkin (writer of the West Wing and The Social Network) discovered he got his best ideas in the shower. So he had a shower installed in the office and now takes 8 to 10 showers a day!
Daisley's book offers lots of good ideas to help us feel less overwhelmed:
Halve your meeting time:
Do them in less time or have less of them. Research indicates that meetings are responsible for just 3% of productivity.
Get people talking to each other:
"Ideas flow" results from talking to people, not from emails. That research finds one-to-ones are responsible for 38% of productivity: Chat more, meet less.
Suggest a tea break:
Initially try breaks two or three times a week and see what happens
Have a Monk Mode Morning:
At least two mornings a week, have no meetings and no emails until 11am. Instead get some "deep work" done. (I do this, normally sitting in a café, and it works.)
Go for a walking meeting:
Even if its only 7.5 minutes, it gets you out and stimulates your creativity.
Turn off notifications on your phone:
Avoid the interruptions and get more done, or give yourself a break. One group of researchers could not get participants to turn off notifications for a week, so they settled on just one day. Two years later, half the group still have notifications off.
Go to lunch:
Go and sit in a park, go for a walk, book an exercise class.
Laugh!
Find time for laughter in your meetings and offices.
Be a good boss:
First, 'do no harm'. Empathise, understand, spend a week in their shoes.
For the other 21 ideas, all backed up by research, you will have to get the book, The Joy of Work. A recommended read.
Bruce started on this journey when staff turnover at Twitter UK reached 40%. He knew something needed to change. And the new approach certainly seems to work: Staff turnover is now down to 3%.
Hear more from Bruce at the 2021 Happy Workplaces Conference
Can your company become more productive and created more joy for its people? Join us at the 2021 Happy Workplaces Conference on 22nd July, held online via Zoom.
Other speakers at the conference include leadership gurus Tom Peters and David Marquet, as well as Nand Kishore Chaudhary of Jaipur Rugs, Helen Sanderson MBE of Wellbeing Teams and Sarah Pugh, CEO of Whizz-Kidz.
Find out more and book your place
Keep informed about happy workplaces
Sign up to Henry's monthly Happy Manifesto newsletter, full of tips and inspiration to help you to create a happy, engaged workplace.
Sign up here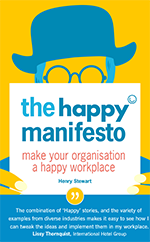 Learn the 10 core principles to create a happy and productive workplace in Henry Stewart's book, The Happy Manifesto.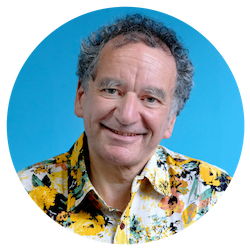 Henry Stewart, Founder and Chief Happiness Officer
Henry is founder and Chief Happiness Officer of Happy Ltd, originally set up as Happy Computers in 1987. Inspired by Ricardo Semler's book Maverick, he has built a company which has won multiple awards for some of the best customer service in the country and being one of the UK's best places to work.
Henry was listed in the Guru Radar of the Thinkers 50 list of the most influential management thinkers in the world. "He is one of the thinkers who we believe will shape the future of business," explained list compiler Stuart Crainer.
His first book, Relax, was published in 2009. His second book, the Happy Manifesto, was published in 2013 and was short-listed for Business Book of the Year.
You can find Henry on LinkedIn and follow @happyhenry on Twitter.
More by Henry
Next Conference: 2024 Happy Workplaces Conference
Our Happy Workplaces Conference is our biggest event of the year, and we'd love for you to join us next year. Save the date for Wednesday 15th May 2024!
This will be a hybrid event — we will host up to 50 people in the venue at Happy's HQ in Aldgate, London, and up to 200 people online via Zoom. The speakers will be a mix of online and in person. However you choose to join us for 2024, there will be interaction, discussion, space for reflection and opportunities to network with others.
All tickets are currently half-price until January 2024.