Buurtzorg: No Managers, Just Great Care From a Nurse-Led Service
In: Blog
Date: Dec 10, 2015
By: Henry Stewart
Imagine a company with 9,000 staff and no managers. Imagine annual sales of 280 million euros and no Chief Financial Officer, with only six people working in finance. Imagine it has grown to that size from, 8 years ago, having just four staff — although it is not-for-profit and has no venture capital investment.
The organisation is Buurtzorg which, in those 8 years, has gone from providing 0% of Dutch nursing care to 60%.
Hi, we are Happy
We are leading a movement to create happy, empowered and productive workplaces.
How can we help you and your people to find joy in at least 80% of your work?
More about Happy
Jos de Blok on Organizational Structures
Keep informed about happy workplaces
Sign up to Henry's monthly Happy Manifesto newsletter, full of tips and inspiration to help you to create a happy, engaged workplace.
Sign up here
At Buurtzorg, without those layers of management it is uniquely focused on the front-line staff, the nurses, and on the needs of the patients. In this revealing video founder Jos de Blok lays out an approach that could be a new model for how organisations can work.
"We have not had one management meeting since we started," explains Jos. "In my former job we had a lot of meetings that were only about meetings. Now we just have time to solve the problems."
The Buurtzorg model is based on traditional Dutch care, with nurses based in local communities. In the 80s and 90s this approach was changed to introduce the 'efficiency' of modern management methods. Centralised call centres took the calls from patients and central planners would be allocated the jobs to nurses, and the time to spend with each person. A patient might see dozens of different nurses over a year, and have to explain their problems anew to each one.
Buurtzorg has returned to a nurse-led approach. There are no call centres. Nurses take the calls. Where elsewhere head-office planners decide who visits who, nurses, in self-managing teams of ten to twelve nurses, plan patient visits and decide how long they spend there, depending on their judgement of the need.
With only 45 people in the head office, overhead costs are 8% instead of the 25% that is standard in the industry. A report by Ernst and Young estimated that, if this model were adopted across the Netherlands, it would save over 2 billion euros.
"When nurses feel happy… they will do good things"
With nurses able to fulfil their vocation and respond according to their judgement, staff satisfaction is high and sickness among staff is a little over half that of other care companies. And Buurtzorg is consistently top for patient satisfaction, out of over 300 Dutch nursing providers.
For Jos de Blok, there are three simple principles behind the success:
Do what's needed
Reflect on what you are doing, and try to do it better
Use your common sense (or 'common sensing' as Jos puts it in the video)
"Let's avoid complexity. Even with 9,000 people, it can be a very simple organisation. We must build organisations based on meaningful relationships. When nurses feel happy they will stay healthy and they will do good things."
Next Conference: 2024 Happy Workplaces Conference
Our Happy Workplaces Conference is our biggest event of the year, and we'd love for you to join us next year. Save the date for Wednesday 15th May 2024!
This will be a hybrid event — we will host up to 50 people in the venue at Happy's HQ in Aldgate, London, and up to 200 people online via Zoom. The speakers will be a mix of online and in person. However you choose to join us for 2024, there will be interaction, discussion, space for reflection and opportunities to network with others.
All tickets are currently half-price until January 2024.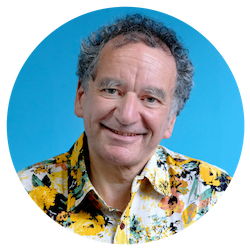 Henry Stewart, Founder and Chief Happiness Officer
Henry is founder and Chief Happiness Officer of Happy Ltd, originally set up as Happy Computers in 1987. Inspired by Ricardo Semler's book Maverick, he has built a company which has won multiple awards for some of the best customer service in the country and being one of the UK's best places to work.
Henry was listed in the Guru Radar of the Thinkers 50 list of the most influential management thinkers in the world. "He is one of the thinkers who we believe will shape the future of business," explained list compiler Stuart Crainer.
His first book, Relax, was published in 2009. His second book, the Happy Manifesto, was published in 2013 and was short-listed for Business Book of the Year.
You can find Henry on LinkedIn and follow @happyhenry on Twitter.
More by Henry