Let People Choose Their Managers
In: Blog
Date: Jan 17, 2012
By: Henry Stewart
Imagine one of your most valued members of staff comes to you and says, 'I love my job. I love the people I work with. I am even happy with what I am being paid. But I can't stand my manager.'
If the conflict can't be resolved the most common outcome is that they will leave.
A study by the Chartered Management Institute UK found that 47% of respondents in the UK left their last role because they were badly managed and that 49% would be prepared to take a pay cut to be able to work with a different manager.
At Happy, we can solve it in about five minutes. We simply ask who they would like instead as their manager.
This may not be common but Happy is not alone in this approach. At WL Gore, the multi-billion company behind Goretex, they also let people choose their managers, arguing that "if you want to be a leader, you'd better find some followers."
The results are interesting. Some people do change their managers because they don't get on with them. Others have changed because they've become too close, while some feel the need for a new guide for the next stage of their development. If you do find everybody deserts a certain manager it probably tells you something important about their strengths and weaknesses and where they need to develop.
Professor Julian Birkinshaw of London Business School asks, "what would management be like if it was decided by those who are managed?" Probably both different and more effective, I would say. And being able to choose who manages you would make simple sense.
We do have a slightly different structure to the norm, with the person who manages and coaches you often separated from the person who you deliver work to. But that isn't so unusual nowadays. Many people work on projects where the Project Leader is not their line manager.
So think about it. Would you hold onto more employees? Would they grow new skills? Would you create a happier workplace if you let people choose their managers?
Hi, we are Happy
We are leading a movement to create happy, empowered and productive workplaces.
How can we help you and your team to find joy in at least 80% of your work?
Why choose Happy?
Award-winning learner-focused approach
Small class sizes to give personal one-to-one support
Two years of free support after your course
Private group options available
No quibble money-back guarantee on all courses
It was really insightful content with practical tips to use at work and everyday life.
Sarah Maynard
28 days ago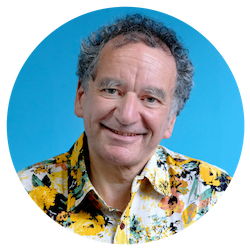 Henry Stewart, Founder and Chief Happiness Officer
Henry is founder and Chief Happiness Officer of Happy Ltd, originally set up as Happy Computers in 1987. Inspired by Ricardo Semler's book Maverick, he built a company with a reputation for some of the best customer service in the country and one of the UK's best places to work, winning multiple awards for its culture and philosophy.
His first book, Relax, was published in 2009. His second book, the Happy Manifesto, was published in 2013 and was short-listed for Business Book of the Year.
Outside of work he is a father of three, was Chair of Governors at his local primary and comprehensive in Hackney and a very keen cyclist.
You can find Henry on LinkedIn and follow @happyhenry on Twitter.
More by Henry