Do You Make it Easy for Your Customers to Give Compliments?
In: Blog
Date: Apr 11, 2013
By: Henry Stewart
Sitting in the reception of Central & Cecil Housing Association, one of our clients, I flicked through the information leaflets. Alongside the pamphlet on how to make a complaint was a more unusual one – a Compliments Guide. Yes, Central & Cecil had taken the trouble to create a guide to how let their people know when they'd done well.
I thought this was a fabulous idea. That night happened to be the Governing Body of the school I chair. And, as we discussed how to clarify the Complaints Policy for parents, I passed on the suggestion. Let's make it easy for parents to tell the school when people have done well too. Our hard-working teachers and staff deserve that positive feedback.
I was reminded of this when I saw a tweet just now from Shawn Achor on people who phone up to give compliments for New York City taxi drivers.
So think about it. How easy is it for your customers to let you know when you've done well. What can you do to ensure your people get the praise they deserve?
Praise at Happy
As a training business, we get daily feedback. And we are careful to phrase the questions so we hear what we've done well as well as what we need to change. Here's some of my favourites from recent weeks (all of which go directly to the trainer):
'Who knew Excel training could actually be enjoyable!?'
Iona Bergius, NSPCC, Excel 2007/10 – Core Level 2
'Wonderful experience, the time flew by as the Powerpoint course by Ed was so interesting… Thank you!'
Maureen Nichols, The National Council for Voluntary Youth Services, IT Apprenticeship: Powerpoint 2007
'The course was great and when Meera realised I was competent in Visio she offered me tips on the rest of the Microsoft office programs! Excellent'
Sheri Skinner, Catch 22, MS Visio 2010 Essentials
'The best catering i have ever had on a course!'
Caroline Knapp, London Deanery, Excel 2003 – Core Level 2
'The best course I've been on in 20 years!'
Lisa Waterman, Haig Homes, Excel 2003 – Core Level 1
'My computer skills have improved dramatically since i started this course. Brilliant training centre.'
Frances Ditroia, Childcare Business Consultancy Services, IT Apprenticeship: Word 2007
'Your approach to learning is the most innovative I have come across, the structure of their course kept my attention all day and the teaching was fantastic.'
Ellie Kent-Plummer, London Deanery, Excel 2003 – Core Level 3
Hi, we are Happy
We are leading a movement to create happy, empowered and productive workplaces.
How can we help you and your team to find joy in at least 80% of your work?
Why choose Happy?
Award-winning learner-focused approach
Small class sizes to give personal one-to-one support
Two years of free support after your course
Private group options available
No quibble money-back guarantee on all courses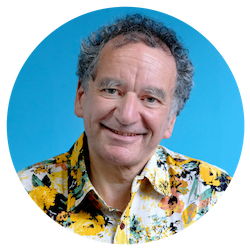 Henry Stewart, Founder and Chief Happiness Officer
Henry is founder and Chief Happiness Officer of Happy Ltd, originally set up as Happy Computers in 1987. Inspired by Ricardo Semler's book Maverick, he built a company with a reputation for some of the best customer service in the country and one of the UK's best places to work, winning multiple awards for its culture and philosophy.
His first book, Relax, was published in 2009. His second book, the Happy Manifesto, was published in 2013 and was short-listed for Business Book of the Year.
Outside of work he is a father of three, was Chair of Governors at his local primary and comprehensive in Hackney and a very keen cyclist.
You can find Henry on LinkedIn and follow @happyhenry on Twitter.
More by Henry