A Radical Idea: Try Listening to Your Customers
In: Blog
Date: Mar 05, 2012
By: Henry Stewart
I was very struck today by an article in a local London paper, the Islington Tribune, on the special customer service award given to a local corner shop.
Hi, we are Happy
We are leading a movement to create happy, empowered and productive workplaces.
How can we help you and your people to find joy in at least 80% of your work?
More about Happy
The article describes how friendly and polite the shopkeepers at Arsenal Food and Wine are. But what really stands out is one very radical step they have taken.
Owner Ozzy has adopted a habit of asking customers which products they would like to see on the shelves, and then ordering them.
Imagine, asking your customers what they want! It is an act that seems so stunningly obvious, you would imagine everybody would do it. But have you ever been asked in a shop which products you would like to see on the shelves? Since reading the article, I have been racking my brain to think of any time when this has happened to me and I can't think of one. There are shops I've gone in several times a week for over a decade and never been asked if there is anything else I'd like them to sell.
But that is the simple strategy that Ozzy has adopted. He asks his customer what they want to see on the shelves and then makes sure he gets it and puts it there.
You too could try this radical idea: Ask your customers what they want and then give it to them.
Why not sign up to our newsletter?
Sign up to our monthly newsletter, full of tips, tricks and news to help you to be happier and more productive at work.
Sign up here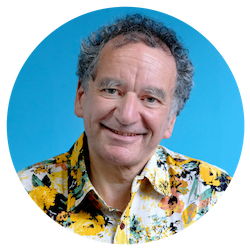 Henry Stewart, Founder and Chief Happiness Officer
Henry is founder and Chief Happiness Officer of Happy Ltd, originally set up as Happy Computers in 1987. Inspired by Ricardo Semler's book Maverick, he has built a company which has won multiple awards for some of the best customer service in the country and being one of the UK's best places to work.
Henry was listed in the Guru Radar of the Thinkers 50 list of the most influential management thinkers in the world. "He is one of the thinkers who we believe will shape the future of business," explained list compiler Stuart Crainer.
His first book, Relax, was published in 2009. His second book, the Happy Manifesto, was published in 2013 and was short-listed for Business Book of the Year.
You can find Henry on LinkedIn and follow @happyhenry on Twitter.
More by Henry