Pre-Approve It!
In: Blog
Date: Dec 30, 2011
By: Henry Stewart
What is the key to creating a happy workplace?
I've just a written a book with what I see as the 10 key principles of a great workplace but for me one thing stands out.
To find it, think about when you have been most strongly motivated and worked at your best. When I ask people what characterised those times it was rarely being well paid or even good communication from management. Nearly always it was a time when there was trust and the freedom to do the job the way you wanted.
What makes people unhappy is being micro-managed and lots of layers of approval which get in the way of getting things done. Great management is, for me, about getting out of the way and here's a simple way to do that.
As a manager you will often task an individual or a group to solve a problem or come up with a new way of doing things and ask them to report back to you. Don't ask for that. Instead approve the idea before they come up with it. Agree the guidelines, the budget, maybe who is affected and needs to be consulted but "pre-approve" the implementation.
Avoid being a barrier to innovation
I received an email from one of our freelance trainers thanking me for three changes which made it easier for her to do her job and help the customer. I was struck by two things. First, I didn't know the changes had happened. They hadn't come across my desk for approval. But second I realised that, if they had come across my desk, I would have rejected two of them. I thought up many of the methods we use and I, like many managers, am a natural barrier to changing them. I realised that to avoid blocking innovation, the best way was to make sure new ideas did not have to be approved by me.
This year we applied Pre-Approval to our website. It's a pretty important part of the business and, in the past, I had always been actively involved. The result was that the Webmaster never fully owned the task and always felt the site could have been great if not for my changes. This time round we agreed the principles in advance but I only got to see the new site the night before it launched. And visitors tripled immediately.
What can you pre-approve today?
This blog was originally a guest post on the Delivering Happiness website.
Hi, we are Happy
We are leading a movement to create happy, empowered and productive workplaces.
How can we help you and your team to find joy in at least 80% of your work?
Why choose Happy?
Award-winning learner-focused approach
Small class sizes to give personal one-to-one support
Two years of free support after your course
Private group options available
No quibble money-back guarantee on all courses
It was really insightful content with practical tips to use at work and everyday life.
Sarah Maynard
28 days ago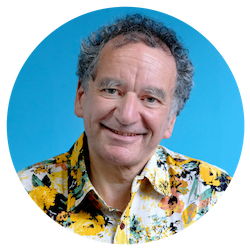 Henry Stewart, Founder and Chief Happiness Officer
Henry is founder and Chief Happiness Officer of Happy Ltd, originally set up as Happy Computers in 1987. Inspired by Ricardo Semler's book Maverick, he built a company with a reputation for some of the best customer service in the country and one of the UK's best places to work, winning multiple awards for its culture and philosophy.
His first book, Relax, was published in 2009. His second book, the Happy Manifesto, was published in 2013 and was short-listed for Business Book of the Year.
Outside of work he is a father of three, was Chair of Governors at his local primary and comprehensive in Hackney and a very keen cyclist.
You can find Henry on LinkedIn and follow @happyhenry on Twitter.
More by Henry