Make work more fun
In: Blog
Date: Feb 11, 2021
By: Henry Stewart
Make Work More Fun. That's the title of the inspirational book from Corporate Rebels, published in 2020. The rebels, Joost Minnaar and Pim De Morree, gave up their jobs five years ago to tour the world visiting the most exciting organisations on the planet. The book tells the story of what they found.
In this blog, Henry Stewart unpacks a number of the book's key arguments, which can help you discover a different way of organising companies, one that is more fulfilling for its people and more productive for the organisation.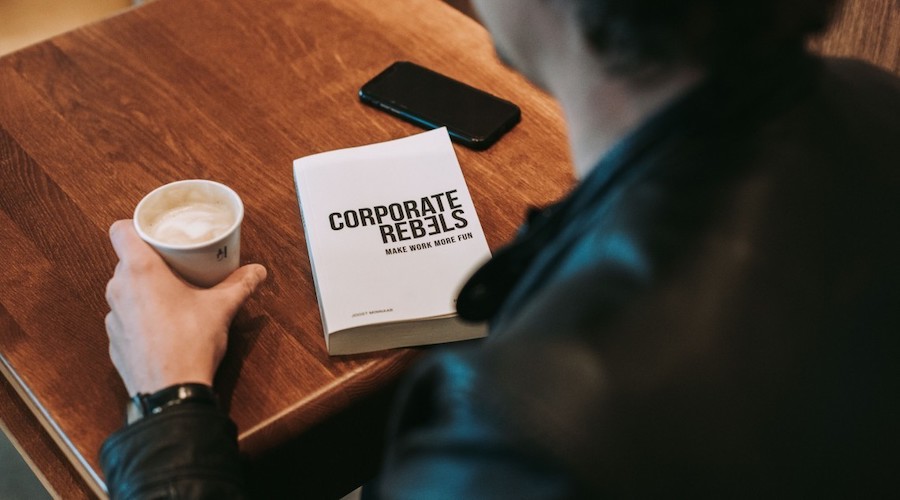 Let your people decide
The Rebels identify a core fallacy of traditional organisations, that decision-making competence rises according to one's position in the hierarchy. This is "complete nonsense." In fact there is an "iceberg of ignorance": Only 74% of team leaders, 9% of middle managers and 4% of top bosses are aware of front-line problems.
"Rules are not necessary. Give choice and responsibility to the teams, not the bureaucrats."
Instead of pushing decisions up to senior managers, the Corporate Rebels recommend delegating them to teams use their judgement. They quote many organisations, large and small, that do this.
Buurtzorg, a Dutch care organisation now employing 15,000 people, has just 50 staff in head office and no managers. Nurses work in teams of up to 12 and decide for themselves how to best serve their patients.
The Chinese company Haier is the largest manufacturer of white goods in the world, with 70,000 employees. The latest of five radical re-organisations abolished 12,000 middle manager positions and divided the company into 4,000 micro-enterprises "with the freedom to keep innovating and thinking like entrepreneurs."
CEO Zhang Ruimin explains: ''We try to organise ourselves like a rainforest. Eventually, every empire will collapse. A rainforest, on the other hand, will continue.''
Making decisions from the ground up
The book covers several approaches to decisions with this level of delegation. The Corporate Rebels reference my idea of "pre approval," where people are given freedom within guidelines to come to their own decision without the need for further approval.
Another method is the "advice process." Somebody takes responsibility to solve a problem. They seek advice from those directly involved and then come to a decision. As the Rebels say, "the process is not about reaching a consensus" but about making an informed decision, and taking responsibility for it.
Yes, you can turn an organisation around
One of the debates I frequently have is about whether you can transform a traditional bureaucratic organisation into a culture where employees are fully trusted. This book gives examples of where this has happened.
Swedish bank Handelsbanken went from being dysfunctional and on the verge of collapse to what Bloomberg has described as the strongest bank in Europe. In 1970 then CEO Jim Wallender decentralised all decisions to the branches and refused to take any major decisions at head office. With this grass roots approach, Handelsbanken was hardly affected by the 2008 crisis, and now has a minimum 12% return on investment and an average growth of 15% a year.
One branch manager, Brett Salisbury, commented when I posted a piece on LinkedIn: "One of the most important responsibilities of a leader at Handelsbanken is to develop leaders of the future. This can only be achieved if people are trusted to make their own decisions."
Basque Country coach company Irizar, formed a century before, was virtually bankrupt in 1991 when Koldo Saratzaga took over. He worked to produce "absolute transparency, trust, freedom and responsibility." Instead of "hierarchical structures, power struggles and dark zones" they have "self-managed teams, responsibility, elected leaders and shared decision making."
They created networks of teams, electing their own leader: "every decision taken involves the people it affects." This turned the company round and Irizar went on to achieve annual growth of 24% for 14 consecutive years.
Koldo then created the NER group to help other Basque companies. Dozens of organisations now follow the approach. Productivity has improved in these companies by an average 40% and salaries are 40% above the Spanish national average.
Even more surprising is the Belgian Ministry of Social Security which has moved to completely flexible working and a 30 hour week under Frank Van Massenhove. As he says, "rules are not necessary. Give choice and responsibility to the teams not the bureaucrats."
During the first three years, productivity rose by 18%, and then by an average of 10% per year. "The ministry has the lowest number of illness-related absences in Belgium, and there is virtually no burnout. In the bad old days, only 18% of civil service applicants wanted to work here; that percentage has risen to 93."
Stop making decisions
US Navy submarine commander David Marquet has long been a hero of mine and I have sought to follow his example of making no decisions as the boss. The Rebels quote his statement in Turn the Ship Around: "Don't move information to authority, move authority to information."
Marquet was put in charge of the USS Sante Fe, though he had been trained for a different submarine. It was to be inspected within 21 days.
 "I really needed my people to think. I had to stop taking control," says Marquet.
"What we did was make people happier. There was no way we could have learned what we needed to know in such a short time. But you can make people happier in that timeframe. When people are happier, they don't just act smarter, they are smarter. We made people happy first and performance followed."
Within a year, the USS Santa Fe went from the worst performing submarine in the fleet to the best and, eventually, to be the best performing submarine in US Navy history. Stepping out of the way and letting front-line staff decide clearly works.
There are approaches here that anybody can take, including within a traditional organisation. And there are very radical approaches, like having employees choose the leader and set their own salaries: "The true radicals allow workers the freedom to determine their own pay."
Read it and do something
If you have any interest in workplace culture, in people living fulfilling work lives or simply in making organisations more effective then read this book.
And then take action to implement these ideas and transform your organisation.
"Imagine if bureaucracy was kept to the absolute minimum with no wasted days of boring, frustrating meetings and no more doing things just because your boss says so."
Indeed, imagine that. This book shows it is possible.
Keep informed about happy workplaces
Sign up to Henry's monthly Happy Manifesto newsletter, full of tips and inspiration to help you to create a happy, engaged workplace.
Sign up here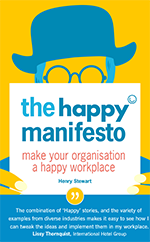 Learn the 10 core principles to create a happy and productive workplace in Henry Stewart's book, The Happy Manifesto.
Learn More Leadership Skills in These Upcoming Workshops
A happy workplace leads to greater productivity and tangible business results. We have developed a range of leadership programmes focusing on the skills you need to develop a happy workplace, based upon our own practical experience at Happy and learning from some of the world's great workplaces.
Here are just some of the public course dates coming up in the next few months:
All of these programmes are also available to book as private group courses for your organisation. Get in touch with our friendly team to find out more details including pricing and availability.
Why learn online with Happy?
Interactive and engaging - just like our classroom sessions
Bitesize or full-day sessions - fit around your schedule
Learn from home - all you need is a quiet place to call from and an internet connection
IT Helpline - 2 years of free support after your course
No quibble money-back guarantee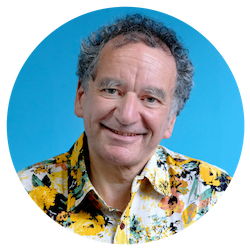 Henry Stewart, Founder and Chief Happiness Officer
Henry is founder and Chief Happiness Officer of Happy Ltd, originally set up as Happy Computers in 1987. Inspired by Ricardo Semler's book Maverick, he has built a company which has won multiple awards for some of the best customer service in the country and being one of the UK's best places to work.
Henry was listed in the Guru Radar of the Thinkers 50 list of the most influential management thinkers in the world. "He is one of the thinkers who we believe will shape the future of business," explained list compiler Stuart Crainer.
His first book, Relax, was published in 2009. His second book, the Happy Manifesto, was published in 2013 and was short-listed for Business Book of the Year.
You can find Henry on LinkedIn and follow @happyhenry on Twitter.
More by Henry