Let's get rid of annual appraisals and replace them with snapshots
In: Blog
Date: Dec 14, 2020
By: Henry Stewart
Around three years ago my colleague Cathy Busani organised a vote of all our employees on whether they wanted to keep the annual appraisal. As she expected, they didn't – with 83% voting to scrap them.
Of course it still makes sense to carry out a regular review, so we replaced it with a four monthly happy@happy snapshot. Find out more in this blog.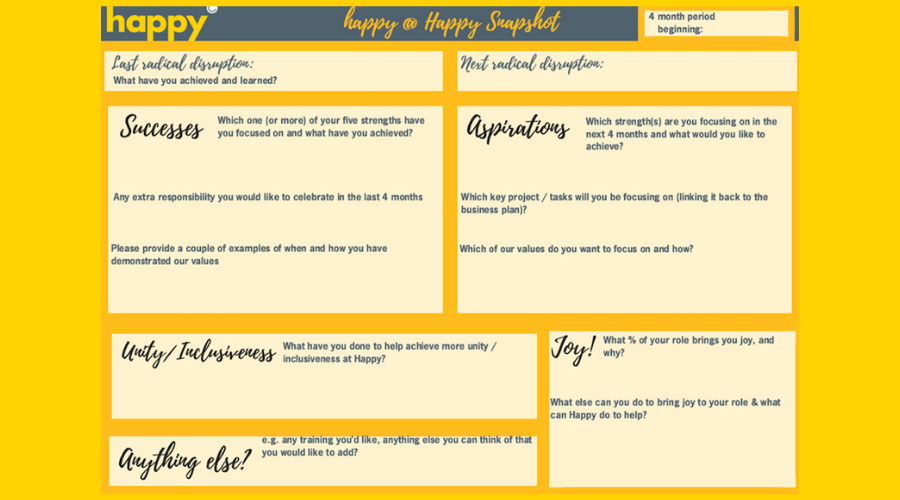 We are not alone in getting rid of appraisals. A whole range of organisations have decided to abolish annual appraisals, from Dell and Microsoft to Hackney Council. As Elaine Pulakos, CEO of PDRI, puts it in this BBC article, appraisals "end up being extremely costly and have no impact on productivity". Research from Gallup found that performance appraisals actually made performance worse in a third of cases!
We replaced appraisals with a four-monthly happy@happy snapshot. The form we use is above, inspired by something we saw at the fabulous food company Cook. Here's what it includes:
Radical Disruption
We used to have targets, set by the individual. We even tried OKRs. I know many people swear by them but they didn't work here at Happy. One issue with targets is that some of our people, such as our facilitators, might have the same targets (feedback scores, income generated) for years.
Then at one of our regular Happy Days, somebody came up with the idea of choosing just one thing, one thing that you will do completely differently in the next period. It could be a new product. It could be learning something challenging.
For one of my colleagues it was to get out of a cycle of being endlessly busy and hectic. Focusing on it for four months she managed to move to a way of working that was less busy, more relaxed and more productive.
Strengths
People are happier and more productive if you are playing to your strengths. So we use Strengthfinder to discover each person's five key strengths, as well as working with them on what motivates them and what makes them "feel magnificent".
We want people to do what they are good at, for their sake and for Happy's. So we explore which strengths they have used and which they will use going ahead. On our admin team they regularly get together, take all the jobs, put them all on post-its and work out which best play to what each person is good at.
Responsibilities
At Happy people aren't generally given responsibilities or promotions. Instead we encourage people to seek opportunities, to decide what responsibility they are able to take on.
One example was two of our front-line staff who decided our prices needed updating. As is the Happy way, they consulted with colleagues and clients and checked the market. And then they took responsibility and made the decision, without needing upward approval, on what to change to.
Values
We don't want our core values to be just a laminated poster stuck on the wall. So the snapshot is a good opportunity to explore where we have "believed the best", "helped people feel good about themselves", "celebrated mistakes", "delighted the customer" or "made the world a better place".
One example of customer delight is a colleague who had overheard a client saying how much they liked the chairs in our café. When she heard, months later, that we were changing the café around and getting rid of those chairs, she got in contact with him and taxied them over for free. "He was so pleased."
Unity/Inclusiveness
It is not enough at Happy to be good at your core job. Our values are clear and we expect everybody to be positive and supportive of others and – even in a difficult conversation – to leave them feeling good about themselves.
So a crucial element of the form is to ask what they have done to achieve more unity and inclusiveness. That can be anything from little things like taking lunch with different colleagues or checking in with people in other departments..
Joy at Work
Our aim is that everybody at Happy finds joy in their work at least 80% of the time. We ask our people to measure it for themselves and to think about what would bring them joy.
And it leads to a very different conversation to ask "what would give you more joy?", instead of "how can we improve your performance?".
For one of my colleagues its actually about her relationship with her manager (or our equivalent, termed M&M – multiplier and mentor). "She encourages me to put less pressure on myself, to be kinder to myself. That brings me joy."
In conclusion
This works well for us. What would be your equivalents for a regular checkin? And, if you still have annual performance appraisals, is it time to do away with them? Do they really serve a purpose?
Why not sign up to our newsletter?
Sign up to our monthly newsletter, full of tips, tricks and news to help you to be happier and more productive at work.
Sign up here
Learn more leadership skills in our Live Online Learning workshops
Effective Coaching Skills for Leaders will show you how to place your people at the heart of what you do by developing your coaching skills. The next workshop is on 15th March. Book now
In the 4-day Happy Workplace Leadership Programme, you'll develop practical leadership and management skills to create a high performing team. The next programme begins on 20th July. Book now
Managing a Project Team explores some of the issues associated with managing or leading a group of people who have come together to deliver a project.
Managing Change Positively will enable you to approach change positively by fixing clear targets, communicating effectively with others, staying motivated and maintaining self-care. Find out more
Happy's Live Online Learning sessions are interactive webinars. The facilitator guides learners through the material, encouraging participation and interaction. Find out more
Why learn online with Happy?
Interactive and engaging - just like our classroom sessions
Bitesize or full-day sessions - fit around your schedule
Learn from home - all you need is a quiet place to call from and an internet connection
IT Helpline - 2 years of free support after your course
No quibble money-back guarantee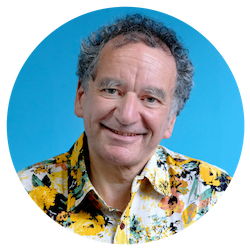 Henry Stewart, Founder and Chief Happiness Officer
Henry is founder and Chief Happiness Officer of Happy Ltd, originally set up as Happy Computers in 1987. Inspired by Ricardo Semler's book Maverick, he has built a company which has won multiple awards for some of the best customer service in the country and being one of the UK's best places to work.
Henry was listed in the Guru Radar of the Thinkers 50 list of the most influential management thinkers in the world. "He is one of the thinkers who we believe will shape the future of business," explained list compiler Stuart Crainer.
His first book, Relax, was published in 2009. His second book, the Happy Manifesto, was published in 2013 and was short-listed for Business Book of the Year.
You can find Henry on LinkedIn and follow @happyhenry on Twitter.
More by Henry