Launch of The Happy Manifesto with Action for Happiness
In: Blog
Date: Nov 21, 2011
By: Henry Stewart
Only 2% of people say they work just to pay the bills, for 90% being happy at work is important. Yet over half of Brits are unhappy at work.
Hi, we are Happy
We are leading a movement to create happy, empowered and productive workplaces.
How can we help you and your people to find joy in at least 80% of your work?
More about Happy
The evidence is clear: Happy workplaces are the most productive and successful.
Today sees a call for radical change in the way we treat people at work, as Henry Stewart, founder of Happy Ltd, and Action for Happiness launch a new Manifesto for happier workplaces. A happy, fulfilling work environment isn't just great for staff, it also delivers huge benefits to business in terms of a more motivated workforce, improved productivity and ultimately better long-term financial performance.
"Imagine a workplace where you are energised and motivated by being in control of the work you do", explains Henry. "Imagine you are trusted and given freedom, with support, to decide how to achieve results. Imagine you can get the life balance you want. Imagine you are valued according to the work you do, not how many hours you spend at the desk.
"Wouldn't you want to work in such a place? Wouldn't it also enable you to work at your best and be most productive?"
An increasing number of companies are finding that focus on creating a happy workplace is just about the most important thing management can do:
A major restaurant chain found the most important factor in growth and profits was how happy staff are (and then changed manager's bonuses to be based on this)
Over 25 years, investing your pension in happy workplaces would get you £230,000, against £100,000 in standard stock market
Latest opinion poll shows only 2% work simply to pay the bills. For 90% it is important to be happy at work.
Yet over half of British employees say they are unhappy at work.
"A wonderful book – a gripping read and so interesting, as well as wise. It is truly inspiring."
Professor Richard Layard
This campaign is part of a global movement for change. In the US Tony Hsieh (who sold his shoe retailer Zappos to Amazon for close to a billion dollars) has signed up thousands to his "Delivering Happiness" approach. In Denmark Chief Happiness Officer Alex Kjerulf has influenced many workplaces. In India 80,000 strong HCL shares the philosophy of "Employees first, customers second".
Read the 10 key steps that make up The Happy Manifesto
Henry Stewart is founder and CEO of training company Happy Ltd. Happy have been rated the best company in the UK for customer service (by Management Today) and one of the best 20 workplaces in the UK for the last five years (Financial Times / Great Place to Work Institute). Henry himself is a popular business speaker and is listed in the guru radar.
Action for Happiness is a movement of people and organisations taking practical action to create a happier society for everyone. Founded by Lord Richard Layard, Anthony Seldon and Geoff Mulgan, it was launched in April 2011 and already has 18,000 members who are taking positive action in their homes, workplaces and communities.
Sources of Data
Keep informed about happy workplaces
Sign up to Henry's monthly Happy Manifesto newsletter, full of tips and inspiration to help you to create a happy, engaged workplace.
Sign up here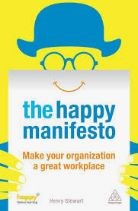 Learn the 10 core principles to create a happy and engaged workplace in Henry Stewart's book, the Happy Manifesto.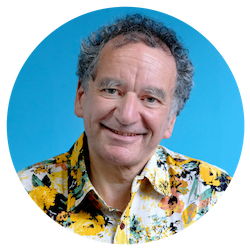 Henry Stewart, Founder and Chief Happiness Officer
Henry is founder and Chief Happiness Officer of Happy Ltd, originally set up as Happy Computers in 1987. Inspired by Ricardo Semler's book Maverick, he has built a company which has won multiple awards for some of the best customer service in the country and being one of the UK's best places to work.
Henry was listed in the Guru Radar of the Thinkers 50 list of the most influential management thinkers in the world. "He is one of the thinkers who we believe will shape the future of business," explained list compiler Stuart Crainer.
His first book, Relax, was published in 2009. His second book, the Happy Manifesto, was published in 2013 and was short-listed for Business Book of the Year.
You can find Henry on LinkedIn and follow @happyhenry on Twitter.
More by Henry