Opinion Poll: People Want to be Happy at Work
In: Blog
Date: Nov 07, 2011
By: Henry Stewart
I was involved in an opinion poll last month which asked office workers "how important is it for you to be happy at work?"
Hi, we are Happy
We are leading a movement to create happy, empowered and productive workplaces.
How can we help you and your people to find joy in at least 80% of your work?
More about Happy
One of the answers was "Not at all. I work to pay my bills, not make myself happy". Last week I was talking to a group visiting Happy and asked what % they thought chose that option. Answers ranged from 50% to 100%,
The actual figure was 2%. Just one in 50 of those working in offices say they work just to pay the bills. The figure was even lower among young workers, where less than 1 in 200 chose that option.
How important is it for you to be happy at work?
Very important. I would not be happy outside work if I was not happy at work: 29%
Quite, I like to be happy at work, but it is more important for me to be happy outside work: 51%
Not very, I enjoy some aspects of work but put up with the rest: 8%
Not at all, I work to pay my bills, not make myself happy: 2%
90% of office workers say it is quite important or very important to be happy at work. This result brings to mind Douglas MacGregor's Theory X and Theory Y, two opposite approaches to managing people.
Under Theory X, the assumption is that employees are inherently lazy, dislike work and need incentives and to be closely monitored. This set of beliefs leads naturally to a style of management based on close supervision, levels of approval and command and control.
In contrast, Theory Y assumes that people are self-motivated and want to do a good job at work. They want to learn and develop and take responsibility. This set of beliefs leads to a very different style of management, based on trust and freedom. (Yes, it's the style outlined in my book, The Happy Manifesto. Download it here for on the dedicated Happy Manifesto website.)
It would be interesting to know if the responses to this opinion poll would have been different 50 years ago, or in the old production lines. If you take the Ford River Rouge plant in the 30s, where workers were banned from talking at work and there were instances of being sacked for smiling and laughing, people would presumably have answered that they came to work to pay the bills.
But that is clearly not the case nowadays. People need a salary and might well not work if they didn't. But they don't see work as simply to pay the bills. They want to be happy at work and want to be valued and motivated. The idea that work is just a job to pay the bills is very much in line with Theory X. And the finding that only 2% see work that way fits with Theory Y,
Is your management focused on making sure your people are happy at work? Because there is a growing body of evidence that such a focus could make more difference to your organisation than anything else you can do.
The research was conducted for Bloomsbury, who are publishing Business: The Ultimate Resource. As well as contributions from the likes of C. K. Prahalad, Gary Hamel and Seth Godin. It includes an article by me on why people should be able to choose their manager. See my previous blog for further details on the Bloomsbury research,
Keep informed about happy workplaces
Sign up to Henry's monthly Happy Manifesto newsletter, full of tips and inspiration to help you to create a happy, engaged workplace.
Sign up here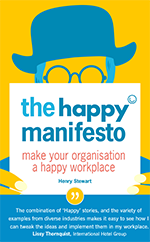 Learn the 10 core principles to create a happy and productive workplace in Henry Stewart's book, The Happy Manifesto.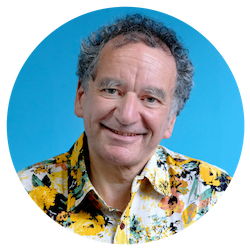 Henry Stewart, Founder and Chief Happiness Officer
Henry is founder and Chief Happiness Officer of Happy Ltd, originally set up as Happy Computers in 1987. Inspired by Ricardo Semler's book Maverick, he has built a company which has won multiple awards for some of the best customer service in the country and being one of the UK's best places to work.
Henry was listed in the Guru Radar of the Thinkers 50 list of the most influential management thinkers in the world. "He is one of the thinkers who we believe will shape the future of business," explained list compiler Stuart Crainer.
His first book, Relax, was published in 2009. His second book, the Happy Manifesto, was published in 2013 and was short-listed for Business Book of the Year.
You can find Henry on LinkedIn and follow @happyhenry on Twitter.
More by Henry