It Is Good to Apologise
In: Blog
Date: Sep 27, 2012
By: Henry Stewart
Yesterday was Yom Kippur, the end (for Jews) of ten days of reflection when we are to make amends to anybody we have wronged over the last year. In our tradition it is not enough to confess your wrong-doings to God. Instead you must seek out the person wronged and try to make it right.
Now I am not a religious Jew and so I must confess to a slightly pick-and-choose approach to Jewish practice, as opposed to the 613 rules that are followed by the strictly Orthodox. However this practice makes sense to me, and it definitely makes a difference in those difficult relationships.
This year I made up with somebody I had a nasty public row with and made contact again with an ex-colleague who I used to be very close to and had lost touch with. I can think of times in past years where a hugely improved working relationship results from my apology.
The key is first a specific apology to the individual. And you have to let go of any feelings of anger or annoyance, which can be the hard part. Its no good saying "I apologise for X but you shouldn't have done Y". It must be just "I apologise for X", often coupled with an explanation of why you like and respect them.
I am sure there are cases where the hurt is too deep for an apology to make a difference. But in one case this year months of bitterness simply evaporated as we emailed each other apologies for our part. Though I'm also reminded, as we go through the dozens of possible wrong-doings in the Synagogue service, that there are many I haven't reached out to – that I could have.
And you don't have to wait for Yom Kippur to do it, or even be Jewish. Think of who you might have not treated as you should have lately and try it. Call or email with an apology. And do let me know what results from it.
Hi, we are Happy
We are leading a movement to create happy, empowered and productive workplaces.
How can we help you and your team to find joy in at least 80% of your work?
Why choose Happy?
Award-winning learner-focused approach
Small class sizes to give personal one-to-one support
Two years of free support after your course
Private group options available
No quibble money-back guarantee on all courses
It was really insightful content with practical tips to use at work and everyday life.
Sarah Maynard
23 days ago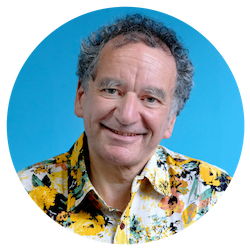 Henry Stewart, Founder and Chief Happiness Officer
Henry is founder and Chief Happiness Officer of Happy Ltd, originally set up as Happy Computers in 1987. Inspired by Ricardo Semler's book Maverick, he built a company with a reputation for some of the best customer service in the country and one of the UK's best places to work, winning multiple awards for its culture and philosophy.
His first book, Relax, was published in 2009. His second book, the Happy Manifesto, was published in 2013 and was short-listed for Business Book of the Year.
Outside of work he is a father of three, was Chair of Governors at his local primary and comprehensive in Hackney and a very keen cyclist.
You can find Henry on LinkedIn and follow @happyhenry on Twitter.
More by Henry