Is Enjoyment the Key to Successful Learning?
In: Blog
Date: Mar 10, 2012
By: Henry Stewart
At a recent meeting of training providers we did an exercise on what was distinctive about each of our company's approaches. As well as our learner focus I talked about making learning about computers enjoyable. The response from my colleague was interesting: "You mean, that's for real? I thought it was just hype. How do you make IT training enjoyable?"
Hi, we are Happy
We are leading a movement to create happy, empowered and productive workplaces.
How can we help you and your people to find joy in at least 80% of your work?
More about Happy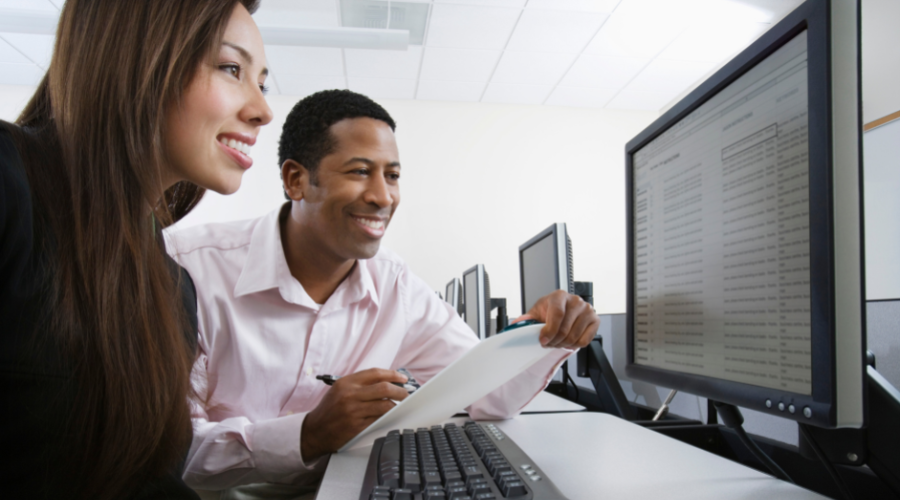 And it is clear that most people do not enjoy their IT training. Often when I am speaking at conferences I ask people to raise their hands if they have attended IT training, and to leave them raised if they found it an enjoyable experience. Normally around 1 in 5 leave their hands raised.
This has always been a key focus of Happy Computers. I guess the company title kind of gives that away. And I am very proud of what we have achieved. In our post-course surveys we ask if learners agree that their IT training was an enjoyable experience. The response is currently running at 95% agree, with 4% neutral and only 1% disagreeing.
But does enjoying your training make it more effective? These post-course surveys, which we send around 3 months after the training, allow us to cross-reference the answers on enjoyment with those on how much time people have gained from their increased productivity. This shows a direct link between how enjoyable they found the course and how much impact it has:
"The course was an enjoyable experience"
Strongly Agree: 35 mins per day gained
Agree: 20 mins gained
Neutral: 8 mins gained
Disagree: 2 mins gained (though there have only been 3 people in this category, less than 1% of responses)
This response has been consistent. In every survey since we started asking the "enjoyment" question two years ago, there has been a clear relationship between how much they enjoyed the session and how much they gained from it.
I know we are not alone in believing that making learning enjoyable is a key to successful training. But I do wish it was the norm.
The Department for Education did once, under David Miliband's brief time there, create a document called Excellence and Enjoyment. But I'm not sure that making education fun is part of Mr Gove's approach.
Imagine if a focus on enjoyment and love of learning was at the core of your experience at school? How would it have been different?
How to Create Enjoyable Learning?
Well first we have no PowerPoint or overhead projection on our training courses. I've yet to hear somebody say "I had such fun watching those bullet points slide past". Instead we involve people, we make all our sessions inter-active. A key principle is "Don't tell when you can ask", with every learner actively engaged in finding the solutions. We encourage them to make mistakes and ask lots of questions. And we focus on seeking the relevance to each learner.
We "recruit for attitude, train for skill". How much our learners will enjoy spending the day with this person is far more important than product knowledge – we can teach them that.
But here's a simple question: how can you make your courses more enjoyable today?
---
Data note: The question in the post-course evaluation asks learners to estimate how much time they save per day as a direct result of the skills they learnt on the day. This is entirely a self-estimate though they are also asked to detail what they can do now that they couldn't before.
Related blogs
Keep informed about happy workplaces
Sign up to Henry's monthly Happy Manifesto newsletter, full of tips and inspiration to help you to create a happy, engaged workplace.
Sign up here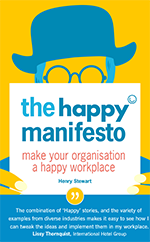 Learn the 10 core principles to create a happy and productive workplace in Henry Stewart's book, The Happy Manifesto.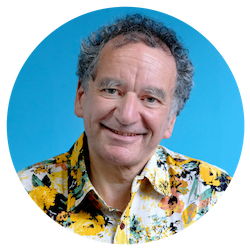 Henry Stewart, Founder and Chief Happiness Officer
Henry is founder and Chief Happiness Officer of Happy Ltd, originally set up as Happy Computers in 1987. Inspired by Ricardo Semler's book Maverick, he has built a company which has won multiple awards for some of the best customer service in the country and being one of the UK's best places to work.
Henry was listed in the Guru Radar of the Thinkers 50 list of the most influential management thinkers in the world. "He is one of the thinkers who we believe will shape the future of business," explained list compiler Stuart Crainer.
His first book, Relax, was published in 2009. His second book, the Happy Manifesto, was published in 2013 and was short-listed for Business Book of the Year.
You can find Henry on LinkedIn and follow @happyhenry on Twitter.
More by Henry
Next Conference: 2024 Happy Workplaces Conference
Our Happy Workplaces Conference is our biggest event of the year, and we'd love for you to join us next year. Save the date for Wednesday 15th May 2024!
This will be a hybrid event — we will host up to 50 people in the venue at Happy's HQ in Aldgate, London, and up to 200 people online via Zoom. The speakers will be a mix of online and in person. However you choose to join us for 2024, there will be interaction, discussion, space for reflection and opportunities to network with others.
All tickets are currently half-price until January 2024.