The Four Key Trends in Learning You Need to Know
In: Blog
Date: Dec 05, 2016
By: Lucy Blake
Last week found us providing consultancy and training for a wonderful team at a large UK museum. The team had been tasked with creating eLearning in their various subject specialisms within cataloguing and preservation. The ultimate aim was for the team to produce the materials needed to support their front of house colleagues so that they in turn can better support the researches and the public who visited the museum.
Hi, we are Happy
We are leading a movement to create happy, empowered and productive workplaces.
How can we help you and your people to find joy in at least 80% of your work?
More about Happy
All the team had a training background and all had previously received training on a popular eLearning software tool. They now needed an overview of the real world processes that learning developers follow. Having had a little bit of time between training sessions to plan their subject matter and give their eLearning tools a whirl they were, frankly, feeling utterly overwhelmed.
Coaching them through their options led to a fascinating day that reminded us all of what a very complex and broad set of skills professional eLearning developers need to have.
When you combine that with the fact that most subject matter experts are expected to create eLearning alongside their day-to-day jobs, you can start to appreciate what a truly gargantuan feet this is for the lay producer.
However, it also brought home that there has never been a better time to create your own learning. Read on for the four trends in learning that you need to know when starting your own DIY learning projects.
1. Focus on the creation of resources not courses
Here at Happy, we still make plenty of standalone courses that take learners 20 or 30 minutes to work through – however we are increasingly seeing clients look for something more flexible and it's here that we advise the novice eLearning developer to start.
Rather than producing long formal pieces of learning, we are breaking down things down into tiny (two minute) resources that work in isolation of each other.
For the novice eLearning author, prioritising the 'must haves' and filtering content down to a small number of separate two minute pieces of learning can feel like a much more realistic task.
For the learner encountering this learning, a commitment to working through a series of tiny, but to the point, two minute resources might feel like a brilliant use of their time.
The two minute format is so effective because it really forces the author to focus on exactly what is required to meet their desired learning outcomes and in turn the learner finds exactly the information they need quickly and succinctly – everyone wins.
This is exactly why we chose the two minute video format for our Happy Video Library – these videos are all short and to the point, and very easy for learners to dip in and out of when they're in the middle of a task and need to know how to do something quickly.
2. Be a curator – gather and make sense of existing resources
Do an audit of all your existing resources (handouts, presentations, reports) and, if appropriate, source externally produced resources online (videos, blogs, forums, etc.).
Often the valuable information that needs to be deployed already exists in some format or other. The key issue is that it needs an expert to contextualise and stitch together those resources in a way that makes for a meaningful and memorable learning experience.
For instance, lining up two or three highly relevant home-made two minute eLearning pieces alongside some existing blogs, videos and edited down reports could make for a really useful collection of information on a particular subject.
Top and tail that collection with a short introductory eLearning module at the beginning and a quiz to help the learner assess their learning at the end and suddenly you have formalised your useful collection into a learning experience that if necessary can be tracked and recorded… All without very much being created from scratch.
3. Rough and ready (…and just-in-time)
Think carefully about your audience. If the learning you are producing is for internal staff and colleagues, it may not always be necessary for everything to be perfect in either instructional or design terms.
It may be that it's more important and valuable for a learner to be able to find an accurate resource exactly at the point they need to do something, than it is for it to be perfect and polished.
Sometimes being a bit rough around the edges is acceptable if the content is highly relevant, accurate, succinct and learner-focused.
4. Repurpose and redeploy – take a campaigning approach to your subject
We have all got used to the idea that learning is not an event, it's a process and a journey. Another reason for holding off on the creation of long online courses is that they tend to be worked on by learners in one sitting, and once completed the subject matter is out of view and more easily forgotten.
By focusing on small resources of varying types you have more ingredients with which to develop interesting learner journeys, keeping the subject matter fresh and in front of the learner.
For instance, you may well have built up a collection of interesting resources on your LMS or on your intranet, but these resources might also be reused in the following ways:
Perhaps the quiz that you have created to formalise a collection of resources can be emailed as survey tool for people to check whether they need to explore the materials more.
Perhaps from time-to-time a resource could be emailed to colleagues as a refresher,
When relevant, case studies can be developed in response to some current issue or problem and emailed or blogged alongside links to relevant individual resources from the collections.
Perhaps some of the resources one team member develops can be redeployed inside related learning created by another.
Once you have started to create collections of small learning resources and have designed ongoing learner journeys, the options really are endless, and again, without a massive overhead of effort from an overwhelmed subject matter expert.
Feeling inspired?
If you are a lay person tasked with developing your own eLearning, remember the following:
Be kind to yourself – creating learning can be a full time job! Be realistic about you can achieve.
Always start with the learning outcomes and let these guide every decision – see the one question that gets results in learning if you need help getting a clear picture of what your leaning outcomes should be.
Do map out your bigger programme. What are the possible leaner journeys through the resources you will develop?
Do audit your existing resources. Which can be used as they are? Which can be repurposed once tweaked or edited? What resources will you need to create to knit these pieces together into a meaningful learning experience?
Do reuse and repurpose your resources in as many ways as possible. Put them on your intranet or LMS and link to them in timely emails or blogs – try to keep them current and try to add to them.
Do encourage feedback and participation from your learners. If you keep your resources small it's easy to continually improve and add to them, helping you to produce a constantly evolving collection of learning that adapts to organisational and learner needs.
While producing eLearning can seem like a very daunting task, if you area clear on your learning outcomes and can keep your focus on producing small timely resources, a large programme of work can become a very manageable task and a brilliant way to share knowledge throughout an organisation.
As for the team at the museum, they left their training feeling like they were about to embark on a project that was very doable. I'm dedicating this to that wonderful team (you know who you are!).
If you need help designing your own learning programmes or in getting your in-house subject matter experts to produce DIY eLearning, then do get in touch. We provide consultancy, customised courses and workshops that can get your project up and running. Take a look at our eLearning case studies to see some of the projects we've worked on in the past.
Keep informed about happy workplaces
Sign up to Henry's monthly Happy Manifesto newsletter, full of tips and inspiration to help you to create a happy, engaged workplace.
Sign up here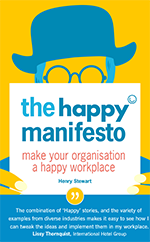 Learn the 10 core principles to create a happy and productive workplace in Henry Stewart's book, The Happy Manifesto.