Happy Workplaces Save Lives
In: Blog
Date: Feb 19, 2018
By: Henry Stewart
In this two-minute video, Henry Stewart explains the financial evidence and academic research behind happy workplaces. The Best Workplaces have a Four Factor Alpha of 3.5% on the stock market, compared to ordinary workplaces. Plus, happy workplaces save lives – for every 96 deaths in a happy and engaged hospital, 103 people die in a hospital where staff are disengaged and unhappy.
Hi, we are Happy
We are leading a movement to create happy, empowered and productive workplaces.
How can we help you and your people to find joy in at least 80% of your work?
More about Happy
Happy Workplaces Save Lives [Two-Minute Watch]
"There is hard evidence for creating a happy workplace. A guy called Alex Edmans at the Wharton Business School decided to look at the Great Places to Work and compare them to the ordinary places to work, ie the companies that had been in the Fortune Top Best Workplaces over 25 years. He compared them with the standard stock market index. He found that the Best Workplaces had a Four Factor Alpha of 3.5%.
"What it means, is 3.5% extra per year compared to the standard stock market. That means is that if you had a personal pension fund and you'd invested in the standard stock market, and at the end of 25 years it was worth £100,000, if instead you had put it in one of the Great Workplaces, re-investing each year as you could have done, it would have been worth £231,000. That is the hard, financial difference.
"Now you might wonder then, why people don't invest in great workplaces? Well, there is one fund, the Parnassus Endeavour Fund, which decided 13 years ago when it was set up to invest in happy workplaces. It had $600,000. It now has $1.4bn and has been ranked over the last ten years in the top 1% of performance in the entire United States – which begs the question why more investment funds don't do it, because the proof is there – the academic research is there, the financial evidence is there.
"And it's not just true in the private sector. This is from hospitals. The King's Fund, which is a UK research organisation which looks at health, looked at mortality rates in hospitals where staff were highly engaged and happy, and where they were disengaged. For every 96 people that die in a hospital were staff were engaged and happy, 103 die in a hospital where staff are disengaged and unhappy.
"Happy workplaces save lives – and if you're sick, make sure you go to a happy hospital!"
Keep informed about happy workplaces
Sign up to Henry's monthly Happy Manifesto newsletter, full of tips and inspiration to help you to create a happy, engaged workplace.
Sign up here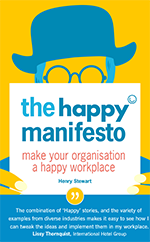 Learn the 10 core principles to create a happy and productive workplace in Henry Stewart's book, The Happy Manifesto.
Henry was speaking at the 2017 Beyond Budgeting Conference in London. Click here to view more videos, PowerPoint and blogs from the event.
Henry is Founder, CEO and Chief Happiness Officer at Happy Ltd. He has written two books about how to create a happy workplace: Relax: A Happy Business Story and the Happy Manifesto. Henry has been included in the Guru Radar section of the Thinkers50 list of the most influential business thinkers in the world. He speaks regularly at conferences around the world, as well as helping organisations through consulting and training how to change their culture and create a happy workplace of their own.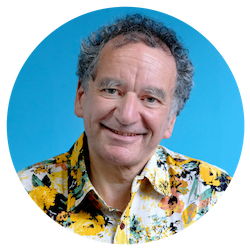 Henry Stewart, Founder and Chief Happiness Officer
Henry is founder and Chief Happiness Officer of Happy Ltd, originally set up as Happy Computers in 1987. Inspired by Ricardo Semler's book Maverick, he has built a company which has won multiple awards for some of the best customer service in the country and being one of the UK's best places to work.
Henry was listed in the Guru Radar of the Thinkers 50 list of the most influential management thinkers in the world. "He is one of the thinkers who we believe will shape the future of business," explained list compiler Stuart Crainer.
His first book, Relax, was published in 2009. His second book, the Happy Manifesto, was published in 2013 and was short-listed for Business Book of the Year.
You can find Henry on LinkedIn and follow @happyhenry on Twitter.
More by Henry
Next Conference: 2024 Happy Workplaces Conference
Our Happy Workplaces Conference is our biggest event of the year, and we'd love for you to join us next year. Save the date for Wednesday 15th May 2024!
This will be a hybrid event — we will host up to 50 people in the venue at Happy's HQ in Aldgate, London, and up to 200 people online via Zoom. The speakers will be a mix of online and in person. However you choose to join us for 2024, there will be interaction, discussion, space for reflection and opportunities to network with others.
All tickets are currently half-price until January 2024.