Could a 4 Day Week Work in Your Sector? Yes!
In: Blog
Date: Jun 27, 2022
By: Henry Stewart
At Happy we are engaged in the UK four-day working week pilot, with 70 UK companies testing the idea from June to November 2022.
We've had huge interest, with my blogs on LinkedIn getting up to 10 times as many views as my other posts. But some respond by saying that it wouldn't work in their sector.
So I was very interested to read the book Shorter: How Smart Companies Work Less, Embrace Flexibility and Boost Productivity by Alex Soojung-Kim Pang. This gives a whole range of examples from different sectors.
Hi, we are Happy
We are leading a movement to create happy, empowered and productive workplaces.
How can we help you and your people to find joy in at least 80% of your work?
More about Happy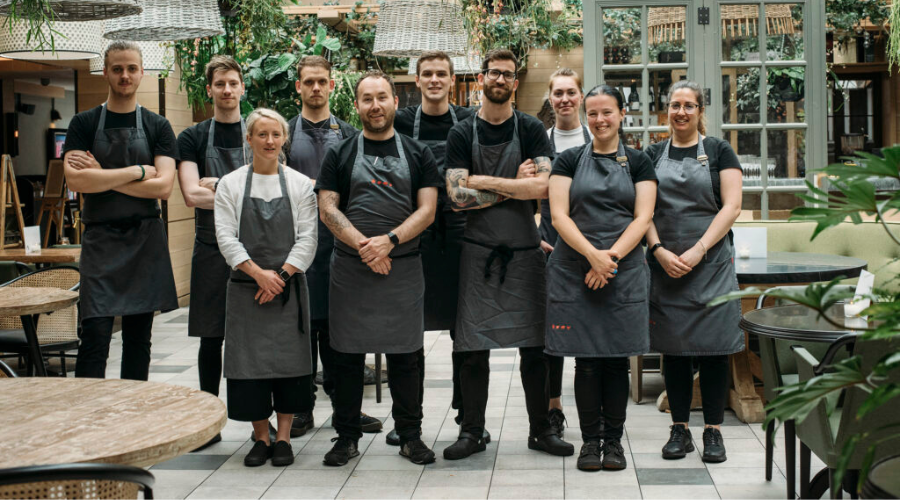 Could it work in hospitality?
The Edinburgh restaurant Aizle (pictured above) is Michelin-starred and in the top 5% on TripAdvisor. Current owner Stuart Ralston explains that, after three years of 80 or 90 hour workweeks, "I was overweight, stressed, tired, drinking too much. I was losing my temper quickly with people, losing staff by the minute."
So Stuart keep to four days, Wednesday to Saturday. To make up for lost revenue they did renovate the dining room, adding six more seats, and bought a larger stove.
"The staff are happier. The place is cleaner, more organised, we're getting stuff done. And the standard of what we're doing has been much better than it ever has been."
Could it work in a tech start up?
South Korea has a notoriously long-hour work week (though the government recently cut maximum work hours from 68 to 52). And tech startups are known for working all hours.
Bon-Jin runs Woowa Brothers, the Korean equivalent of Deliveroo. In March 2017 he decided to stop burning the midnight oil and cut the hours to 35 without reducing anybody's pay. "I realised that putting more hours into work did not lead to higher productivity."
Since then they have grown at over 70% a year and are valued at $4 billion.
Could it work in schools?
In 2019 no less than 25 states had districts whose schools operated on four-day weeks and in Colorado more than half the districts use four day weeks.
Could it work in manufacturing?
AE Harris in Birmingham has operated a four day week for more than a decade, though this is based on nine-hour days. (In the current pilot study all firms are working no more than 32 hours.)
Managing Director John Sloyan had noticed that very little shipped on a Friday, as their clients wouldn't take goods on a Saturday or Sunday. "I wondered how Friday was financially viable, with heating and lighting but shipping and selling nothing."
As they moved to a four-day week, absenteeism fell and workers "really enjoyed the long weekends, especially in spring and summer."
Could it work in healthcare?
At The Glebe retirement community in Virginia they moved in 2018 to a trial where nursing assistants would receive 40 hours pay for 30 hours work. They had to hire nine extra members of staff. However the $145,023 a year in salary costs was offset by $122,762 in hiring costs, overtime and payments to staffing services.
Acquired infections dropped 65%, falls and skin tears are down dramatically, administration of psychoactive medications is down because nurses spend more time with patients — and staff turnover went from 128% to 44%.
Working more effectively
Overall the message of Shorter is that by avoiding long hours people are able to work better, be more creative and more imaginative.
Chefs are able to come up with new ideas for better dishes. Programmers are able to think more clearly. Alex quotes Rosie Warin saying days off are a way of "building in the space and giving yourself permission to let creative thoughts in."
At Happy we have only just started on this pilot. However our first survey shows that people are sticking to the 32 hours (79%) or just an hour or two over (21%). And 100% say they are getting as much done as they did in five days (or 37.5 hours).
The key question people have asked us is about productivity. Now, in an office environment, how you measure productivity is an interesting question.
Our measure of productivity is whether we are able to deliver the same level of delivery, sales and profit as before — with a greater sense of wellbeing and happiness into the bargain.
Will we achieve that? Watch this space!
Related blogs:
Keep informed about happy workplaces
Sign up to Henry's monthly Happy Manifesto newsletter, full of tips and inspiration to help you to create a happy, engaged workplace.
Sign up here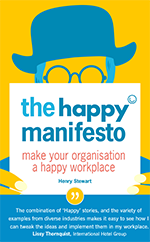 Learn the 10 core principles to create a happy and productive workplace in Henry Stewart's book, The Happy Manifesto.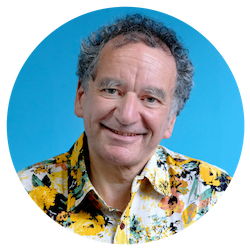 Henry Stewart, Founder and Chief Happiness Officer
Henry is founder and Chief Happiness Officer of Happy Ltd, originally set up as Happy Computers in 1987. Inspired by Ricardo Semler's book Maverick, he has built a company which has won multiple awards for some of the best customer service in the country and being one of the UK's best places to work.
Henry was listed in the Guru Radar of the Thinkers 50 list of the most influential management thinkers in the world. "He is one of the thinkers who we believe will shape the future of business," explained list compiler Stuart Crainer.
His first book, Relax, was published in 2009. His second book, the Happy Manifesto, was published in 2013 and was short-listed for Business Book of the Year.
You can find Henry on LinkedIn and follow @happyhenry on Twitter.
More by Henry
Next Conference: 2024 Happy Workplaces Conference
Our Happy Workplaces Conference is our biggest event of the year, and we'd love for you to join us next year. Save the date for Wednesday 15th May 2024!
This will be a hybrid event — we will host up to 50 people in the venue at Happy's HQ in Aldgate, London, and up to 200 people online via Zoom. The speakers will be a mix of online and in person. However you choose to join us for 2024, there will be interaction, discussion, space for reflection and opportunities to network with others.
All tickets are currently half-price until January 2024.