We Are More Productive When Working From Home
In: Blog
Date: Jun 06, 2022
By: Henry Stewart
How productive are you when working from home — do you get more work done, about the same, or less?
This was the question I asked my followers on LinkedIn recently, following the recent comments from Boris Johnson and notes that Jacob Rees-Mogg left on the desks of civil servants in his office. Of the almost 500 that replied, the result was overwhelming.
Hi, we are Happy
We are leading a movement to create happy, empowered and productive workplaces.
How can we help you and your people to find joy in at least 80% of your work?
More about Happy
I love this cover piece from People Management, above: "Excellent that you were out when I visited." It says all that needs to be said about the new hybrid working environment.
It is, of course, a critique of the note that Jacob Rees-Mogg left on the desks of civil servants in his office: "Sorry you were out when I visited. I look forward to seeing you in the office very soon." For Rees-Mogg, it is all about presenteeism.
And Johnson backed him up by saying, based on zero evidence, that working from home doesn't work because people spend too much time drinking coffee and eating cheese.
So I decided to set up a poll on LinkedIn to ask people whether they were more productive at the office or at home. Of the almost 500 that replied, the result was overwhelming:
69% agree that 'I work, more productively, and get more done, when working from home,' against just 9% disagreeing. (And 22% saying about the same.)
Is this just my contacts? Well, YouGov did a survey in April on 'do you think office workers are more productive when they work from home?'
The response was very age related.
Among 25-49 year olds, 43% said more productive at home, against 20% at work
Among 50-64s: 35% more productive at home, against 30% at work
Among 65+: 21% more productive at home, against 43% at the office
So it is only those who are no longer working who believe people can't be productive at home. (I wonder if this is the target market that Johnson is aiming for.)
And there is one key difference between these two surveys: The YouGov one refers to other people, mine asks if 'I work more productively.' Do people feel they are more productive at home but other people aren't?
At Happy we are perfectly okay, and always have been, with people working wherever they need to be to get the work done.
The government doesn't seem to be aware of what has actually been going on its own departments. Even before the pandemic, the Ministry of Justice had set up a central London office whose capacity only enabled its staff to work there 3 days a week, for example.
People are voting with their feet. I am told that recruitment companies are finding that if a job enables working from home, it gets twice the responses of one that requires you to be in the office.
Even before the pandemic I remember somebody visiting our office and commenting that there were only four people there (out of 25).
"Where are all the others?" they asked.
"I have no idea," was my response.
I had no interest then, and have no interest now, in where our people are. If they need to be in the office, they will be. If they are more productive working from home, that is fine.
Of course it's not just one or the other. The new hybrid work environment will probably find office workers spending a day or two in the office, to get that social engagement and buzz, and the rest of the time at home.
For me I find it very odd when the senior leaders in organisations find the need to tell people they need to be in the office.
I did hear one interesting example of this. In one company, people are given the choice between working at least 10 days a month in the office, or spending all their time at home. But if they choose the 10 days, they get an extra 5 days of holiday.
For me it's simply about trust. Isn't it time to judge people on the outcomes, not on how much time they spend in the office?
So, do you work more productively at home or at the office?
Keep informed about happy workplaces
Sign up to Henry's monthly Happy Manifesto newsletter, full of tips and inspiration to help you to create a happy, engaged workplace.
Sign up here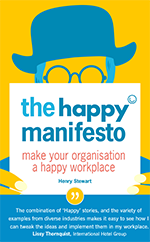 Learn the 10 core principles to create a happy and productive workplace in Henry Stewart's book, The Happy Manifesto.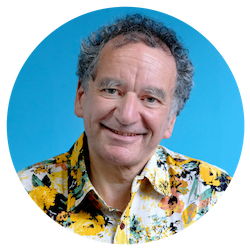 Henry Stewart, Founder and Chief Happiness Officer
Henry is founder and Chief Happiness Officer of Happy Ltd, originally set up as Happy Computers in 1987. Inspired by Ricardo Semler's book Maverick, he has built a company which has won multiple awards for some of the best customer service in the country and being one of the UK's best places to work.
Henry was listed in the Guru Radar of the Thinkers 50 list of the most influential management thinkers in the world. "He is one of the thinkers who we believe will shape the future of business," explained list compiler Stuart Crainer.
His first book, Relax, was published in 2009. His second book, the Happy Manifesto, was published in 2013 and was short-listed for Business Book of the Year.
You can find Henry on LinkedIn and follow @happyhenry on Twitter.
More by Henry
Next Conference: 2024 Happy Workplaces Conference
Our Happy Workplaces Conference is our biggest event of the year, and we'd love for you to join us next year. Save the date for Wednesday 15th May 2024!
This will be a hybrid event — we will host up to 50 people in the venue at Happy's HQ in Aldgate, London, and up to 200 people online via Zoom. The speakers will be a mix of online and in person. However you choose to join us for 2024, there will be interaction, discussion, space for reflection and opportunities to network with others.
All tickets are currently half-price until January 2024.