The Most Creative Annual Report Ever?
In: Blog
Date: Jan 10, 2013
By: Henry Stewart
A big thanks to Marion Janner of Star Wards, @starwards, for alerting me to this fabulous approach to an annual report. And its not from a cutting edge startup, but from the public sector, the good old NHS: The annual report for Whittington Hospital Trust for 2004.
Hi, we are Happy
We are leading a movement to create happy, empowered and productive workplaces.
How can we help you and your people to find joy in at least 80% of your work?
More about Happy
The brief was to illustrate the entire job as though it were an American superhero comic and Bill Greenhead did a fabulous job of it and won the Nexus Award (apparently the second time the Whittington had won it).
It very much looks like a marvel comic, with lots of cartoons reflecting the issues for the Trust. But it also heavily features stories of actual staff to give a real feel for the organisation. It has, of course, got the usual financial information and regulatory bumph too.
I speak as a customer of the Whittington, having spent a night there earlier this year after coming off the bike and breaking my collar bone. It wasn't quite as wacky as the report, but it was a very good experience.
Be Creative!
Is this the most creative annual report ever? If you know of a better one, or of other creative examples, please do post their links below.
Does your organisation produce an annual report? What could you do to make it more creative, more engaging and a joy to read?
Keep informed about happy workplaces
Sign up to Henry's monthly Happy Manifesto newsletter, full of tips and inspiration to help you to create a happy, engaged workplace.
Sign up here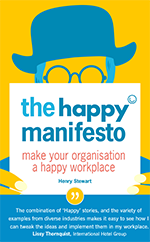 Learn the 10 core principles to create a happy and productive workplace in Henry Stewart's book, The Happy Manifesto.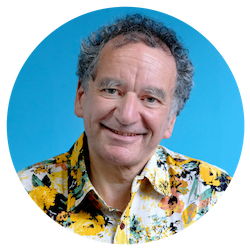 Henry Stewart, Founder and Chief Happiness Officer
Henry is founder and Chief Happiness Officer of Happy Ltd, originally set up as Happy Computers in 1987. Inspired by Ricardo Semler's book Maverick, he has built a company which has won multiple awards for some of the best customer service in the country and being one of the UK's best places to work.
Henry was listed in the Guru Radar of the Thinkers 50 list of the most influential management thinkers in the world. "He is one of the thinkers who we believe will shape the future of business," explained list compiler Stuart Crainer.
His first book, Relax, was published in 2009. His second book, the Happy Manifesto, was published in 2013 and was short-listed for Business Book of the Year.
You can find Henry on LinkedIn and follow @happyhenry on Twitter.
More by Henry