The Best Business Books of 2017
In: Blog
Date: Jan 10, 2018
By: Henry Stewart
Last month, I asked in my newsletter and on LinkedIn for your favourite business reads of 2017.
Hi, we are Happy
We are leading a movement to create happy, empowered and productive workplaces.
How can we help you and your people to find joy in at least 80% of your work?
More about Happy
Many thanks for your responses – here they are:
Darla Fain-Reed: No Ego: How Leaders Can Cut Drama, End Entitlement, and Drive Big Results by Cy Wakeman
Kristi Adams: Mine is What Got You Here Won't Get You There by Dr Marshall Goldsmith
Peter Whent: Start with Why by Simon Sinek
Esther van Hout: How to Have a Good Day by Caroline Webb. She uses recent research from behavioral economics, psychology and neuroscience and explains how you can use this to improve the quality of life at work. Very practical and enjoyable read!
Neil Dew-Gosling: Black Box Thinking by Matthew Syed. Fascinating and thought provoking.
David van Valenburg: Turn the Ship Around by L. David Marquet, Drive by Daniel Pink and the Decision Maker by Dennis Bakke.
And mine were:
Radical Candour by Kim Scott: The power of honest feedback
Exponential Organisations by Michael Malone, Salim Ismail, & Yuri van Geest: How to be 10x better, faster & cheaper
Leading with Happiness by Alex Kjerulf: Common sense on creating happy workplaces
A Simple Act of Gratitude by John Kralik: The power of saying thank you
An Everyone Culture by Andy Fleming et al: DDOs (Deliberately developmental organisations)
Favourites from previous years include Work Rules by Laszlo Bock (the inside story on how Google manages people), Reinventing Organisations by Frederick Laloux (inspirational "teal" self-managing organisations) and Multipliers by Liz Wiseman (how to be a truly great manager).
I'm now reading Fire and Fury, though not expecting to get many business lessons from it!
Are there any books we missed? Which of the business books on this list are you going to try?
Keep informed about happy workplaces
Sign up to Henry's monthly Happy Manifesto newsletter, full of tips and inspiration to help you to create a happy, engaged workplace.
Sign up here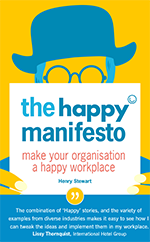 Learn the 10 core principles to create a happy and productive workplace in Henry Stewart's book, The Happy Manifesto.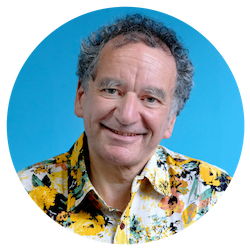 Henry Stewart, Founder and Chief Happiness Officer
Henry is founder and Chief Happiness Officer of Happy Ltd, originally set up as Happy Computers in 1987. Inspired by Ricardo Semler's book Maverick, he has built a company which has won multiple awards for some of the best customer service in the country and being one of the UK's best places to work.
Henry was listed in the Guru Radar of the Thinkers 50 list of the most influential management thinkers in the world. "He is one of the thinkers who we believe will shape the future of business," explained list compiler Stuart Crainer.
His first book, Relax, was published in 2009. His second book, the Happy Manifesto, was published in 2013 and was short-listed for Business Book of the Year.
You can find Henry on LinkedIn and follow @happyhenry on Twitter.
More by Henry