The Benefits of Happy Workplaces in the Public Sector
In: Blog
Date: Oct 30, 2017
By: Henry Stewart
There is widespread evidence that happiness in the workplace results in greater productivity and commercial success for companies. Do happier, more engaged employees provide similar benefits to organisations in the public sector and charitable organisations?
Hi, we are Happy
We are leading a movement to create happy, empowered and productive workplaces.
How can we help you and your people to find joy in at least 80% of your work?
More about Happy
There a number of unique factors that come into play when looking to increase happiness in the public sector that don't apply for the private sector. Emphasis is required on different areas and there are different strengths and weaknesses between the public and private sectors.
Harvard Business Review has addressed a number of the unique challenges to increased engagement that the public sector employees faces. It argues these include prevailing negative attitudes about government and government employees held by the general public, frequent and abrupt changes in leadership, hard-to-measure achievement, an older workforce and strong civil-service rules and employee protections which, it suggests, allow some employees to avoid pulling their weight.
However there are also some unique advantages to increasing engagement in the public sector. The Journal of Public Administration and Research Theory found that public servants find meaning in their work by making a positive difference in the lives of the citizens they serve and are highly motivated by this. HBR suggests that managers could increase engagement by leveraging this public-service motivation by involving employees in decision making and helping them see and appreciate their individual contributions to the mission of the organisation.
Research has found that while 83% of public sector and 84% of private sector employees say they understand their organisations core purpose, just 44% of private sector employees reported being motivated by it. This compares to 57% of public sector employees being motivated by their organisations core purpose.
It seems that in the public sector there is a stronger sense of making a contribution to something of value and this is still clearly very important to employees, more so than in the private sector.
Staff engagement in the NHS leads to reduced mortality
So, what are the benefits of increased engagement in the public sector? A 2013 NHS Employers publication, the Staff Engagement Toolkit, found evidence that highly engaged and empowered staff not only generate better outcomes for patients but also result in improved quality of services, reduced patient mortality, improved staff health and well-being, lower levels of sickness absence and greater financial efficiencies.
They also found that high levels of staff engagement can support successful organisational change. Researchers have established a clear link between levels of staff engagement and patient experience and outcomes. Research shows that where staff engagement scores are high, scores are also significantly higher for patient satisfaction and lower for standardised hospital mortality rates as can be seen below.
Put simply, staff engagement saves lives:
The strength of the link between staff engagement, health and well-being and reduced absenteeism is also striking. As engagement goes up health and wellbeing rises while the absenteeism rate decreases markedly.
This trend continues across other areas in the NHS, as staff engagement increases so to do the scores granted by the Care Quality Commision (CQC) through it's annual health check standards.
As we can see the NHS has shown that increases in staff engagement have significant benefits across patient outcomes and experience, staff health and wellbeing and absenteeism and quality of care services. Increased staff engagement has been shown to improve the effectiveness of the NHS significantly and it serves as a useful case study for the positive impact increased engagement can have in the public sector.
The benefits of engaged employees
In a 2012 paper conducted by David MacLeod and Nita Clarke OBE in association with The University of Bath School of Management they found that "as well as performance and productivity, employee engagement impacts positively on levels of absenteeism, on retention, on levels of innovation, on customer service, on positive outcomes in public services and on staff advocacy of their organisations".
They quote a 2007 Towers Watson study which found that 78% of the more engaged employees in the public sector felt they could impact public service delivery positively while only 29% of the disengaged felt the same way. They also cite research from the Leadership and Organisation Journal which used data collected from 9,930 employees across 12 UK public and private sector organisations including police forces, higher education and local councils.
From this data a strong correlation was found between engagement and psychological well-being and it appeared that these two factors collectively explained a meaningful proportion of the varying performance among the 12 different organisations that were looked at.
The key is how much control people have over their work
The Whitehall Study, which is the largest longitudinal study of people in the workplace ever conducted, found connections between better wellbeing and positive outcomes and also direct causes. It investigated more than 10,000 UK civil servants since 1985 and a key finding was that how much control you have and the opportunity for social participation profoundly affects the health of individuals. The conclusion was that there is an intrinsic need for autonomy and social engagement.
Therefore through increasing employee happiness by empowering employees and encouraging social interaction public sector organisations should be able to have a positive impact on the physical health of their employees which would result in the organisation accruing a host of related benefits.
The evidence does not end here. In a report commissioned by the UK Secretary of State for Business, Lord Mandelson, it was found that departments with high engagement levels, measured through staff surveys, tend to perform best in capability reviews which are a key measure for how well a department performs.
Mandelson's report found evidence from research in Canada that the link between engagement, customer service and profitability in the private sector could translate directly to the public sector (MacLeod, 2009). This suggests that while there are unique ways in which increased happiness and engagement can benefit the public sector, the general benefits may be no less prevalent than in the private sector. Therefore much of the research for the benefits of increased happiness and engagement in the commercial sector, from being more profitable to higher share growth to lower costs would also apply to the public sector.
So, what have public bodies been doing to increase employees levels of happiness and what are some good methods for doing so? The HR Observer has noted a number of practices that public sector organisations have taken on-board to increase employee happiness and engagement. They provide a number of examples which include making the development of a culture of engagement a strategic priority, providing senior level and enterprise wide level leadership, developing engagement related leadership competencies and recognising employee contribution more explicitly. These practices alongside periodic re-surveys to ensure that staff engagement is moving in the right direction can prove effective in improving staff engagement in the public sector as there is no magic bullet to increase engagement.
Many of the effective practices that organisations can implement to increase engagement don't require extensive capital investment and as the fields of positive psychology and organisational psychology progress we are finding more and more effective solutions to increasing employee engagement. The barriers to increased employee happiness and engagement are becoming lower and lower while the return is becoming higher and higher.
Public sector employees can deliver more effectively and perform more optimally for the citizens they serve while enjoying doing so more than ever if the organisations they belong to sufficiently prioritise increasing employee happiness.
This guest blog was written by Rian Doris while an intern at Happy. Rian is a student of Philosophy at Trinity College Dublin with a passion for Positive Psychology and all things wellbeing related. After completing undergraduate studies, he is aiming to pursue a Masters in Applied Positive Psychology and then go on to do further research in the field. Contact him at riandoris@gmail.com.
Keep informed about happy workplaces
Sign up to Henry's monthly Happy Manifesto newsletter, full of tips and inspiration to help you to create a happy, engaged workplace.
Sign up here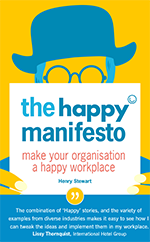 Learn the 10 core principles to create a happy and productive workplace in Henry Stewart's book, The Happy Manifesto.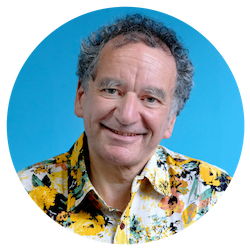 Henry Stewart, Founder and Chief Happiness Officer
Henry is founder and Chief Happiness Officer of Happy Ltd, originally set up as Happy Computers in 1987. Inspired by Ricardo Semler's book Maverick, he has built a company which has won multiple awards for some of the best customer service in the country and being one of the UK's best places to work.
Henry was listed in the Guru Radar of the Thinkers 50 list of the most influential management thinkers in the world. "He is one of the thinkers who we believe will shape the future of business," explained list compiler Stuart Crainer.
His first book, Relax, was published in 2009. His second book, the Happy Manifesto, was published in 2013 and was short-listed for Business Book of the Year.
You can find Henry on LinkedIn and follow @happyhenry on Twitter.
More by Henry