Six reasons why this government has been no friend of small business
In: Blog
Date: Apr 27, 2015
By: Henry Stewart
I founded Happy Ltd in 1987. Of that 28 years of running this award-winning business, the last five have definitely been the hardest. Many of those challenges have been directly down to the actions of the Coalition.
Hi, we are Happy
We are leading a movement to create happy, empowered and productive workplaces.
How can we help you and your people to find joy in at least 80% of your work?
More about Happy
The government makes many fine declarations of its support for, and belief in, small business. However I judge them by their actions rather than their words and, as I detail below, their actions have clearly shown them to be a friend of big companies but not of small.
As a result this entrepreneur will certainly not be voting for either the Conservatives or Liberal Democrats.
1. Less tax for big business, no help for small
Ten years ago the tax on company profits was 30% for a large business and 19% for a small business. Since 1st April 2015 the rate for both has been 20%. The government has clearly shown that it wishes to help the oil companies and banks, and other big companies, contribute less. But it has shown no similar interest in helping the smaller company.
2. Less easy access to finance
I have always promised my family that among the many risks involved in running a small business, I would not risk our house on its performance. In 2000 Happy was able to expand thanks to a £250,000 loan under Labour's Loan Guarantee Scheme. The government provided a 75% guarantee to the bank and I was not asked to put the house on the line.
As a result my businesses expanded, created a couple of dozen extra jobs and, over the years, paid millions more in taxes. That guarantee proved to be a very sensible financial decision for HM Treasury.
A similar guarantee system exists under this government and last year I applied for a loan. Despite the same 75% government guarantee the bank told me that the government required a 75% personal guarantee, effectively meaning I would have to risk the house. I declined it. Happy is expanding, but at a slower rate than we could have.
3. Austerity has not helped small business
In 2010, as this government took office, the economy had returned to growth and so had our sales. The cuts introduced by this government, in the name of austerity, reduced demand and meant that many of our customers could no longer afford the training that is so vital to long-term growth.
As an economist by training, I believe the deep cuts proposed by the Conservatives are neither necessary not helpful to the economy. Small business especially will benefit from a government committed to greater spending, even if it means borrowing to invest.
4. Government procurement increasingly favours large business
I have written elsewhere of how we lost 25% of our business at a stroke when the government changed how it bought training. Instead of using hundreds of small businesses, each winning contracts in open competition, it decided to procure all its training from one large business, Capita. I believe this has led to higher costs, worse service and has driven some small business suppliers out of business.
This appears to have been the norm for this government as contracts have increasingly gone to the likes of Capita, Serco and G4S. Francis Maude has been clear that better value can normally be gained from small business, but too often the contracts are such that small businesses are not able to bid.
That is certainly the case for Happy. There are a whole range of government contracts that we used to win, that we are not now even allowed to bid for.
5. A government that listens to large companies, not small
Early on this government promised to provide a hotline to ministers, and even a ministerial buddy, for companies like BP, British Gas and GSK. In contrast when I wrote to the Prime Minister it was over nine months before I even received a response.
If this government makes itself so close to our largest companies, it is no surprise that these are the companies – and not small businesses – that it acts in the interests of.
6. Small companies used as a fig leaf over higher rate income tax
Given this track record it really annoys me (really really annoys me) when the government claims its actions are taken to help people like me. When the higher rate of income tax was reduced to 45%, it was claimed this was to help entrepreneurs.
I know a lot of entrepreneurs who have started a business from scratch but I know none who pay themselves £150,000 or more. (I do know some that have sold their companies for much more than that, but that is covered by Capital Gains Tax, which the Labour government reduced to 10% on company sales.)
It is the likes of bankers, lawyers and accountants – not entrepreneurs – who will have benefitted from this reduction but it would not gain the government many popularity points to be claiming to act in their favour.
And that, I believe, is the role that small businesses play for this government. Small and medium sized businesses provide 59% of jobs in this country (with 47%, almost half of private sector jobs, provided by companies employing less than 50 people) and are arguably the most dynamic part of the economy. But it is large businesses that this government listens to and acts in the interests of.
The Coalition has most definitely not been a party for small business.
Keep informed about happy workplaces
Sign up to Henry's monthly Happy Manifesto newsletter, full of tips and inspiration to help you to create a happy, engaged workplace.
Sign up here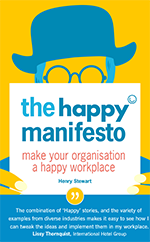 Learn the 10 core principles to create a happy and productive workplace in Henry Stewart's book, The Happy Manifesto.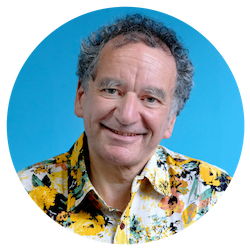 Henry Stewart, Founder and Chief Happiness Officer
Henry is founder and Chief Happiness Officer of Happy Ltd, originally set up as Happy Computers in 1987. Inspired by Ricardo Semler's book Maverick, he has built a company which has won multiple awards for some of the best customer service in the country and being one of the UK's best places to work.
Henry was listed in the Guru Radar of the Thinkers 50 list of the most influential management thinkers in the world. "He is one of the thinkers who we believe will shape the future of business," explained list compiler Stuart Crainer.
His first book, Relax, was published in 2009. His second book, the Happy Manifesto, was published in 2013 and was short-listed for Business Book of the Year.
You can find Henry on LinkedIn and follow @happyhenry on Twitter.
More by Henry