Reduce expense claims: let your people decide what to spend
In: Blog
Date: Mar 31, 2014
By: Henry Stewart
In his excellent book "Becoming a Better Boss", Julian Birkinshaw describes a very interesting experiment at the pharma multi-national Roche. Two groups of staff, in Germany and Switzerland, were told that their travel claims were to become self-authorised.
Hi, we are Happy
We are leading a movement to create happy, empowered and productive workplaces.
How can we help you and your people to find joy in at least 80% of your work?
More about Happy
Instead of being approved in advance and signed off afterwards, each employee would decide for themselves what was needed (though still aware of company policy). Instead of being checked, the resulting expenses would be displayed on the intranet.
Julian describes the results as "astonishing": 45% of participants said their motivation had increased from being trusted in this way (against 6% feeling uncomfortable with the approach), and 3 in 4 said it was more efficient and took less time.
Cut the approval, Increase the trust, Get the benefit
It is clear that this change cut a lot of the paperwork and the unnecessary approval that is so common in large organisations. But what happened to the level of expenses? The team had expected them to go up but found that the reverse happened and, in one of the two groups, the cost went down substantially. When people were trusted, they took more responsibility and spent less. As one said "I hope my expenses will motivate others to spend as little as I do"!
This reminds me of when I read Bill Gates' The Road Ahead' almost 20 years ago. I still remember being shocked to find that part of Bill's time was spent checking the expenses for Steve Ballmer to ensure they fell within company policy. As well as being a Microsoft Director, Ballmer owned – even then – several billion dollars of Microsoft shares and could be felt worthy of a bit of slack. I also did wonder if it was the best use of Gates' time. (Bill told the story not to explain how he suddenly decided to start trusting Steve but instead how they'd solved it by creating a piece of software that would check the expenses automatically.)
The Roche example is one of several stories in the book, that show how you don't need to be at the top of an organisation to improve things there. Julian argues that, if you have a clear idea and move quickly, in small steps, you can – even within a bureaucratic organisation – enable change and increase trust for those you work with.
Though the biggest surprise was his explanation of how the original meaning of bureaucracy was positive. It was popularised by the German sociologist Max Weber as a system of rules and procedures to get away from domination of what had always been done or the personality of one leader. And for much of the 20th century it was quite an effective way of organising production. Fascinating stuff and well worth a read.
Keep informed about happy workplaces
Sign up to Henry's monthly Happy Manifesto newsletter, full of tips and inspiration to help you to create a happy, engaged workplace.
Sign up here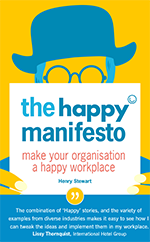 Learn the 10 core principles to create a happy and productive workplace in Henry Stewart's book, The Happy Manifesto.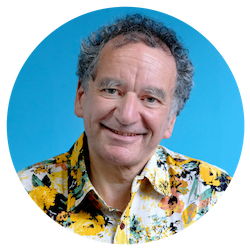 Henry Stewart, Founder and Chief Happiness Officer
Henry is founder and Chief Happiness Officer of Happy Ltd, originally set up as Happy Computers in 1987. Inspired by Ricardo Semler's book Maverick, he has built a company which has won multiple awards for some of the best customer service in the country and being one of the UK's best places to work.
Henry was listed in the Guru Radar of the Thinkers 50 list of the most influential management thinkers in the world. "He is one of the thinkers who we believe will shape the future of business," explained list compiler Stuart Crainer.
His first book, Relax, was published in 2009. His second book, the Happy Manifesto, was published in 2013 and was short-listed for Business Book of the Year.
You can find Henry on LinkedIn and follow @happyhenry on Twitter.
More by Henry