Promote Everybody to CEO of Something
In: Blog
Date: Jul 25, 2011
By: Henry Stewart
I would like to thank Lissy Thornquist, of Holiday Inn London-Gatwick Airport, for this great idea – which she shared while feeding back on my book, The Happy Manifesto.
"
I read an interview in the New York Times – the Corner Office with Mark Pincus, founder and CEO of Zynga. His reply to the question, how has your leadership style evolved?, was:
"I'd turn people into CEOs. One thing I did at my second company was to put white sticky sheets on the wall, and I put everyone's name on one of the sheets, and I said, 'By the end of the week, everybody needs to write what you're CEO of, and it needs to be something really meaningful.'
And that way, everyone knows who's CEO of what and they know whom to ask instead of me. And it was really effective. People liked it. And there was nowhere to hide."
"
Lissy tells me she has had great results promoting her staff (most of whom are unskilled and largely on the minimum wage) to CEO of something, to give them clear responsibility. I'm going to try it at Happy. It's a great idea.
Hi, we are Happy
We are leading a movement to create happy, empowered and productive workplaces.
How can we help you and your team to find joy in at least 80% of your work?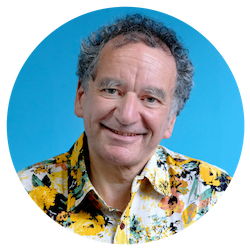 Henry Stewart, Founder and Chief Happiness Officer
Henry is founder and Chief Happiness Officer of Happy Ltd, originally set up as Happy Computers in 1987. Inspired by Ricardo Semler's book Maverick, he built a company with a reputation for some of the best customer service in the country and one of the UK's best places to work, winning multiple awards for its culture and philosophy.
His first book, Relax, was published in 2009. His second book, the Happy Manifesto, was published in 2013 and was short-listed for Business Book of the Year.
Outside of work he is a father of three, was Chair of Governors at his local primary and comprehensive in Hackney and a very keen cyclist.
You can find Henry on LinkedIn and follow @happyhenry on Twitter.
More by Henry