Lessons from Tiger Woods
In: Blog
Date: Jun 25, 2013
By: Henry Stewart
In 2009, Fortune magazine asked Tiger Woods, among others, for the 'best advice I ever got'.
'When I was young, maybe six or seven years old, I'd play on the Navy golf course with my pop. My dad would say, "Okay, where do you want to hit the ball?" I'd pick a spot and say I want to hit it there. He'd shrug and say, "Fine, then figure out how to do it." He didn't position my arm, adjust my feet, or change my thinking. He just said go ahead and hit the darn ball.'
I think there is something profound here about how to help a talented individual develop. Let's translate it into management speak.
When you sit down with one of your people to plan their development, get them to set their own objective. Then ask them to figure out how to achieve it. Don't tell them how to do it, let them work out their own way – with your support.
Hi, we are Happy
We are leading a movement to create happy, empowered and productive workplaces.
How can we help you and your team to find joy in at least 80% of your work?
Why choose Happy?
Award-winning learner-focused approach
Small class sizes to give personal one-to-one support
Two years of free support after your course
Private group options available
No quibble money-back guarantee on all courses
It was really insightful content with practical tips to use at work and everyday life.
Sarah Maynard
21 days ago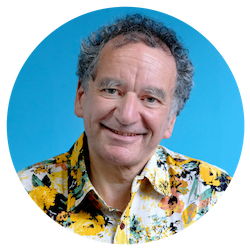 Henry Stewart, Founder and Chief Happiness Officer
Henry is founder and Chief Happiness Officer of Happy Ltd, originally set up as Happy Computers in 1987. Inspired by Ricardo Semler's book Maverick, he built a company with a reputation for some of the best customer service in the country and one of the UK's best places to work, winning multiple awards for its culture and philosophy.
His first book, Relax, was published in 2009. His second book, the Happy Manifesto, was published in 2013 and was short-listed for Business Book of the Year.
Outside of work he is a father of three, was Chair of Governors at his local primary and comprehensive in Hackney and a very keen cyclist.
You can find Henry on LinkedIn and follow @happyhenry on Twitter.
More by Henry