Happiness is a Political Issue
In: Blog
Date: Apr 21, 2011
By: Henry Stewart
I was delighted to be involved in the launch of Action for Happiness last week, giving a short speech on increasing happiness in the workplace.
Hi, we are Happy
We are leading a movement to create happy, empowered and productive workplaces.
How can we help you and your people to find joy in at least 80% of your work?
More about Happy
Over the last 60 years our incomes have increased substantially but surveys show our happiness has not increased at all. This "movement for positive social change" seeks to change that by focusing policy on happiness rather than just increasing GDP.
Action for Happiness details 10 actions to take for a happier life. These include doing things for others ("feel good by doing good"), connecting with people, being active and more. The launch received huge amounts of media attention but there has been some scepticism, especially from those who think actions like this divert from the key political issues.
Now, running a company called Happy, I'm going to be pretty much in favour of a movement for happiness. Indeed the aim of Happy Ltd is to change the way people work in the UK to create happy workplaces and happier lives. One question I asked at the launch was, "how would your workplace be different if the focus of your organisation was on making people feel good?"
This is based on the belief that people work best when they feel good about themselves, a statement that most people agree with. I believe that those organisations that do make this their focus are not only happier, but more effective. Imagine what work would be like if people were valued and given freedom within clear guidelines. If there was a no blame culture. If people were recruited and promoted based on their attitude and support for others. And, best of all, if people could actually choose their managers.
I see that as pretty radical change. Indeed I would argue that one of the problems with political movements in the past is their failure to take account of people's feelings and needs. Many years ago I was part of an ambitious project to create a radical, campaigning Sunday newspaper. We had great ideals of what we wanted to change but created a terrible workplace and, as a result, also created a pretty poor product.
A real focus on happiness is not politically neutral. We know that the most happy societies are the most equal. That is why Scandinavian countries tend to come top of international happiness surveys. A recent survey found only 6% of the Chinese population was happy in their now very unequal society, which led to the Chinese government banning references to it. (Denmark came top with 72% happy.)
Inequality makes people unhappy. Poverty makes people unhappy. Consumerism makes people unhappy. A real focus on increasing happiness would lead to very radical change in society. Bring it on!
Keep informed about happy workplaces
Sign up to Henry's monthly Happy Manifesto newsletter, full of tips and inspiration to help you to create a happy, engaged workplace.
Sign up here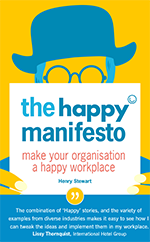 Learn the 10 core principles to create a happy and productive workplace in Henry Stewart's book, The Happy Manifesto.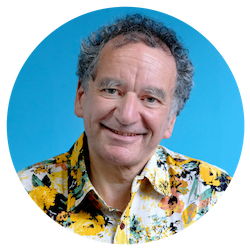 Henry Stewart, Founder and Chief Happiness Officer
Henry is founder and Chief Happiness Officer of Happy Ltd, originally set up as Happy Computers in 1987. Inspired by Ricardo Semler's book Maverick, he has built a company which has won multiple awards for some of the best customer service in the country and being one of the UK's best places to work.
Henry was listed in the Guru Radar of the Thinkers 50 list of the most influential management thinkers in the world. "He is one of the thinkers who we believe will shape the future of business," explained list compiler Stuart Crainer.
His first book, Relax, was published in 2009. His second book, the Happy Manifesto, was published in 2013 and was short-listed for Business Book of the Year.
You can find Henry on LinkedIn and follow @happyhenry on Twitter.
More by Henry