Celebrate International Day of Happiness: 20th March
In: Blog
Date: Mar 19, 2013
By: Henry Stewart
Today, Wednesday 20th March, is the first UN International Day of Happiness. Take the pledge to bring more happiness to others at the World Happiness Day web-site, add your Happy Heroes and see what events you can attend on the day.
Hi, we are Happy
We are leading a movement to create happy, empowered and productive workplaces.
How can we help you and your people to find joy in at least 80% of your work?
More about Happy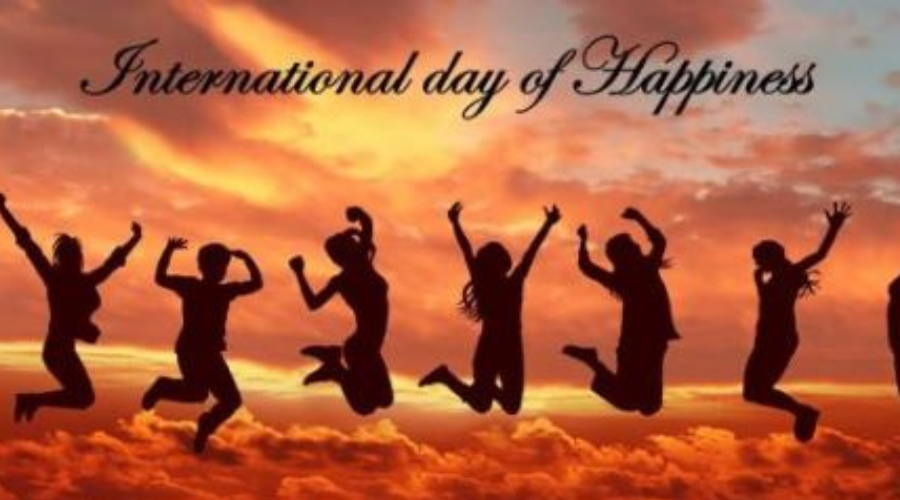 Yesterday Richard Layard, the inspirational author of the book Happiness, launched the Happy Heroes. A dozen people were given Heroes of Happiness medals and I was honoured to be one of them.
The really nice twist is that each of us have to pass the medal on to our own Happy Hero within 24 hours (and they then pass it on to their happy hero and so on). Now that is a great viral idea. My happy hero is Marion Janner, who through her Star Wards campaign has helped transform many aspects of acute mental health care in the UK. 
Richard asked the question "How would a government behave if it's primary aim was the happiness of its people?". Its an interesting question and one that, under Richard's influence, a government committee under Gus MacDonald is to research.
It is of course similar to the question I often ask of people: "How would your organisation be different if the primary focus of its managers was to make its people happy?" Most agree to would not only be a great place to work in, but also more effective and more productive. Recently I was lucky enough to speak alongside Charlie Mayfield, Chair of John Lewis, who pointed out that at his company that was the primary purpose with pretty impressive results.
A great example of what a different approach could look like was shown 10 days ago when BBC Radio Surrey and Sussex held a happiness day. The news was told from a positive angle. People were interviewed who were doing work to make society a better place. The presenters talked about what made them happy: "A stroll along the seafront", "Cycling in the Surrey hills", "Smell of the sea", "The laughter of my children", "Time with my friend and families at the seaside". It was a joy to listen to and made me wonder how life would feel different if the media was like that every day.
Who Can You Make Happy Today?
All the research indicates that the best way to increase your own happiness is to help make others happy. So what can you do to make somebody happy today, on the International day of Happiness. Start with a smile and telling somebody what you appreciate about them. Be positive. Make a point of engaging people and thanking them. Avoid internal email and go and talk to people instead. If you are a manager, step out of approval and find a way to give more trust and freedom to your people. 
But also appreciate yourself and the contribution you make. And enjoy the Day of Happiness.
Keep informed about happy workplaces
Sign up to Henry's monthly Happy Manifesto newsletter, full of tips and inspiration to help you to create a happy, engaged workplace.
Sign up here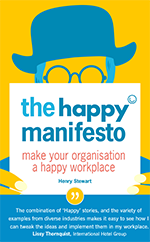 Learn the 10 core principles to create a happy and productive workplace in Henry Stewart's book, The Happy Manifesto.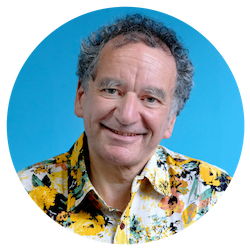 Henry Stewart, Founder and Chief Happiness Officer
Henry is founder and Chief Happiness Officer of Happy Ltd, originally set up as Happy Computers in 1987. Inspired by Ricardo Semler's book Maverick, he has built a company which has won multiple awards for some of the best customer service in the country and being one of the UK's best places to work.
Henry was listed in the Guru Radar of the Thinkers 50 list of the most influential management thinkers in the world. "He is one of the thinkers who we believe will shape the future of business," explained list compiler Stuart Crainer.
His first book, Relax, was published in 2009. His second book, the Happy Manifesto, was published in 2013 and was short-listed for Business Book of the Year.
You can find Henry on LinkedIn and follow @happyhenry on Twitter.
More by Henry
Next Conference: 2024 Happy Workplaces Conference
Our Happy Workplaces Conference is our biggest event of the year, and we'd love for you to join us next year. Save the date for Wednesday 15th May 2024!
This will be a hybrid event — we will host up to 50 people in the venue at Happy's HQ in Aldgate, London, and up to 200 people online via Zoom. The speakers will be a mix of online and in person. However you choose to join us for 2024, there will be interaction, discussion, space for reflection and opportunities to network with others.
All tickets are currently half-price until January 2024.