Career Opportunity: Management Apprenticeship, Associate Facilitator at Happy
In: Blog
Date: Jan 11, 2021
By: Claire Lickman
Happy is looking for facilitators to deliver our Level 3 and Level 5 Development Programmes for Managers. As part of your role, you will facilitate training, carry out progress reviews with learners and their line managers, mark assignments and support learners through their end-point-assessments.
We are looking for people committed to the 10 principles in our Happy Manifesto. Find out full details below.
Closing date: midnight on Monday 1st February 2021.
Not quite the role for you?
Visit our Careers page to view our current vacancies. Sign up to our mailing list to be the first to hear when we are looking for a new member of the team.
Visit our Careers page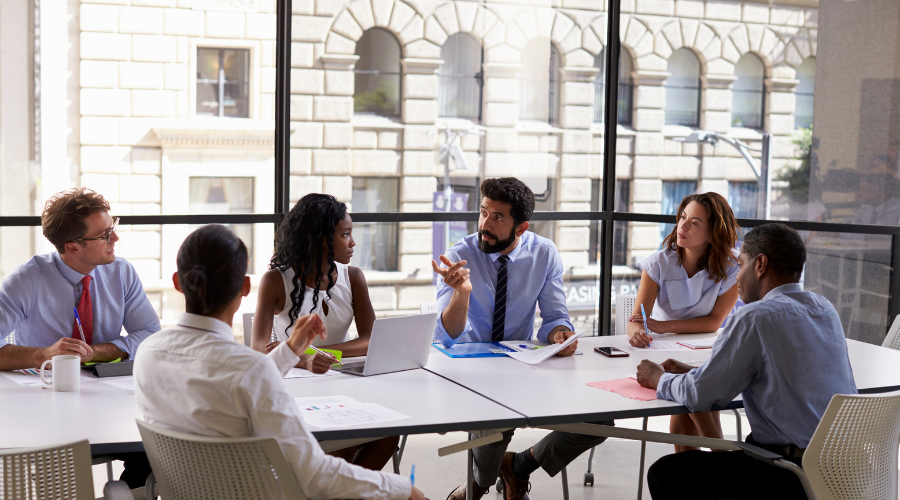 Facilitation at Happy
Happy is a fast-growing training and consultancy company. Our key growth comes from word of mouth recommendation, based on the quality of the service we provide to our learners and their employers.
We believe the secret to creating happier, more productive workplaces is by building organisations on trust and freedom. At Happy, we seek to facilitate rather than instruct.
Opportunities
Happy seeks to be an equal opportunities employer. We hope to reflect the cultural diversity of this city in the people we employ.
Tasks involved in the job
The tasks below are those initially agreed for the position:
Deliver a day's training (10am-4.30pm) per cohort, each month for the duration of the programme (all our training is currently being delivered live online)
Arrange and carry out progress reviews with learners and their line managers every 10-12 weeks for the duration of the programme
Mark and give learners feedback on their assignments (including feedback on their English and Maths)
Help learners prepare for their end point assessments
Effectively record and track learners progress through the apprenticeship
Inform the Apprenticeship Team of any additional support learners and their line managers might need
Use learner and their employer's feedback to shape the programme delivery
Participate in Quality Standardisation meetings every 4 months to help the Apprenticeship Team improve the quality of the provision
Support the Apprenticeship Team with compliance by providing and keeping documentation up-to-date (e.g. notes on progress reviews, attendance lists, learner contact logs etc…)
Participate in appropriate continuing professional development and staff development opportunities to update or develop new skills
Promote and comply with policies adopted by Happy e.g. Safeguarding, Equality and Diversity, PREVENT, Health and Safety
Support the promotion of and embed British Values, Safeguarding, Prevent, Equality and Diversity as well as English and maths in the apprenticeship programme delivery
All staff are expected to take on any task if it is necessary to ensure the provision of an excellent service to our learners and their employers.
Essential Characteristics
The successful candidate will have the following characteristics:
Skills
Ability to take responsibility and be self-managing
Strong communication skills – able to develop strong positive relationships with learners, line managers and other members of staff
Good administration skills: organised, thorough, very high level of accuracy
Great social skills: a relaxed, friendly attitude, to enable fellow members of staff and learners to feel relaxed and at ease
Flexibility: Happy's staff must be prepared to question their working methods, test out new ideas, celebrate their mistakes and seek to continually improve their abilities
Receptive to feedback: our facilitators are expected to respond well to feedback and be willing to test out new ideas, celebrate their mistakes and seek to continually improve their abilities. Facilitators are expected to action feedback from learners and their line managers and where this isn't possible, be open and transparent about why
Perceptive: Facilitators are expected to pay attention to detail, they can read a room and are responsive to individual learners' needs. Facilitators know when to support a learner and when to challenge them
Adaptable: Facilitators can adapt training, even whilst it is taking place, to meet the learners needs and unique learning styles to ensure their learning is practical and relevant
General Characteristics
Commitment to excellence in everything you do, especially in meeting and exceeding the needs of the customer
Ability to leave every person you deal with, feeling good about themselves
Pro-active and flexible
Commitment to confidentiality around personnel issues
Ability to learn quickly
Ability and eagerness to answer and deal with all learner queries
Excitement about working for Happy and commitment to our principles
Great team worker: ability to work positively and supportively with others but also the ability to work on your own initiative.  Happy employees are expected to be open and assertive in expressing their views and feelings
Enthusiasm: positive thinking is essential in all aspects of Happy's work
Excellent time keeping and general reliability
Enjoy: coaching learners, assessing them and helping them complete the programme
Ability to motivate learners through the programme
Desirable Characteristics
Experience delivering training for Management Apprenticeships
Salary and Benefits
Happy pay £300 a day for training and £200 a day for marking and support days. Assuming you have a cohort of 12 people, we expect there to be about 2-3 days of support and assessment for every day of training.
As an Apprenticeship Facilitator with Happy you will:
Receive award winning training as part of your induction, in Happy's unique facilitation style 
Learn from more experienced Apprenticeship Facilitators at Happy
Be assigned a mentor
Receive an incentive bonus payment for each learner you get through their End-Point-Assessment
Have access to CPD resources from the Institute of Leadership & Management
Work with the same group of learners over a prolonged period, allowing you to witness first-hand the impact of your facilitation on the learners' development
Notice Period: This agreement may be terminated by either party by giving notice of no less than one full calendar month. Happy reserves the right to terminate this agreement with immediate effect if it has reason to believe continued services poses a risk to Happy and its reputation and to Happy's ESFA contract
How to Apply
We are asking applicants to:
Documents should be emailed to Apprenticeships@happy.co.uk
The deadline for applications is midnight on Monday 1st February 2021.
Interviews will be taking place on Wednesday 10th February, Wednesday 17th February & Wednesday 24th February. All interviews will be carried out remotely.
Unsuccessful Applications: Unfortunately, due to the large number of applications received we won't be able to let candidates know if their application has been unsuccessful. We will be in touch with successful candidates in the week commencing 1st February to arrange an interview.
About happy
We're Happy. We ignite possibilities within people and organisations to create joy at work.
We offer workplace consultancy and learning solutions in leadership and management, IT and personal development. We also manage several apprenticeship programmes covering web development and leadership.
We want to create organisations that people feel proud to work for — where staff feel trusted, confident with their IT software and have the skills to succeed in their roles.
Happy's principles are based on trust, empowerment and innovation, outlined in the book the Happy Manifesto, written by Happy's founder, Henry Stewart:
Help people feel good about themselves
Believe the best of people
Love work (but get a life)
Trust others
Create customer delight (always go above and beyond to leave the customer with a positive experience)
Celebrate mistakes (they're the only way we learn)
Make the world a better place
Create change, be innovative and creative
Our training and our culture have been recognised with multiple awards and recognition over the years. We were recognised as one of the UK's top five workplaces for five successive years by the Great Place to Work Institute. Happy has also been listed on the WorldBlu list of Freedom-Centered Workplaces for five years.
Most of our growth comes from word of mouth recommendation, based on the quality of the service we provide to our customers. We have received the Feefo Gold Service Award for the last two years and have recently received the CourseCheck Brilliance Award 2019 (Highest Rated Trainers, Large Business). We also have an average score of 4.8 put of 5 on Feefo, taken from verified customer reviews.