Appraisals and Recognition at
happy
Happy scrapped appraisals in 2018 after a staff vote, and replaced them with a one-page Happy@Happy snapshort form. These are completed every four months in a regular catch up meeting with a Multiplier and Mentor (or M&M — what we call our people managers).
Find out more below about how the Snapshot forms work and how we recognise our people.
Would you like to work in a workplace like this?
Visit our Careers page to view our current vacancies. Sign up to our mailing list to be the first to hear when we are looking for a new member of the team.
View our current vacancies
Why Happy Scrapped Appraisals For Regular Check Ins

In this video, Cathy Busani, Happy's Managing Director, explains why Happy scrapped its appraisals process in 2018 with regular check ins. 
Happy@happy snapshot forms
Staff discuss the one page happy@happy snapshot form with their Multiplier and Mentor (what Happy calls people managers) in their regular one-to-one meetings every four months.
These forms encourage everyone to think about how they contribute to Happy's success, and involves a discussion with their manager about how their role is linked to the business plan. The question changes on each form, so that staff think about each area of Happy's business plan.
For example, the question on the July 2021 snapshot form was: "Reflecting our aim of Creating a Great Place to Work, I will be focusing on supporting greater teamwork and collaborative working over the next 4 months by..."
Everyone also sets their goals and Radical Disruptions, and rates what percentage of their role gives them joy at work. (Learn more about Radical Disruptions here.)
We cocreate Autonomy. We appraise ourselves. We have control and we lead the conversation. We choose our own goals with coaching support from our M&M. That is an extension of the ownership we have of our jobs day-to-day.Rachael Worrall, Senior Facilitator and M&M
Interested in working for Happy?
Learn about our culture and what it's like to work for us:
How Does Happy Show Appreciation to Its Staff?

In this video, Sal Agoro, IT facilitator, explains how Happy shows recognition with appreciation cards, and how the culture of appreciation differs from the company she worked for previously.
Celebrating each other with Employee Appreciation Day
Employee Appreciation Day on Friday 5th March 2021 was the first time that we recognised this day.
Everyone at Happy received a cake (delivered to their door), and the member of the team ordering tried to make sure the cakes were people's favourites.
But as well as the treat, people received a customised thank you card. Each card had quotes from three people at Happy saying why they appreciate them. There was a huge buzz on the company's WhatsApp group when the cards and the cakes came through!
The appreciation we give each other is what makes Happy unique. It's honest and specific and helps us be self-aware about our strengths and the things other people see in us. We build in appreciation into our meetings. We have a deeply ingrained habit of openly praising each other, if we get a bit of really positive feedback for example, and copying managers in. And the managers then pick up on it and reinforce the feedback. I know that, after talking to friends and family who work elsewhere, that this is far from common practice.Rachael Worrall, Senior Facilitator and M&M
Stop, Start, Continue feedback
All of our people are held accountable through our annual 'Stop, Start, Continue' peer and upward appraisals.
Each person fills in a simple form for each person in the organisation, letting them know what they should Stop, Start or Continue. Guidance is given about how this should be completed — for example, that feedback that is challenging should be simple, constructive and respectful, and that it should focus on behaviours.
The only mandatory field is 'Continue', so that all staff receive positive feedback from the rest of the team.
In addition, each Snapshot form asks what their M&M could be doing to support them better. This provides a regular opportunity to have a conversation with their M&M about what they need, and how their M&M is helping them to achieve this.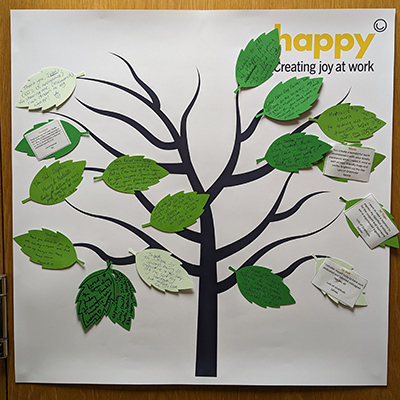 To recognise International Week of Happiness at Work in September 2023, members of the team created this Gratitude Tree. The Gratitude Tree was put up in a public space at Happy's training centre. This allowed both Happy's staff and people attending a course with us to show their appreciation for someone else, adding their note to a leaf.
Current Vacancies
Does this sound like a company you'd be proud to work for?
Currently we have no vacancies – please sign up for the Jobs list so you're the first to hear when we are next recruiting for members of the team.
We will only contact you regarding jobs. You will not receive any other emails (unless you have already signed up elsewhere).