Business Schools: Time to get your act together?
In: Blog
Date: Nov 27, 2017
By: Henry Stewart
A couple of years ago I asked a panel of Deans of business schools a question: "Business schools seem great at teaching subjects like strategy and finance, but do you think you should focus more on the people stuff which can make a huge difference?"
The response from one of the Deans was short and telling: "We do the easy stuff."
It suddenly became clear to me why so many businesses don't get it. People come out of business schools with MBAs in their thousands. They become the senior leadership of our major corporates.
They are well schooled in finance and in strategy but not in people. It should be no surprise then that there is still so much command and control and so little focus on creating happy, productive workplaces and truly empowering your people. Yet the evidence is strong that companies that focus on creating great workplace culture are more productive, more profitable and have greater share growth.
Tom Peters: "Disgusted" by the focus on finance
It turns out I am not alone in this view. At last week's Thinkers50 gathering of the world's top management gurus, Tom Peters said:
"In my opinion business schools are good at everything except what's most important: People.
"It is time at MBAs to start talking about people on day one. I am disgusted by how business schools focus on financials."
Roger Martin: Business schools need a wakeup call
Even Roger Martin, former Dean of University of Toronto's Rotman School of Management, agreed.
"There needs to be devastation in business schools, to create a wake up call. They are way too self-satisfied. 95% of what we teach 155,000 people in MBAs in the US has nothing to do with people or ethics. Why are we surprised by the results?"
At Thinkers50, Tom Peters was given the lifetime achievement award for his services to business. Roger Martin was rated the top management guru in the world. These are not fringe characters but two leading global management thinkers.
Business schools, there are lots of us who get the people bit and would love to contribute. We can help. Are you ready to step up and change?
Do you agree? Do we need radical change in how our business leaders are taught?
Hi, we are Happy
We are leading a movement to create happy, empowered and productive workplaces.
How can we help you and your team to find joy in at least 80% of your work?
Why choose Happy?
Award-winning learner-focused approach
Small class sizes to give personal one-to-one support
Two years of free support after your course
Private group options available
No quibble money-back guarantee on all courses
The course was very informative and easy to pick up tips on how to minute take.
Barbara Wilson
69 days ago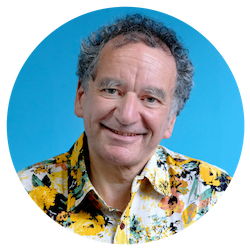 Henry Stewart, Founder and Chief Happiness Officer
Henry is founder and Chief Happiness Officer of Happy Ltd. Following a fairly disastrous job early on in his career, Henry was determined to discover what enabled a productive and happy workplace. In 1987 Henry set up what was originally called Happy Computers. Inspired by Ricardo Semler's book Maverick, he built a company with a reputation for some of the best customer service in the country and one of the UK's best places to work, winning multiple awards for its culture and philosophy. His book, the Happy Manifesto, was published by in 2013.
Outside of work he is a father of three, Chair of Governors at his local comprehensive in Hackney and a keen cyclist.
You can find Henry on LinkedIn and follow @happyhenry on Twitter.
More by Henry