Is it Time for a 4 Day Week?
In: Blog
Date: May 02, 2022
By: Henry Stewart
Andrew Barnes is one of the leading promoters of the four-day week across the world. As Founder of Perpetual Guardian in New Zealand, he implemented this approach back in 2018.
Andrew will be speaking at the 2022 Happy Workplaces Conference on 12th May.
Hi, we are Happy
We are leading a movement to create happy, empowered and productive workplaces.
How can we help you and your people to find joy in at least 80% of your work?
More about Happy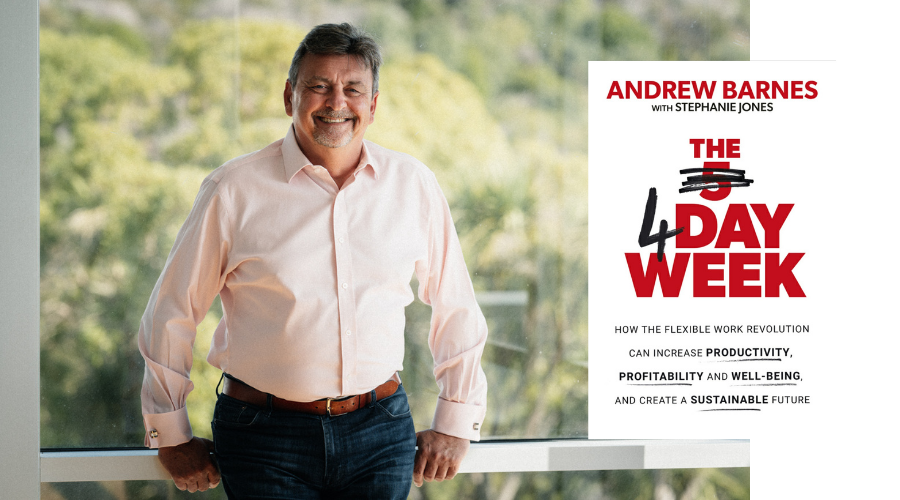 "I saw research that showed that the average British worker was being productive for only 2-3 hours per day," Andrew explains. "I wondered, was this happening in my business?"
For him the four-day week was about becoming more productive and delivering better quality customer service. The fact it improved staff wellbeing was purely a by-product.
"I choose always to speak the language of business, not the language of work-life balance and wellbeing. I reckoned my private investors were not that interested in those issues, but in how my company could be more productive and more profitable. It was about making the business better, and indeed improving — as it did — customer service.
"We had the research, that enabled me to go to my board (half being investors) and prove what I was doing was not damaging the profitability of the business. For those investors, the ideas of improving staff recruitment and staff retention were far more important than staff wellbeing.
"Our engagement went up 40% and our stress levels went down 15%. But most importantly, we became 125% more productive. Let us be clear what this is about: 100% pay, 80% time, as long as we get 100% output.
"This is a solution that makes your business better, rather than just being about wellbeing and work life balance.
"I need to emphasise, this doesn't work if there is no trust in your organisation. If your culture is toxic, this will not solve it. For a four-day week to work effectively there has to be a high level of trust between management and employees."
What is intriguing is that not every employee is keen to reduce their days. Andrew found a range of employee approaches:
Adaptive – they totally get it, and this is probably half your organisation
Doubter – they believe you are doing this for other reasons (such as job cuts), you need to explain you are bringing this in for the right reasons
Refusenik – they have no time for this at all, feel they are working every hour there is, do not believe they can do work in lesser time
Non-compromiser – Love the idea but not going to change anything about how they work
The key concept is about working smarter, not longer. One of the points for 'refuseniks' was that many were continually interrupted because of their expertise. Andrew quotes research that shows that people are interrupted on average every 11 minutes and then take 20 minutes to get back on track. So they changed how often they can be interrupted.
A big part of this is refining the work practices, in changing the processes. What can be done smarter, and what do you not need to do?
At Perpetual Guardian, a big challenge was the leadership team who assumed that working longer meant working harder. "I had to explain that we need you to give it the best shot. And we had one leader who didn't, who didn't involve people in how to work smarter and it didn't work. That team had to go back to a five-day week, before later going onto four days."
At Perpetual Guardian now, not everybody does work a four-day week. Some work four days, some take two half-days off. Some parents work five days with lesser hours. And new employees work for the first month on a five-day cycle to establish a baseline, and then go to four days.
"But we do still have some people who just want to work five days, partly because work is part of their social life. If you want to do in five days what others do in four days, then yes you can. But you won't get paid more.
"Our profile just exploded because of this. We went from being a known but fuddy-duddy brand (we do wills and trusts) to be a brand seen as progressive and a leading entity in the country. We have branded cars and people on the street would wave and give them a thumbs up. In the media, we thought we might get one article in the New Zealand Herald. We stopped counting when we got to 12,000 articles, including the second most read piece in the New York Times (after the Trump-Putin Summit), and I have spoken in 98 countries.
"When people know you are on this journey, people will want to hear about it and will want to write about it."
Andrew suggests a range of experiments, such as 52/17 – focused work for 52 minutes and then 17 minutes of break. (I prefer the Pomodoro method, 25 minutes of focus and 5 minutes break.)
"We sought to stop interruptions. We built higher baffles. We stopped people eating at their desk, so colleagues wouldn't be troubled by somebody eating a curry alongside them. Personal phone calls must be taken in a break away from the office. And we have a bright yellow flower for each person — if it's on your desk, you are not to be disturbed."
The key is to put productivity first. And it must come from the bottom up. "This is people-led. The people who will find the solutions are those at the front-line. Continually find ways to make the business more effective. It's a trial. It's an experiment.
"I'm not a social activist. I am a business person. This is the best thing I've ever done in business. It has transformed my organisation. It has materially improved the lives of the people who work for me. The only thing I regret is that I didn't do it 20 years ago.
"As I've said, for me it was not about wellbeing but about productivity. However if you have a healthier, happier, more engaged staff you are going to get a higher level of productivity."
Keep informed about happy workplaces
Sign up to Henry's monthly Happy Manifesto newsletter, full of tips and inspiration to help you to create a happy, engaged workplace.
Sign up here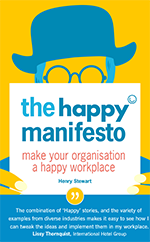 Learn the 10 core principles to create a happy and productive workplace in Henry Stewart's book, The Happy Manifesto.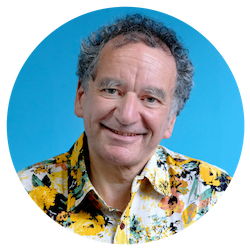 Henry Stewart, Founder and Chief Happiness Officer
Henry is founder and Chief Happiness Officer of Happy Ltd, originally set up as Happy Computers in 1987. Inspired by Ricardo Semler's book Maverick, he has built a company which has won multiple awards for some of the best customer service in the country and being one of the UK's best places to work.
Henry was listed in the Guru Radar of the Thinkers 50 list of the most influential management thinkers in the world. "He is one of the thinkers who we believe will shape the future of business," explained list compiler Stuart Crainer.
His first book, Relax, was published in 2009. His second book, the Happy Manifesto, was published in 2013 and was short-listed for Business Book of the Year.
You can find Henry on LinkedIn and follow @happyhenry on Twitter.
More by Henry
Next Conference: 2024 Happy Workplaces Conference
Our Happy Workplaces Conference is our biggest event of the year, and we'd love for you to join us next year. Save the date for Wednesday 15th May 2024!
This will be a hybrid event — we will host up to 50 people in the venue at Happy's HQ in Aldgate, London, and up to 200 people online via Zoom. The speakers will be a mix of online and in person. However you choose to join us for 2024, there will be interaction, discussion, space for reflection and opportunities to network with others.
All tickets are currently half-price until January 2024.