Download The Happy Manifesto
Imagine a workplace where people are in control of the work they do. Imagine they have freedom, within clear guidelines, to achieve their results. Imagine they are able to have the life balance they want. Imagine they are accountable for the work they do, rather than the time they spend at their desk. Wouldn't you want to work there?
This is Happy's vision, outlined by Henry Stewart in his book The Happy Manifesto. It outlines 10 core principles to create a happy, empowered workplace. Download your free copy below.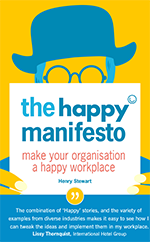 Relax! A Happy Business Story
Relax! was written by Henry Stewart, Cathy Busani and James Moran. It won't tell you what to do or what to think — it will tell you a story instead. Some of the things in the story are true. Some things we would like to be true. But they are all ideas that we fully believe will improve any workplace.
Download the Relax! PDF (633kb)
This book is also available in French and in Portuguese.
80 Ideas to Create a Happy Workplace
This three-page PDF document is a useful checklist with 80 ideas to help you create a happy workplace based around the principles of the Happy Manifesto. Start by ticking the things that you do already. If you don't but you think it is a good idea, assess if it is easy to do, or requires more effort and is a medium-term solution - or, if you don't like the idea, tick 'bad idea'. How many ideas could you implement?
The 10 Core Principles
The Happy Manifesto outlines 10 core principles to create a happy, productive workplace.
Trust your people. Step out of approval mode. Instead, pre-approve and focus on supporting your people.

Make your people feel good. Make this the focus of your management team.

Give freedom within clear guidelines. People want to know what's expected of them. But they want freedom to find the best way to achieve their goals.

Be open and transparent. More information means people can take responsibility and ownership.

Recruit for attitude, train for skill. Instead of qualifications and experience, recruit on attitude and potential ability.

Celebrate mistakes. Create a no blame culture, to enable people to innovate without fear.

Community: Create mutual benefit. Have a positive impact on the world and build your organisation too.

Love work, get a life. The world, and your job, needs you well rested, well nourished and well supported.

Choose managers who are good at managing. Ensure your people are supported by somebody who is good at doing that. Find other routes of recognition for those who have other strengths. Even better, allow people to choose their managers.

Play to your strengths. Make sure your people spend most of their time doing what they are best at.
Why not sign up to our newsletter?
Sign up to our monthly newsletter, full of tips, tricks and news to help you to be happier and more productive at work.
Sign up here
About the Author, Henry Stewart
Henry is founder and Chief Happiness Officer of Happy Ltd. Following a fairly disastrous job early on in his career, Henry was determined to discover what enabled a productive and happy workplace. In 1987 Henry set up what was originally called Happy Computers. Inspired by Ricardo Semler's book Maverick, he built a company with a reputation for some of the best customer service in the country and one of the UK's best places to work, winning multiple awards for its culture and philosophy.
Henry was listed in the Guru Radar of the Thinkers50 list of the most influential business thinkers in the world. "He is one of the thinkers who we believe will shape the future of business," explained list compiler Stuart Crainer.
His first book, Relax, was published in 2009. His second book, the Happy Manifesto, was published in 2013 and was short-listed for Business Book of the Year.
Outside of work he is a father of three, was Chair of Governors at his local primary and comprehensive in Hackney and a very keen cyclist.
You can find Henry on LinkedIn and follow @happyhenry on Twitter.
Why Create a Happy Workplace?
The benefits of happy workplaces are well documented. Every measure of performance improves when staff feel happy and engaged:
More profitable – Workplaces with happy, engaged staff are 22% more profitable. For every 2% increase in how happy staff are, revenue grows by 1%.
Higher share price - Investing in great workplaces over the last 25 years would give a 3.5% increase in return over standard workplaces.
Less sickness - Happy staff miss only 3.9 days of work on average, compared to the 10.7 days missed by disengaged staff
Lower staff turnover - Organisations with engaged staff have 26% lower staff turnover.
Better outcomes - For every 96 deaths in a hospital with engaged staff, 103 people die in a hospital where staff are not engaged.
We've seen this with our clients who have focused on creating great workplaces, and you can achieve this too.