Why Stakeholders Matter When You're Trying to Make a Change
In: Blog
Date: Jul 31, 2023
By: Rachael Worrall
When making a change it is always important to consider how it will impact others. There are those impacted that may be able to directly influence, help or hinder you along the way in making these changes - the stakeholders.
In this blog Rachael talks about the need to communicate and engage with these potential stakeholders to help ensure the changes you are making can take place smoothly and productively.
Hi, we are Happy
We are leading a movement to create happy, empowered and productive workplaces.
How can we help you and your people to find joy in at least 80% of your work?
More about Happy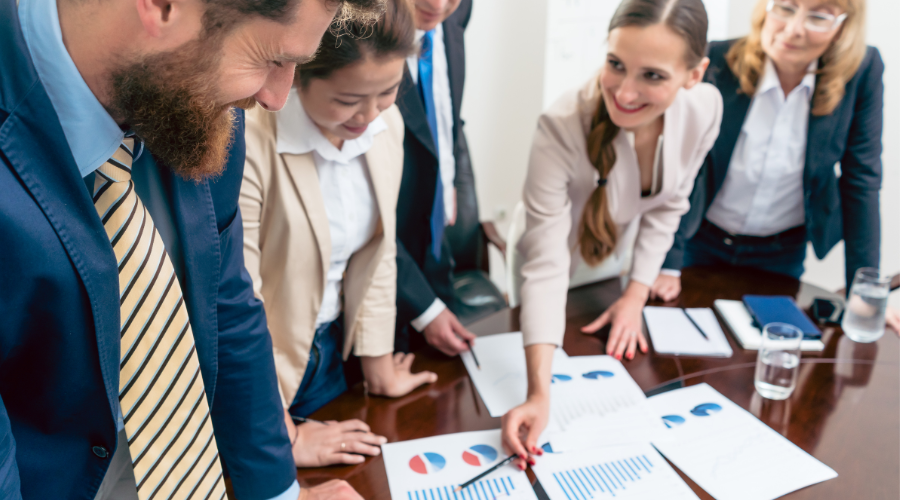 Many years ago, when I was very new to my first job as an IT Trainer, I worked for a law firm. They were rolling out a new document management system and, as was usual with rollouts, the software was still being developed as we were preparing for training delivery. I sat next to one of the developers, learning how the system worked.
We reached a search page and she turned to me and said, 'the results screen isn't finalised yet, what do you think a lawyer would want to see when they click Search?'. I wasn't sure, and unfortunately, no one asked any of the lawyers at the firm what they would have liked – and it turns out, that would have been a useful question to ask!
When products are rolled out, that failure to ask those kinds of questions to the right people often means that it's not the product people needed.
Who are stakeholders?
Too often when we're developing something for others to use, we can be guilty of forgetting to include those who will be impacted by what we do, and those who might have power over our ability to do what we're aiming to do. These people are known as stakeholders.
Our project might be a system, or something more slightly less tangible, like a social media campaign or a set of activities to bring about culture change. It could even be a personal 'project', such as something we want to achieve in our career.
None of these things can be done without stakeholders.
We can't consult with every single stakeholder, but what we can do is work out who those stakeholders are and what they need from us to be on board with the project or the change.
Many projects are run without even taking that first step of working out who all the stakeholders are. It might feel like yet another task to do in an always-packed workload, but it can save a lot of time and pain further down the line. If you find out who your stakeholders are and engage with them accordingly, you potentially:
Spot potential advocates for your project so you can harness that energy!
Spot potential detractors and consider what they need to be on board with your project
Improve the planning for your change so it better meets people's needs
Motivate those stakeholders who you will rely on to get your project over the line.
Identifying your stakeholders
Start by thinking of groups who have an interest in your project, that is those who will be impacted by the project outcome. Also, consider those who have an impact on your ability to deliver the project outcome. That is those with power or influence. You can then map these groups. Begin with broad groups. You might think about staff, suppliers, customers or beneficiaries. Then break each of those large categories down again, and again until you feel you have reached a sensible sized stakeholder group. One that doesn't need to be subdivided to make sense for your project.
The course will get you doing this, and then you'll take the next step to map them onto your Power/Interest grid. This will tell you both who your key stakeholders are and it will get you thinking about how to engage with all of your stakeholder groups.


Learn more in Happy's Stakeholder Management and Engagement workshop
Happy's Stakeholder Management and Engagement workshop will help you through the process of stakeholder identification. You might be surprised at just how many there are.
You'll have the chance to consider how much power over, or interest in your project they have and what that means for how you communicate with them. We will look at the kind of questions you need to ask about and of your stakeholders, and we will cover techniques for finding out what they need you to deliver. This next runs online on 24th October.
Related Blogs
Why not sign up to our newsletter?
Sign up to our monthly newsletter, full of tips, tricks and news to help you to be happier and more productive at work.
Sign up here
Did you know...
...project management requires a disciplined approach to defining, planning, strategising, communicating, and controlling projects?
Our range of project management workshops will guide you through this approach and our Asana and Microsoft Project courses will show you how to structure, schedule and monitor projects efficiently and effectively.
Not sure which Project Management course is for you?
Still need help? Get in touch and our friendly team will be able to advise you further, or arrange a call with one of our experienced facilitators.
Why choose Happy?
Award-winning learner-focused approach
Small class sizes to give personal one-to-one support
Two years of free support after your course
Private group options available
No quibble money-back guarantee on all courses
Rachael Worrall
Rachael is the IT Product Development Manager, as well as being our Lead IT Trainer. She is responsible for making sure all our courses are of the highest quality. She has worked at Happy for over 15 years. Rachael was awarded Bronze in the Learning and Performance Institute's IT Trainer of the Year Award in 2007.
More by Rachael