Let's Give Everybody an Equal Voice
In: Blog
Date: Jan 05, 2021
By: Henry Stewart
On a Friday in August 2020, we held our third online Liberating Structures Immersion Workshop. Once again, it was rated among the most engaging conferences we've ever held.
Imagine at your events if everybody got to speak equally. Imagine the most senior people did not get to dominate the discussion. Imagine the loudest voices weren't the ones who carried the decisions.
In this blog, Henry Stewart goes through nine Liberating Structures, which make it so everybody has an equal voice.
Why not sign up to our newsletter?
Sign up to our monthly newsletter, full of tips, tricks and news to help you to be happier and more productive at work.
Sign up here
Learn how to use Liberating Structures at our workshops
We offer two Liberating Structures workshops, held in partnership with LS London:
Using Liberating Structures Online is a perfect introduction to the Structures. It's just 2.5 hours long and held remotely through Zoom. It's perfect if you have never used Liberating Structures before.
The upcoming workshop dates are 15th February (10.00-12.30pm) and 27th April (14.30-17.00). Book now
In our Liberating Structures Immersion Workshop, you will gain hands-on experience of using at least eight of the Structures. Delivered remotely through Zoom, you'll learn how to apply them in your own virtual meetings and video conferences. The next workshop dates 1st April, 24th June and 7th October. Book now
Why learn online with Happy?
Interactive and engaging - just like our classroom sessions
Bitesize or full-day sessions - fit around your schedule
Learn from home - all you need is a quiet place to call from and an internet connection
IT Helpline - 2 years of free support after your course
No quibble money-back guarantee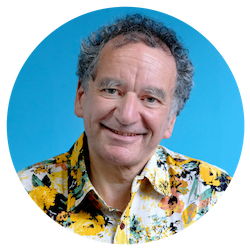 Henry Stewart, Founder and Chief Happiness Officer
Henry is founder and Chief Happiness Officer of Happy Ltd, originally set up as Happy Computers in 1987. Inspired by Ricardo Semler's book Maverick, he has built a company which has won multiple awards for some of the best customer service in the country and being one of the UK's best places to work.
Henry was listed in the Guru Radar of the Thinkers 50 list of the most influential management thinkers in the world. "He is one of the thinkers who we believe will shape the future of business," explained list compiler Stuart Crainer.
His first book, Relax, was published in 2009. His second book, the Happy Manifesto, was published in 2013 and was short-listed for Business Book of the Year.
You can find Henry on LinkedIn and follow @happyhenry on Twitter.
More by Henry