How to Use Liberating Structures to Energise Your Meetings
In: Blog
Date: Feb 21, 2019
By: Henry Stewart
Would you like every meeting, workshop, brainstorm or event you attend to feel energising, involving and fulfilling?
Hi, we are Happy
We are leading a movement to create happy, empowered and productive workplaces.
How can we help you and your people to find joy in at least 80% of your work?
More about Happy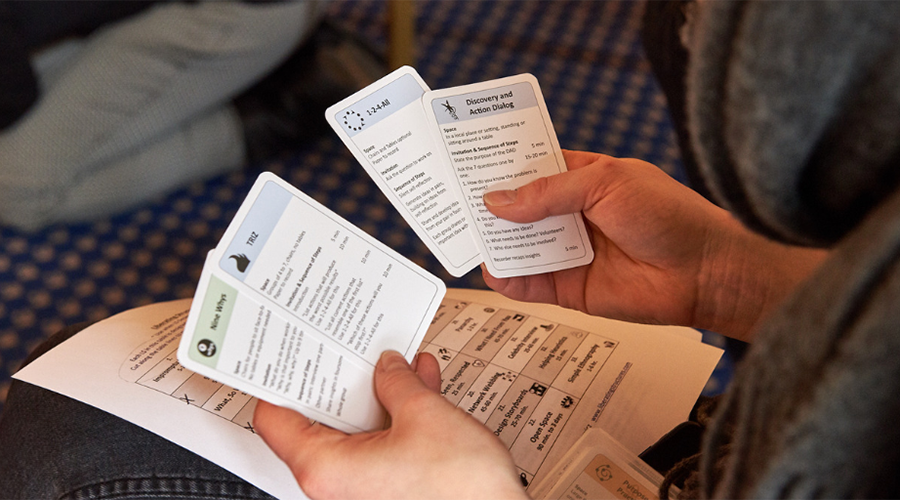 Few people say they look forward to going to meetings at work. They tend to be based on a small number of formats (presentation, discussion, brainstorm) in which the loudest voices get to say the most.
Liberating Structures has been designed to change this. It offers offers 33 different formats (with more in development), all carefully designed to involve everybody and produce clear benefits. The core idea is that having a clear structure produces a much more involving and focused result than the usual free-for-all.
"Like improv jazz, Liberating Structures sparks freedom that arises from shared understanding of simple rules."
Originally designed by Keith McCandless and Henri Lipmanowicz, they have established a Creative Commons licence for them. This means anybody can use them and anybody can teach them. You can learn about all of the structures on the Liberating Structures website.
In November 2018, Happy was proud to host the sold-out two-day London Liberating Structures Immersion Workshop, organised with David Heath and the Liberating Structures London Meetup group. People loved that it was "super interactive", the "creativity and easy flow of the sessions", "the speed of the practices, the focus on experience, the warmth of facilitators" and more.
Here are seven of the 33 structures and how to use them – give them a try at your next meeting!
Mad Hatter Tea Party
Method: Whole room groups into two circles, facing each other. Discuss question on screen for 60 seconds, move to next person, discuss new question.
"Stay curious, dig deep, have fun."
A form of speed networking, Mad Hatter Tea Party is a very efficient way to get people up and moving and discussing whatever issues you want to look at (or recap on what you have looked at).
For this structure, the questions included "something I'll be thinking about today", "what first inspired me in this work", "what I hope can happen for us" and more.
124All
Method: One minute thinking on alone on an issue, two minutes discussing the issue in pairs, four minutes discussing in a group of four, then discussed as a whole group.
I often get people to break into pairs but 124All adds the chance for individuals to reflect (good for introverts) and gives two rounds that everybody can contribute to. This can be used in any meeting to start a new topic or reflect on what's been said.
Triz
Method: In small groups, discuss what actions would lead to the worst possible outcome and explore which of these actions you are currently doing.
In this structure, we discussed what would lead to total burn out. Responses included working too long hours, not taking breaks, not giving yourself time to reflect and not getting enough sleep. Were people doing any of these? Certainly. Virtually everybody left the session with something they planned to change.
At a recent strategy day at Happy, we used Triz to ask what actions would cause the company to go bankrupt and explored which of these we were doing, and there were some. (Though we've just had a very successful year.)
(Triz stands for Teoriya Resheniya Izobretatelskikh Zadach, which is Russian for the Theory of Solving Ingenious Problems.)
Troika
Method: In groups of three, one person describes a problem while the other two ask questions. The first person turns their back while the other two discuss the issue for five minutes, then feeds back on what they heard.
One of the facilitators had tried Troika with a conference of 240 people, exploring health issues. Every person gets the chance to get a new perspective on their own challenge but also to give ideas to two others.
Conversation cafe
Method: In groups of five to seven people, state the theme. Each person gives their thoughts in turn for one minute (with a 'talking stick'), and then each in turn have one minute reflecting back on what they've heard. The group together then has an open discussion and sharing of takeaways.
The format of this structure enables everybody to contribute on an equal basis. The topic at the workshop was "what are your personal experiences of feeling overwhelmed?", and in our group it got to quite a profound place in less than half an hour. People openly shared where they were finding things difficult, creating a remarkable connection between those involved.
Conversation Cafe can be used as successfully with any business topic.
25/10 Crowd Sourcing
Method: Each person puts an idea or response on a card. People move around, swapping cards, then score the new card out of five. Repeat five times to get a score out of 25. Find the best scoring ideas and act on these.
This structure was used at the OneTeamGov conference in the summer. With 700 participants, it extracted around 60 workshop topics for the day, taken from the highest scoring cards, in around 25 minutes.
Spiral Journal
Method: Take two minutes to slowly draw a spiral in the centre of a piece of paper. Divide the paper into four sections and, with two minutes each, answer four questions.
This structure gives a chance to take the space to reflect and then address specific questions. Ours were "what I'm feeling?", "what's happening to me emotionally?", "what am I thinking about?" and "what do I need from today?"
This can be used at the start of a meeting or can be a nice break after lots of discussion.
Thank you
A big thanks to Anna Jackson (of Alpinista Consulting) and Fisher Qua, who came over from Texas and Seattle respectively to facilitate the event. Thank you also to David Heath who organised the event with Happy, and runs a monthly Liberating Structures London Meetup on the 4th Tuesday of the month – you can find out more on Twitter @LibStructLDN. Finally, a big thank you to all of the facilitators, who helped to make this immersion workshop event such a big success.
Learn how to use Liberating Structures at our workshops
We offer two Liberating Structures workshops, held in partnership with LS London:
Using Liberating Structures Online is a perfect introduction to the Structures. It's just 2.5 hours long and held remotely through Zoom. It's perfect if you have never used Liberating Structures before. Our next public workshops is on 14th December.
In our Liberating Structures Immersion Workshop, you will gain hands-on experience of using at least eight of the Structures. This one-day workshop will be held online via Zoom on 23rd November.
Why choose Happy?
Learn the skills you need to succeed
Fun and interactive workshops, whether online or face-to-face
Learn in a confidential environment with our experienced facilitators
Small class sizes to give personal one-to-one support
Private group options available
No quibble money-back guarantee on all courses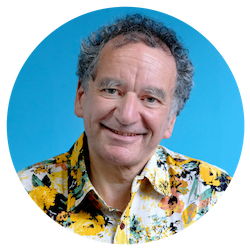 Henry Stewart, Founder and Chief Happiness Officer
Henry is founder and Chief Happiness Officer of Happy Ltd, originally set up as Happy Computers in 1987. Inspired by Ricardo Semler's book Maverick, he has built a company which has won multiple awards for some of the best customer service in the country and being one of the UK's best places to work.
Henry was listed in the Guru Radar of the Thinkers 50 list of the most influential management thinkers in the world. "He is one of the thinkers who we believe will shape the future of business," explained list compiler Stuart Crainer.
His first book, Relax, was published in 2009. His second book, the Happy Manifesto, was published in 2013 and was short-listed for Business Book of the Year.
You can find Henry on LinkedIn and follow @happyhenry on Twitter.
More by Henry