Work and Happiness in South Korea
In: Blog
Date: Oct 15, 2019
By: Henry Stewart
In September 2019, Henry was invited to speak at Conference Chang in Seoul, South Korea. The theme was 'Self, Work and Happiness', and Henry was delighted to spread the themes of happy workplaces and the Happy Manifesto.
In this blog, Henry reflects on his visit to South Korea, happiness at work and some of the talks at the conference.
Hi, we are Happy
We are leading a movement to create happy, empowered and productive workplaces.
How can we help you and your people to find joy in at least 80% of your work?
More about Happy
Promo Video of Henry Stewart speaking at Conference Chang
I was thrilled to be invited to speak at Conference Chang in Seoul last week, with its theme of 'Self, Work and Happiness'. Hosted by the Korean creative contents consultancy Hwajein, it is now in its third year as part of their designing happy workplaces campaign. It was attended by other 300 people, and a huge success.
As well as myself, speakers included Michael Peng, who runs Ideo Tokyo, the Japanese neuroscientist Mizuto Aoto, and Ryan Lee, responsible for the Baby Shark phenomenon (3.3 billion views so far on YouTube, set to overtake Gangnam Style soon).
Professor Young Chul Kang, from HanYang University and Chair of the Conference Chang organising committee, introduced the conference. He stressed the importance of psychological safety in a workplace and introduced the concept of Arbejdsglæde, the Danish word for 'happiness at work'. He asked, what puts Denmark and other Scandinavian countries at the top of the world happiness index, while South Korea sits at 54th?
He quoted the Harvard Business Review article The Value of Happiness ('how employee well-being drives profits') and the research showing that happy workplaces lead to a 37% increase in sales, 31% increase in productivity, 19% increase in accuracy and a 300% growth in creativity.
Create a workplace where people enjoy themselves
Michael Peng gave an inspiring talk about the culture at Ideo Japan: "I want to create a workplace at Ideo Japan where people are enjoying themselves. At Ideo we have an Experience Team, whose role is to work out what is the best possible employee experience for our people."
One key value is to 'make others successful.' What would your company be like if people are judged as much by how they help others succeed as how they succeed themselves?
When they design workspaces they only design 70% or so. "You have to see how people use the space, to know how to complete it."
When hiring they look for CulturalAdd, somebody who will add something different, rather than CulturalFit, somebody who will fit in. At one point a 90 year old woman applied, and was hired. "She worked for Ideo for five years. She was invaluable in giving a different perspective and being so much more aware of the needs of the older generation."
What should people do about Korean bosses that still tend to be autocratic?, asked moderator Jung Kiu Choi. "Leave," was one suggestion from Michael. His advice to the bosses was "talk less, do more. The best ideas can come from anywhere. Be a strong visionary leader, but lead from the back. If people are afraid of the boss, then they will be less creative."
He was followed by Mizuto Aoto, who explained that the neuroscience showed that unhappy brains think less well. Stress causes a reduction in the effectiveness of the prefrontal cortex.
Managers need to stop being the expert
I emphasised the importance of changing the role of the manager, to enable people to be happy and perform at their best. The role is not to be the expert and tell people what to do but to be a good coach, encourage people to play to their strengths and help them find their own solutions.
Indeed instead of making the decisions, the manager's role is to create the framework for others — those closest to the customer — to make the decisions. I, of course, spoke in English (though I did get a round of applause for managing to say Hello in Korean) and so was pleased, when talking to participants afterwards, that — with simultaneous in-ear translation — the key messages had got across, even if the jokes didn't quite seem to work! My final concept of letting people choose their managers did seem to be a bit of a challenge, as it is back home.
And all 300 participants got to dance to Baby Shark. If you haven't seen it, check it out on YouTube. You won't be able to get it out of your head!
South Korea, an astonishing success story
South Korea's success over the last 50 years has been phenomenal. In the 1970s the per capita GDP was still behind that of North Korea and on the same level as some of the poorer African countries. Today it is the 11th largest economy in the world with a per capita income around 10% behind the UK. It is hard to think of another country of its size that has reached such a level of income so quickly.
In the 70s a common slogan was "let's get wealthy". They have certainly achieved that! But the great thing about Conference Chang was it was seeking to move the country, and its businesses, beyond that to create organisations where people are happy and fulfilled.
While clearly a capitalist society, South Korea is not based on the free market principles of the likes of Friedman and Hayek. There has been active government intervention throughout. This started with industries like shipbuilding which were heavily subsidised to ensure their success, continued into the electronics and even in the Korean culture that is such a success today.
It has not been without its challenges. In 1998 the Asian financial crisis led to the closing of 14 of the nation's largest conglomerates and 12 of its banks, a 33% reduction in GDP and a $60 billion bailout from the IMF. 1.4 million Koreans lost their jobs. But a shared sense of national purpose turned it round and the loan was paid back ahead of time.
The government took an active role in looking to the future of the Korean economy. Jung Kiu Choi — partner of Boston Consulting Group Singapore — shared with me the plans set out, back in 1998, to make Korean movies, TV and music a world presence. This included building the infrastructure (such as movie sets), directly investing from a government venture fund, promoting the importance of culture and facilitating market building companies.
It has paid off with Korean culture exports now being worth $16 billion and K-Pop, Korean movies and Korean TV a major presence in Asia and Africa.
Jung Kiu Choi explained that K-Pop is now built on agile methods. They engage in sprints and create, for instance a pilot video. This is then reviewed with the customer (normally the group's fan club) and revised in a continual process. When finally released the videos often achieve hundreds of millions of views in a few days.
In Korea things get done fast. One example is the skyscrapers and structures that dominate Seoul. The bridge to the airport, for instance, is 21.4 km long – which compares to 12.3 km for the largest bridge in Europe. However my favourite is the bike project along the Han river. Right through Seoul there is now an uninterrupted, entirely traffic free, bike path for 50 kilometres on both sides of the river — alongside cafes, shops, art and sports facilities.
It continues the 400 kilometers to Busan on the south coast of Korea. Conceived by ex-President Lee in 2008, it was completed in 2012, less than the time it took to plan and complete 5 miles of bike lanes on London's embankment.
A Hard Working Culture
South Koreans are intensely hard working. One mother told me her daughter went straight from school to an after-school academy and continued studying there until 10pm. She didn't eat dinner at home. Her daughter is 8 and will continue to do this for 10 more years.
One Korean colleague suggested this was a 'Gangnam mum' (Gangnam being the elite area that Psy satirised in Gangnam Style). However though it may be unusual at 8 years old, it is the norm from 11. And the academies only close at 10pm because the government passed a law preventing them from going on later.
Competition is intense to get into the best schools and then into the best universities, in Korea or abroad (often in the US). While many accept that the hours students work are crazy, it's hard for any one set of parents to resist when everybody else is doing it.
All Koreans are aware of the cost, with the country near the top of worldwide suicide rates. Among developed nations, only Lithuania is higher and it is the leading cause of death among teens, and those in their 20s and 30s.
Another issue is the birth rate which, at just 0.98 per woman, is now the lowest in the world. Due to past generations, and improved health, the population is still rising but at some point this will cause a crisis. It is unlikely to be replaced with immigration, which is very low. One company I visited was proud of its diversity, having a Russian and a Japanese among its 80 staff.
Reducing Working Hours
The government does seem aware of these issues and has just introduced a new law, which restricts the number of hours people can work to 52 (as opposed to 68 before). Many of the Korean businesspeople I met did not approve and one study suggested it would reduce GDP by 0.3%.
That sounds good to me. If you can reduce working hours by up to 24% and only see a 0.3% reduction in GDP, that's a result. And it does indicate that those extra hours were not being used very productively.
Although the law only currently applies to companies employing more than 300 people (it extends to those with 50 from July 2020 and to those with just 5 employees from July 2021), the first research shows that it has resulted in people working less hours. Intriguingly it has also led to people spending less time in bars and more time on sports and leisure activities – with time spent on golf up 94% in one region. (Korea Joongang Daily, 12/9/19)
It is not the only progressive step from the South Korean. I was surprised to find that fathers are guaranteed paternity pay of 50% to 80% of their wages (80% up to $1,330 a month for 3 months, then 50% up to $1,100 a month for 9 months) for at least a year.
One example of Happiness at Work
Five people from CMS Lab, a cosmetics company, came to the conference and I was delighted to accept an invitation to visit their office in Gangnam. Since choosing Happiness as a key value (with Autonomy and Communication) in 2013, sales have gone from $8m to $41m and they have moved from a loss to $2.3m profit.
CEO Lee Jin Soo describes how he was shocked when he interviewed for the role: "I was told by the Chair that the first priority for the business was the happiness of the staff. This was not what I was used to after 29 years working at LG."
It certainly seems to be working. And Jin Soo has no issue with the 52 hour law: "We expect people to work eight hours a day, five days a week. They can work whatever time they want, and be at home or at the office. The 52 hour limit is no problem here. We don't have the long hours culture of LG and Samsung."
Towards a new working culture
It is clear that the strict hierarchy, based on deference, that is described in the books I read on Korean business has been changing for some time. When Lee-Kun-Hee became Chairman of Samsung, the company his father founded, back in 1987 he created what has been described as a "revolution." Before, to make a decision, 25 people had to give approval. Lee insisted there would now be no more than three levels of decision-making. (I suggested in my talk that it was now time to reduce it to no levels of approval.)
One issue is the deference in Korean names with an expectation that you call people who are not close friends or family by their surname. And with 50% of the population being called Kim, Lee or Park, that often means describing people by their job titles, like 'Mrs Lee the office manager.'
KaKaoTalk, the Korean equivalent of WhatsApp (with 80% of the population signed up, Koreans spend five times as much time on it as on Facebook) has got round this by getting everybody to use only English names. Chairman Kim Beom Soo expects all staff, at all levels, to call him Brian.
Times they are a-changing
While the big Korean corporates are inevitably still very hierarchical, many startups are taking a different tack. I am told that companies like Woowa Brothers (the leading Korean delivery app) and advertising agency Innored are developing new approaches based on trust and self-management.
One thing that is clear is that Koreans learn fast and, when they see something works, are quick to adapt to it. So while there may be few companies at the moment using these trust-based ideas, there could be a point at which it takes off faster than in the West.
All credit to Hwajein for taking the initiative in a focus on creating happy workplaces. We hope to work with them further in developing programmes that Korean business can learn and adapt to their own situation. There are exciting times ahead.
Perhaps it is time to adopt the slogan "Let's get happy."
More about Conference Chang
The underlying aim of the conference is a search for happiness at work with the aim that every organisation in Korea becomes a great workplace, full of happiness.
It is the lifelong dream of Miho Cho, CEO of Hwajein. She previously worked in broadcasting for 18 years, and played a key role in the launching and operation of World Knowledge Forum and Seoul Digital Forum for about 10 years as Producer. She quit her job in broadcasting to find her own route to happiness.
A huge thank you to all those involved in Hwajein for their generosity and hospitality during my visit. My thanks especially to Miho Cho, Professor Kang, Dr Bae and to Nathan Namkyu Kim, their VP, who was so helpful before and during my visit.
Keep informed about happy workplaces
Sign up to Henry's monthly Happy Manifesto newsletter, full of tips and inspiration to help you to create a happy, engaged workplace.
Sign up here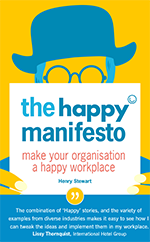 Learn the 10 core principles to create a happy and productive workplace in Henry Stewart's book, The Happy Manifesto.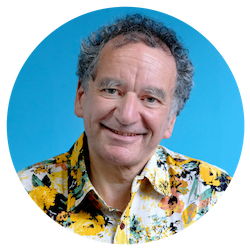 Henry Stewart, Founder and Chief Happiness Officer
Henry is founder and Chief Happiness Officer of Happy Ltd, originally set up as Happy Computers in 1987. Inspired by Ricardo Semler's book Maverick, he has built a company which has won multiple awards for some of the best customer service in the country and being one of the UK's best places to work.
Henry was listed in the Guru Radar of the Thinkers 50 list of the most influential management thinkers in the world. "He is one of the thinkers who we believe will shape the future of business," explained list compiler Stuart Crainer.
His first book, Relax, was published in 2009. His second book, the Happy Manifesto, was published in 2013 and was short-listed for Business Book of the Year.
You can find Henry on LinkedIn and follow @happyhenry on Twitter.
More by Henry
Next Conference: 2024 Happy Workplaces Conference
Our Happy Workplaces Conference is our biggest event of the year, and we'd love for you to join us next year. Save the date for Wednesday 15th May 2024!
This will be a hybrid event — we will host up to 50 people in the venue at Happy's HQ in Aldgate, London, and up to 200 people online via Zoom. The speakers will be a mix of online and in person. However you choose to join us for 2024, there will be interaction, discussion, space for reflection and opportunities to network with others.
All tickets are currently half-price until January 2024.