Think Big – like Google
In: Blog
Date: May 06, 2014
By: Henry Stewart
At the Happy Workplace 2013 conference Yvonne Agyei (Google Head of Benefits) explained Google's Think Big philosophy. Or as she put it, "have a healthy disregard for the impossible".
Watch the video: Yvonne Agyei (Think Big is from 12:12 to 16:31)
Hi, we are Happy
We are leading a movement to create happy, empowered and productive workplaces.
How can we help you and your people to find joy in at least 80% of your work?
More about Happy
Yvonne explained how 4 years ago she went to the Board, as the newly appointed Head of Benefits, to ask for an 8% increase in budget to cover increasing health care costs in the US.
Google CEO: "Why can't you just fix the US health care system?"
Yvonne felt it wasn't going well, with the board not really engaging. Eventually Eric Schmidt (then Google CEO), after talking with Larry Page (current CEO), explained: "the problem we have is every year you guys come in and ask for incremental increases and every year we approve it. What I don't see is any type of solution about how you will fix health care."
"You mean fix health care for Googlers?" asked Yvonne.
"No you need to fix the health care system not just for googlers but for the world" replied Eric
Now this was in Barack Obama's first term and he was having one or two challenges, as President of the USA, in fixing the US health care system.
The point wasn't to take it literally, explained Yvonne, but to raise our ambition. It changed the way they were thinking. Instead of coming in again with an inflationary increase they took a year, did the analysis and came back and asked for a completely different approach. "We actually came in and asked for $100 million to make Googlers healthier and adapt healthier behaviour, looking at everything to the food we serve in the cafes, our gym, everything. It was the beginning of our "optimize your life" programme."
"That they were excited about. This is an example of how we were encouraged to think bigger and it shifted the way we thought."
Build Think Big into your company DNA
Working with a variety of Googlers in organising two happy workplace conferences, I have been struck by how big vision is a basic expectation. After the success of the first happy workplace conference, at the post event review, I excitedly explained my plans to have happy workplace conferences at several venues across the UK.
His response "why are you restricting your ambition?" Why not spread globally? Now I have to admit we haven't got there yet but the challenge changed my way of looking at the possibilities and we are now in discussion with various overseas partners. Maybe even one day we will hold a happy workplace conference at Mountain View (Google's global HQ).
What would you do differently if you really thought big, and believed anything was possible?
Keep informed about happy workplaces
Sign up to Henry's monthly Happy Manifesto newsletter, full of tips and inspiration to help you to create a happy, engaged workplace.
Sign up here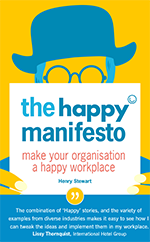 Learn the 10 core principles to create a happy and productive workplace in Henry Stewart's book, The Happy Manifesto.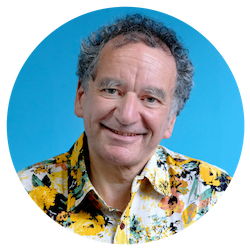 Henry Stewart, Founder and Chief Happiness Officer
Henry is founder and Chief Happiness Officer of Happy Ltd, originally set up as Happy Computers in 1987. Inspired by Ricardo Semler's book Maverick, he has built a company which has won multiple awards for some of the best customer service in the country and being one of the UK's best places to work.
Henry was listed in the Guru Radar of the Thinkers 50 list of the most influential management thinkers in the world. "He is one of the thinkers who we believe will shape the future of business," explained list compiler Stuart Crainer.
His first book, Relax, was published in 2009. His second book, the Happy Manifesto, was published in 2013 and was short-listed for Business Book of the Year.
You can find Henry on LinkedIn and follow @happyhenry on Twitter.
More by Henry