Supercharge Your Teamwork With Superengagement
In: Blog
Date: Jun 07, 2018
By: Henry Stewart
What would life be like if your employees were so engaged that work didn't feel like work?
Hi, we are Happy
We are leading a movement to create happy, empowered and productive workplaces.
How can we help you and your people to find joy in at least 80% of your work?
More about Happy
That concept, SUPERENGAGEMENT, is the title of Nikki Gatenby's book (due out in September) and also the subject of her presentation to the Happy Workplaces conference in June.
Gallup has famously found that less than 30% of employees are engaged in their work across the world. At Nikki's company, Propellernet, their surveys reveal that 90% are engaged. And 30% are "Superengaged".
Management guru Tom Peters, in his latest book The Excellence Dividend, comments "if you want employees to contribute heart and mind to the enterprise, then you must commit heart and mind to helping them achieve their dreams."
Propellernet makes their employee dreams come true, literally. Each member of staff puts their dream into The Dream Machine (an old bubble gum dispenser) and should they hit a target, win an award, or excel in other ways (because there's no rules around dreams) then they release a dreamball. The first realised dream was for two people to attend the World Cup in Brazil. The second was for somebody to ride across Africa on a motorcycle. Another brought her food blogging adventures to life with her own mobile kitchen.
"We now aim for people's dreams to become part of our business plan. Dan wanted to move away from being a consultant to being a maker, a builder of apps and online tools. He created Answer the Public which is now used by over 120,000 content marketers a month."
The idea is to help them live their dreams and give them the freedom and trust to make them come to life. That is what creating superengagement is about. "It is about making life better and daring to dream", explains Nikki.
In her presentation at the 2018 Happy Workplaces Conference Nikki will reveal what she calls "the seven plays to create a superengaged workforce." So why not attend, and find out how to go beyond mere engagement?
Nikki Gatenby is the Owner and Managing Director of Propellernet, a search marketing agency based in Brighton. "We enable our clients to be found." She has been there for a decade, having previously worked in London and Paris in advertising agencies. Propellernet has been listed within the top twelve places to work in the UK for the last six years.
Why not sign up to our newsletter?
Sign up to our monthly newsletter, full of tips, tricks and news to help you to be happier and more productive at work.
Sign up here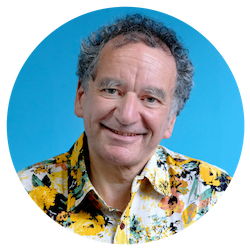 Henry Stewart, Founder and Chief Happiness Officer
Henry is founder and Chief Happiness Officer of Happy Ltd, originally set up as Happy Computers in 1987. Inspired by Ricardo Semler's book Maverick, he has built a company which has won multiple awards for some of the best customer service in the country and being one of the UK's best places to work.
Henry was listed in the Guru Radar of the Thinkers 50 list of the most influential management thinkers in the world. "He is one of the thinkers who we believe will shape the future of business," explained list compiler Stuart Crainer.
His first book, Relax, was published in 2009. His second book, the Happy Manifesto, was published in 2013 and was short-listed for Business Book of the Year.
You can find Henry on LinkedIn and follow @happyhenry on Twitter.
More by Henry
Next Conference: 2023 Happy Workplaces Conference
Our Happy Workplaces Conference is our biggest event of the year — and we're excited to announce that it will be back for 2023. Save the date for 15th June 2023!
Due to the success of previous years, we will be holding this event online via Zoom. As always, this event will include lots of discussion and interaction, with the opportunity to meet others who are on their journey to create happy workplaces.
Our speakers will be announced early next year. Previous speakers have included leadership gurus Tom Peters, David Marquet, Liz Wiseman and Bruce Daisley — as well as Andrew Barnes, author of The 4 Day Week, Helen Sanderson MBE, Professor Donna Hall CBE, and Pim de Morre of Corporate Rebels. We've had speakers from organisations such as John Lewis, WL Gore, Buurtzorg, Woohoo inc, Propellernet, Mayden, Next Jump, Foundation SP, Epic CiC, the National Audit Office, and more.
Use discount code EarlyHW23 at checkout to receive your Early Bird discount for 50% off.