Pivot Tables: How to Put Your Filtered Data on Different Excel Sheets
In: Blog
Date: Feb 06, 2013
By: Darren Andrews
Learn how to get your Pivot Table to put your filtered data on different sheets in Excel.
Hi, we are Happy
We are leading a movement to create happy, empowered and productive workplaces.
How can we help you and your people to find joy in at least 80% of your work?
More about Happy
I think we've all declared our love of Pivot Tables haven't we? If you're still undecided let us offer you another inducement.
You can learn how to create a basic Pivot Table in just 3 minutes in our previous blog, How to Create a Pivot Table.
In the screenshot below we've created a Pivot Table from our staff database. We've created this because we want to be able to see all the staff Salaries and Bonuses by department. We could have put the department field in the row labels area but ideally we'd like each department on a different sheet so that we can send the results to each department head.
So for now we've put Department in the Report Filter area of the Pivot Table.
The next step is to get the Pivot Table to place the filtered data onto new sheets, and this is just too easy…
1. Go to the Options tab of the Pivot Table tools tab on the ribbon
2. Click on the options drop down
3. Click Show Report Filter Pages
4. If you have more than one field in the Report Filter area of your Pivot Table, make sure you select the correct one!
5. Click OK – and that's it!
A new sheet has been created for each department, has been named and has got the correct data on!
Why not sign up to our newsletter?
Sign up to our monthly newsletter, full of tips, tricks and news to help you to be happier and more productive at work.
Sign up here
Learn More Pivot Table Tips in Our Online Training Courses
Learn how to create Pivot Tables and more with our online workshops, to help you to make the most from your data.
Pivot Tables and Charts — This 90-minute session will help you take large sets of data and quickly analyse them using the Pivot Table and Chart tools. We'll show you how to pick the right headings to ask meaningful questions of your data and how to edit a Pivot Table so it shows exactly the information you need. View the outline here.
Intermediate Excel Core Level 2 — This one-day course will take you through lots of time-saving techniques including Conditional Formatting, range names and formulas such as Average, Min, Max and Count IF. You will also learn how to create a basic Pivot Table to summarise large sets of data quickly and easily. Our next available public classroom course is 7th December or join us online 19th December. View the outline here.
Advanced Excel: Pivot Tables — In this fast-paced Excel course, you will discover how to use Excel's powerful Pivot Table and Pivot Chart tools to summarise and display useful and relevant information to help your decision makers use all of this data. View the outline here.
Can't see what you need? Get in touch with us and our friendly team will help you to navigate our range of programmes, or for private group sessions, we can create a course just for you.
Why learn online with Happy?
Interactive and engaging - just like our classroom sessions
Bitesize or full-day sessions - fit around your schedule
Learn from home - all you need is a quiet place to call from and an internet connection
IT Helpline - 2 years of free support after your course
No quibble money-back guarantee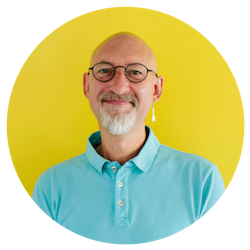 Darren Andrews
Darren is one of Happy's Senior Trainers, able to train almost every IT course on our course programme. He worked for Happy for 12 years and has been an Associate Trainer since 2018.
More by Darren