How Helen Sanderson MBE Has Created People-Centric Workplaces
In: Blog
Date: Jul 13, 2021
By: Henry Stewart
Helen Sanderson originally set up Wellbeing Teams in 2016 with the aim of radically changing the way health and social care is delivered. Inspired by the Dutch care company Buurtzorg, Wellbeing Teams are small, neighbourhood self-managed care teams. They have coaches, but no managers.
Find out how Helen created Wellbeing Teams as a self-managing organisation that is focused on letting team members be human with each other in Henry's blog.
Hi, we are Happy
We are leading a movement to create happy, empowered and productive workplaces.
How can we help you and your people to find joy in at least 80% of your work?
More about Happy
8 Ways Wellbeing Teams Work Differently
Let's create workplaces where we can be human with each other
Imagine a care team that, compared to traditional home care organisations, has one third less sickness, five times better staff retention and where people are five times less likely to end up in hospital.
That is what Wellbeing Teams have achieved in Thurrock.
Helen Sanderson founded Wellbeing Teams. Inspired by the Dutch care company Buurtzorg, Wellbeing Teams are small, neighbourhood self-managed care teams. They have coaches, but no managers.
Helen attended the first Happy Workplaces Conference at Google in 2014. Encouraged by the ideas of trust and freedom, the real eureka moment came when she read Reinventing Organisations by Frederick Laloux.
"My father died when he was 53, and as I approached my 50th birthday it set me thinking. If I only had three years left, what would I do to make a difference?
"I was so excited by Buurtzorg and in my organisation, HSA, I stepped down from CEO to create a self-managing organisation."
Helen originally set up Wellbeing Teams in 2016 with the aim of radically changing the way health and social care is delivered. At their first CQC inspection in 2019 they were rated Outstanding.
After three years as a provider of home care, Helen has now moved to providing support for local authorities and care providers in putting the Wellbeing Teams model into practice.
That is what is happening at Thurrock, where — based on the results above — the Corporate Director is exploring expanding Wellbeing Teams across their care provision. Camden Council are also developing their own Wellbeing Teams supported by Helen and her team.
Helen has been immersed in the development of person-centred practices in the UK over the last twenty years. She was the Department of Health's expert advisor on person-centred approaches to the Valuing People Support and Putting People First Teams and co-authored the first Department of Health Guidance on person-centred planning, and the 2010 guidance 'Personalisation through person-centred planning'.
"What I like to explore is how we be human with each other in the workplace, recognising we spend more time there with colleagues than with our families. How do we make the workplace be somewhere we grow and develop as people, not just for our careers?"
Hear more from Helen at the 2022 Happy Workplaces Conference
Helen is back by popular demand at this year's Happy Workplaces Conference. This time she will be talking about 'confirmatory practices'.
These are simple self-reflective statements that give the individual the ability to hold themselves to account, without any need for a manager to do so.
Speakers at the conference include best-selling author Liz Wiseman and Professor Donna Hall, CBE, former CEO of Wigan Council. We're also excited to welcome Cemal Ezel, CEO of Change Plus, and Marwa Farouq, Global Head of Operations at Teach for All.
Keep informed about happy workplaces
Sign up to Henry's monthly Happy Manifesto newsletter, full of tips and inspiration to help you to create a happy, engaged workplace.
Sign up here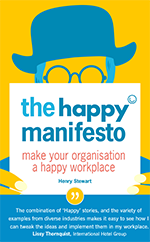 Learn the 10 core principles to create a happy and productive workplace in Henry Stewart's book, The Happy Manifesto.
Next Conference: 2024 Happy Workplaces Conference
Our Happy Workplaces Conference is our biggest event of the year, and we'd love for you to join us next year. Save the date for Wednesday 15th May 2024!
This will be a hybrid event — we will host up to 50 people in the venue at Happy's HQ in Aldgate, London, and up to 200 people online via Zoom. The speakers will be a mix of online and in person. However you choose to join us for 2024, there will be interaction, discussion, space for reflection and opportunities to network with others.
All tickets are currently half-price until January 2024.
What can you expect from an online Happy conference?
Interactive and engaging - just like our face-to-face events
Regular discussions in break out rooms with other attendees
Fun activities to keep you involved throughout the day
A focus on stories, real-life scenarios and 'nickable' ideas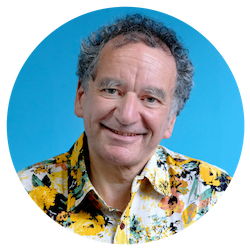 Henry Stewart, Founder and Chief Happiness Officer
Henry is founder and Chief Happiness Officer of Happy Ltd, originally set up as Happy Computers in 1987. Inspired by Ricardo Semler's book Maverick, he has built a company which has won multiple awards for some of the best customer service in the country and being one of the UK's best places to work.
Henry was listed in the Guru Radar of the Thinkers 50 list of the most influential management thinkers in the world. "He is one of the thinkers who we believe will shape the future of business," explained list compiler Stuart Crainer.
His first book, Relax, was published in 2009. His second book, the Happy Manifesto, was published in 2013 and was short-listed for Business Book of the Year.
You can find Henry on LinkedIn and follow @happyhenry on Twitter.
More by Henry