Happy Manifesto Conference, April 2013
In: Blog
Date: May 03, 2013
By: Henry Stewart
Around 80 people, from a range of organisations came together at Google's Victoria HQ on 24th April 2013 to share ideas and learn how to create happy workplaces.
Hi, we are Happy
We are leading a movement to create happy, empowered and productive workplaces.
How can we help you and your people to find joy in at least 80% of your work?
More about Happy
Henry Stewart, Author of The Happy Manifesto

Henry Stewart, author of The Happy Manifesto
Henry opened the conference by asking people how their organisation would be different if the main focus on management was on making people feel good. All agreed it would be not just a better place to work, but more efficient and more productive.
This was backed up with research from Alex Edmans at Wharton Business School. He compared the results of investing each year (over 25 years) in the companies listed in the Best Workplace list with investing in the standard stock market. Investing in a company on the Best Workplace list would have resulted in a return of 3.5% more per year. That means that if your pension had grown to £100,000 in the stock market, it would have reached £237,000 if invested only in the best workplaces.
Alex Kjerulf, Chief Happiness Officer, Woohooinc.
Alex is an international happiness guru, based in Denmark. His vision: "a world where happiness at work is the rule and not the exception." He generated a lot of energy, encouraging people to engage with their colleagues, give high fives to celebrate success and take time to get to know people at work. "What really makes us happy is when we can make a difference for somebody else."
Danish toy maker Lego has set itself the target of being one of the top 3 workplaces in Europe by 2015. All meetings there now begin with Item 0, celebrating what is going well – to start in a positive mood.
The first step to making your people happy? "Stop doing the things that make them unhappy."
Clive Hutchinson, Chief Executive, Cougar Software
Clive explained how "play to your strengths" (Manifesto principle 10) had transformed his software company. He gave the example of a poorly performing Project Manager. After working out what he was best at, he went back to being a programmer. He was happier and more productive and Cougar found somebody to manage projects for whom that was a strength.
"Don't change people to fit the job. Change the jobs to fit the people."
Marion Janner, Director, Star Wards
Marion has built a movement to transform mental health inpatient care in England and Wales. Despite her only experience being as a service user, over 80% of wards have signed up. Marion used her support dog Buddy in place of PowerPoint and we witnessed Buddy going through a series of rapid costume changes to emphasise her points. A unique presentation.
Her key learning point from the Happy Manifesto: Don't try to impose change from above. Instead give people the ideas and support and trust them to do the right thing.
Nigel Paine, Learning & Development Expert
Nigel gave a rapid-fire summary of how to implement the ten points of The Happy Manifesto. Key again is working to strengths: "Don't focus on being better at what you're not good at. Instead get better at what you are good at."
One key is not to wait for perfection. If you play darts you don't give up if you don't score 180. You have only to be good enough.
"The difference between an OK organisation and an exceptional one is 'discretionary effort' (the extra that people do). You can only get that by really motivating your people."
Mark Williamson, Director, Action for Happiness
Action for Happiness has almost 30,000 supporters across 142 countries, who have all pledged to try to increase the happiness of those around them. He opened with the intriguing fact that happy nuns live longer. A research study found that 80% were alive at 85 against 34% of unhappy nuns.
Mark showed a very entertaining clip of comedian Bill Bailey. The point? Research found that, after watching a Bill Bailey clip, people become 12% more productive. "Making people happy works!"
The unhappiest time of the day, according to research, is the time people spend with their managers.
Vanessa King, Positive Psychologist, Action for Happiness
Vanessa explained how negative emotions were needed to survive danger. But positive emotions enable personal development. She quoted Matthew Ricard: "happiness is a skill that can be learned."
"Our best ideas come in the spaces." Great ideas don't come when we are working hard but in the breaks, so you have to make sure you get good breaks.
Emma Rapoport, Google
Emma treated us as new Google managers and gave us the manager induction. This is based around Project Oxygen, which identified the 8 behaviours of great managers. What is the single most important behaviour of great managers? Read the full list of the 8.
The other emphasis was on thinking big: "At Google we are always encouraged to go for the moon shot, but supported if we fall. We celebrate mistakes. Have stretch targets." If you achieve 100% of your targets, they weren't tough enough. 70% is seen as great.
Stretch people and trust them to get there: "My manager gives me big stretch goals and, even though they've done it before, they let me work it out."
Key philosophy at Google: "Don't ask for permission. Ask for forgiveness later."
Lunchtime Workshops
Laughter Yoga: Sandar Saint & Simon Richardson, Golden Tree
Randomly Joyful: Surprising & Delighting at Work, Cheryl Joy Adamson, Make Me Joyful @makemejoyful
Create a harmonious passion for your job, Susanna Halonen, Happyologist
Dom Monkhouse, Chief Executive, Peer 1 Hosting
Dom has built two £30 million companies on the basis of creating great workplaces. "To create a profitable business, you don't start there. You start with creating a happy workplace. It's simple. Happy staff lead to happy customers, which leads to more profit."
"Get rid of stupid rules." Dom regularly offers £10 for each stupid rule people can fine, so they can get rid of them. "You have to trust people. Nobody has a rule that says don't come to work naked and yet nobody does."
The core values at Peer 1: "Sense of fun and purpose," "Anything is possible," "Enable others to succeed."
Key to Dom's philosophy is serving the customers. He asked: "We celebrate employee anniversaries all the time. Do you celebrate a client's 10th anniversary?"
Yvonne Agyei, Vice President (Benefits), Google
What makes a great workplace? "It's not about the free food and funkiness. The key is results and relationships… Within Google we seek to create a sense of community, we want them to see Google as a family. The free food is to build community. People talk over food. We want people to sit down and talk together."
The key is:
Hire great people – are they 'Googley'?
Give them autonomy
Key tests of Googley-ness:
Do you have passion?
Do you have wide interests?
Do you travel?
Do you help out in your community?
As the filing statement for Google shares stated: "Google is not a conventional company. We do not intend to become one."
Key elements: "Think/act like owners. Have a healthy disregard for the impossible. Great is not good enough. 
"It starts at the top. You need to get your most senior people to act out the culture you want."
Building a Movement for Happy Workplaces
The conference closed with discussions about how to build a movement for happy workplaces. A range of commitments were made and all those present wanted to help build the movement.
Feedback
The feedback at the end of the day was uniformly positive. For example:
"A truly inspirational day, with real life people doing amazing things to implement happy change/movement. Hopefully I will be one of them now, too!"
Emma MacKenzie, Leeds University
"My sales and profit have all increased since acting on the Happy Manifesto!"
Simon Perriton, Just IT
"This idea is such common sense, it can't help but be a success!"
Sarah Metcalfe, Sureflap
"Brilliant interactive sessions, very uplifting!"
Gaye Andrews, Peer 1 Hosting
Overall verdict: Net Promoter Score: 76% (76% giving 9 or 10, 24% giving 7 or 8, no detractors) – or average of 9.1 out of 10.
Venue: Net Promoter Score: 92% (92% giving 9 or 10, 8% giving 8, no detractors) – or average of 9.2 out of 10.
Visual Minutes
Visual minutes for the event were created by the fantastic people at Creative Connections. Watch them discuss their work and what they thought of the conference here:


Creative Connection, interviewed at Creating Happy Workplaces 2013
Keep informed about happy workplaces
Sign up to Henry's monthly Happy Manifesto newsletter, full of tips and inspiration to help you to create a happy, engaged workplace.
Sign up here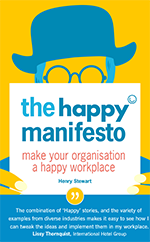 Learn the 10 core principles to create a happy and productive workplace in Henry Stewart's book, The Happy Manifesto.
Next Conference: 2024 Happy Workplaces Conference
Our Happy Workplaces Conference is our biggest event of the year, and we'd love for you to join us next year. Save the date for Wednesday 15th May 2024!
This will be a hybrid event — we will host up to 50 people in the venue at Happy's HQ in Aldgate, London, and up to 200 people online via Zoom. The speakers will be a mix of online and in person. However you choose to join us for 2024, there will be interaction, discussion, space for reflection and opportunities to network with others.
All tickets are currently half-price until January 2024.