Great work by our young Drupal apprenticeships
In: Blog
Date: Jul 25, 2014
By: Henry Stewart
For the last twelve months Happy Computers has been running a Drupal apprenticeship programme, in partnership with the Drupal community, to enable young people (fresh out of school) to get an exciting start in the world of programming. (Drupal is an open source web development framework.)
Hi, we are Happy
We are leading a movement to create happy, empowered and productive workplaces.
How can we help you and your people to find joy in at least 80% of your work?
More about Happy
Three of the youngsters have been working at Dennis Publishing and, after just four months there, have produced a very impressive site for the magazine Digital SLR Photography.
The apprentices were given total  responsibility, to help them build their  skills and their confidence. "I was adamant it would be their own product",  explains their manager. "Nobody else would work on it".
It is a great site and all agree that the young apprentices have done a great job. Do click through, it looks even better in the original.
Comments from their managers include "collaborates well, easy to teach and quick to learn", "very focused, hard worker", "good at self-development, detailed orientated, good at spotting design issues".
Would you like to take a Drupal apprentice?
Are you a Drupal programming house, a company that uses Drupal? Taking an apprentice is low cost (in fact the government provides a subsidy), and we provide the training and support. Not only does it help you to meet your need for new Drupal skills, but it helps get a young person started in the industry.
Email sheena@happy.co.uk for more details.
Keep informed about happy workplaces
Sign up to Henry's monthly Happy Manifesto newsletter, full of tips and inspiration to help you to create a happy, engaged workplace.
Sign up here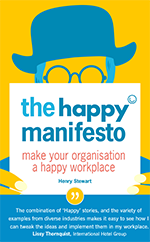 Learn the 10 core principles to create a happy and productive workplace in Henry Stewart's book, The Happy Manifesto.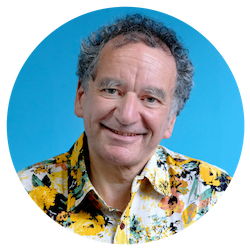 Henry Stewart, Founder and Chief Happiness Officer
Henry is founder and Chief Happiness Officer of Happy Ltd, originally set up as Happy Computers in 1987. Inspired by Ricardo Semler's book Maverick, he has built a company which has won multiple awards for some of the best customer service in the country and being one of the UK's best places to work.
Henry was listed in the Guru Radar of the Thinkers 50 list of the most influential management thinkers in the world. "He is one of the thinkers who we believe will shape the future of business," explained list compiler Stuart Crainer.
His first book, Relax, was published in 2009. His second book, the Happy Manifesto, was published in 2013 and was short-listed for Business Book of the Year.
You can find Henry on LinkedIn and follow @happyhenry on Twitter.
More by Henry