Bring Generosity to the Heart of Your Business
In: Blog
Date: Dec 31, 2012
By: Henry Stewart
One of our trainers, Dhira Wiggins, has spent most of October and November providing free database support for local charities. He had been allocated to a two month database training project, and then the client cancelled – leaving Dhira with an empty diary.
It didn't make sense, for him or for Happy, to have nothing to do so we emailed our charity clients asking if any needed some free help setting up or fixing a database (as this is Dhira's speciality). It proved quite a popular offer and Dhira ended up providing support to eleven different charities, including.
Hi, we are Happy
We are leading a movement to create happy, empowered and productive workplaces.
How can we help you and your people to find joy in at least 80% of your work?
More about Happy
The Wandle Trust, responsible for the upkeep of the River Wandle from Purley to Wandsworth. Their work ranges from dragging shopping trolleys out of the river to water testing and pollution control, to protect it as a local amenity. Until Dhira arrived they had no computerised records at all, but now can easily keep track of the project and the volunteers.
Mind in Croydon. One area of their work is to enable their mental health clients to get out and about beyond day centres, and out into the community. They needed a database of all their clients and what they have done, to keep track. Now they can answer funder reporting requirements (such as breakdowns by gender and ethnicity) with a simple query, instead of counting by hand.
Barnet Mencap. Advice on exporting data from Access and using Excel to create complex statistical reports for funders on their work in helping those with learning disabilities.
Red2Green had sent out a questionnaire survey to their disabled clients. They now needed to analyse the results and create reports for funders.
Feedback from the charities
Not surprisingly this service is very popular, with 100% agreeing that "the support brought real benefit to my organisation". Examples of the feedback received:
"We would not have been able to use our data successfully if we had not received this help from Happy."
Helen Carter, Centre for Accessible Environments
"It was just wonderful to have Dhira here with his knowledge of Access and his enthusiasm for making it work. It felt like peer learning though in fact his expertise shone through."
Denise Brady, Halley Stewart Library, St Christopher's Hospice.
Benefit to Happy
We call this our Timebank work, where we use any spare time from our trainers to help small charities – who wouldn't normally be able to afford such a service. But it bring a benefit to Happy too, in terms of both the improved skills (from real-life applications) and motivation.
"This is absolutely one of the things that keeps me here at Happy", explains Dhira. "For me, its the best way of helping charities. I see it as more effective to work here doing this for charities than it would be for me to work in a charity.
"Each database is quite small but it can make a huge difference to a small charity. They've often never had anything like it before. I'm a great believer in simple but effective solutions.
"Often I've never heard of the charity and I find it extraordinary how many people are trying to help other people out of the generosity of their hearts. Often they are volunteers or low paid. I love joining in with this atmosphere of generosity. For me, it is what humans are naturally made to do. Generosity is what we are born with, eager to help each other and its tragic if we lose that. This puts me in touch with that essential part of our human nature."
Interested in receiving help?
If you work for a small charity, in the South-East or North-West (as that is where our employed trainers are based) and would be interested in hearing when we have a trainer available for timebank work, then please enter your email, name and charity here to join the email list. We can't guarantee help but you will get notified when we have somebody available.
How can you use your skills and resources?
Could your organisation do something similar? Its great if your people are getting together to paint a school or do some voluntary work but could you have more impact if you used the skills and resources that you have? Think about how you could use them to bring real benefit to the community.
And I'd love to hear if you are doing something similar.
Why not sign up to our newsletter?
Sign up to our monthly newsletter, full of tips, tricks and news to help you to be happier and more productive at work.
Sign up here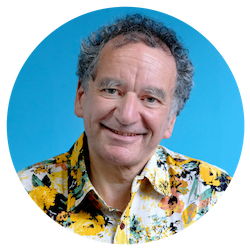 Henry Stewart, Founder and Chief Happiness Officer
Henry is founder and Chief Happiness Officer of Happy Ltd, originally set up as Happy Computers in 1987. Inspired by Ricardo Semler's book Maverick, he has built a company which has won multiple awards for some of the best customer service in the country and being one of the UK's best places to work.
Henry was listed in the Guru Radar of the Thinkers 50 list of the most influential management thinkers in the world. "He is one of the thinkers who we believe will shape the future of business," explained list compiler Stuart Crainer.
His first book, Relax, was published in 2009. His second book, the Happy Manifesto, was published in 2013 and was short-listed for Business Book of the Year.
You can find Henry on LinkedIn and follow @happyhenry on Twitter.
More by Henry