In memory: Lynne Pearce
In: Blog
Date: Aug 12, 2015
By: Henry Stewart
Lynne Pearce was a much loved member of staff at Happy Computers, who had been a trainer here for just over ten years. It is with much sadness that I write that she passed away on Friday 7th August as a result of Pancreatic Cancer.
Hi, we are Happy
We are leading a movement to create happy, empowered and productive workplaces.
How can we help you and your people to find joy in at least 80% of your work?
More about Happy
Lynne was a very supportive and gentle trainer, skilled in building confidence and capability in even the most nervous of learners. She really came into her own in the last few years, delivering our adult apprenticeships in end-user IT skills. This involved supporting learners, often nervous IT users with very basic skills, though the twelve month course and the required exams.
Feedback from her learners talked of how "welcoming", "approachable" she was, having "the patience of a saint", with "nothing being too much trouble". Lynne provided "an enjoyable experience", backed up by "in-depth knowledge". She was "always on hand to help", made it "simple to understand", was simply "such a fantastic tutor" with several learners referring to their course as the best they'd ever been on.
One email in particular sums up Lynne's dedication to her students:
————————————–
"Lynne persevered with me, encouraged me, motivated me and convincingly believed in my ability. She simply would not give up on me, and my potential in passing the Exam & Course, and in this respect Lynne has brought out the best in me.
"Her approach was always that- it was all part of a day's work and that it was part of her Job & Duty. However, I felt that she gave a lot more of herself to me and I am, and always will be extremely grateful for this.
"Lynne, is a unsung hero of Happy Computers, is very modest when she delivers her Training, and has really inspired me – in just having the privilege to have known her."
—————————————-
Lynne was a strong character with very clear views. Colleagues remember disagreements with her, but remember also that any differences would be quickly forgotten. Her contribution to the training centre included looking after and cultivating our plants, ensuring a wonderful mix of greenery in the office.
Lynne was always a healthy member of staff and was rarely sick. In April she was less than a year from her planned retirement. It was a deep shock to all of us then, when she was diagnosed with Pancreatic Cancer and given months to live.
However she became remarkably resolved to her fate, feeling she had lived a good life. Her last weeks were, thankfully, relatively pain-free. Her last days were spent in the very supportive environment of Trinity Hospice in Clapham, with regular visits from family and friends.
Lynne is survived by her daughter and grandson. Her funeral will take place in Hampshire on 24th August. Please do contact me at henry@happy.co.uk if you would like details.
Note: Lynne never liked having her picture published and so no photo is included here.
Why not sign up to our newsletter?
Sign up to our monthly newsletter, full of tips, tricks and news to help you to be happier and more productive at work.
Sign up here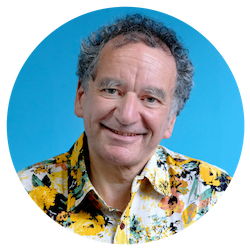 Henry Stewart, Founder and Chief Happiness Officer
Henry is founder and Chief Happiness Officer of Happy Ltd, originally set up as Happy Computers in 1987. Inspired by Ricardo Semler's book Maverick, he has built a company which has won multiple awards for some of the best customer service in the country and being one of the UK's best places to work.
Henry was listed in the Guru Radar of the Thinkers 50 list of the most influential management thinkers in the world. "He is one of the thinkers who we believe will shape the future of business," explained list compiler Stuart Crainer.
His first book, Relax, was published in 2009. His second book, the Happy Manifesto, was published in 2013 and was short-listed for Business Book of the Year.
You can find Henry on LinkedIn and follow @happyhenry on Twitter.
More by Henry