How to Get the Most Out of MyAnalytics
In: Blog
Date: Oct 07, 2019
By: Billy Burgess
Microsoft has started rolling out a brand new feature for Office 365 subscribers — MyAnalytics. This new tool provides tips for improving your focus and establishing a healthy work-life balance.
In this blog, Billy takes a look at the new features of MyAnalytics and how it can help you to use your time better.
Hi, we are Happy
We are leading a movement to create happy, empowered and productive workplaces.
How can we help you and your people to find joy in at least 80% of your work?
More about Happy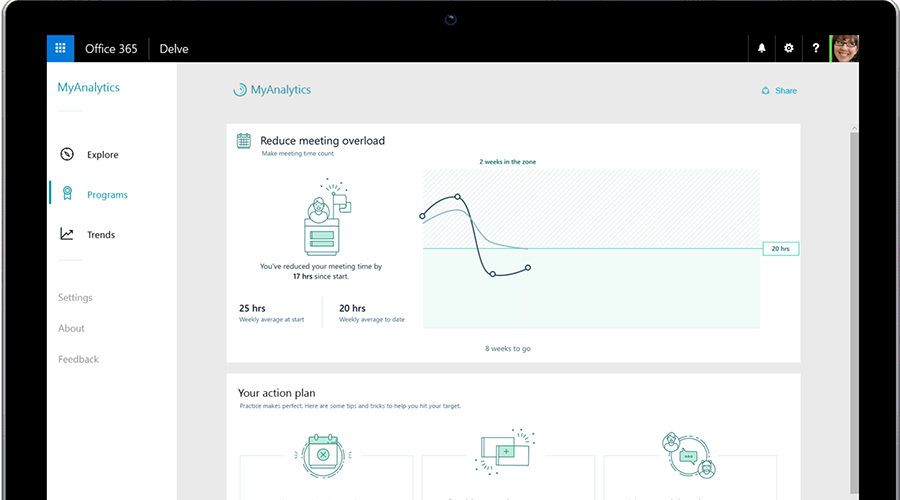 Microsoft has started rolling out its MyAnalytics feature for Office 365 subscribers. The main hub is the MyAnalytics dashboard, which provides tips for sharpening focus, improving relationships with colleagues and establishing a healthy work-life balance.
MyAnalytics is also sending out a weekly email digest summing up the previous week's activity, pointing out areas where you've succeeded as well as areas that might need attention.
We're going to break down the essential components of the MyAnalytics dashboard to help you get the most of out of it.
What are you doing with your time and who are you spending it with?
The MyAnalytics dashboard is split into four categories, which centre on two core elements of your work life: what you're doing with your time and who you're working with. The point is to boost personal productivity, while also emphasising the necessity and validity of downtime.
The four categories are Focus, Wellbeing, Network and Collaboration. The former two address what you're doing with your time and the latter two look at who you're regularly coordinating with.
The information on your MyAnalytics dashboard is derived from the previous four weeks, revealing your work patterns during that time period. It not only offers a statistical summary of how your time at work gets spent, but also suggests smarter ways of approaching work.
Focus
Focus time, as defined by MyAnalytics, is time when you're not collaborating with others. It's time for really knuckling down on a task and, you know, focusing.
The focus page gives you a rundown of your weekly and monthly averages, telling you what percentage of working hours have been devoted to independent work and how much time has been spent collaborating with others.
If the analytics make you feel like you're not optimising your time at work, MyAnalytics can provide a number of suggestions to improve your work patterns. This might involve scheduling focus time into your calendar — during booked focus time MyAnalytics will automatically silence chats in Teams and Skype for Business.
Wellbeing
Stress and burnout are serious threats in the modern workplace. MyAnalytics' Wellbeing page is set up to display how effectively you're disengaging from work out of hours, and the extent to which unscheduled collaboration is infringing on your regular schedule.
The Wellbeing page largely revolves around "quiet days," which are days that include less than two hours of active collaboration outside of what's scheduled. Active collaboration tends to be meetings, emails, web chats or phone calls.
A pie chart reveals what other work you're doing on the intended quiet days, while a four-week calendar shows you how many quiet days you've hung onto. There's also an "after-hour load" section that compares your after-hour workload to others in your organisation.
Wellbeing tips include turning off notifications when not at work and making time for a relaxation break during work hours.
Network 
The Network page tells you the size of your network, i.e. the number of people you've actively communicated with over the last month. It also keeps track of everyone you've connected with during the past 12 months.
It'll make clear your top collaborators based on how frequently you're emailing, calling, chatting or meeting with them. It'll notify you when you've fallen out of touch with a particular contact and suggest reaching out to reignite the connection.
MyAnalytics will keep track of the dialogue with your most important contacts – people you've marked as important in MyAnalytics – and help to maintain healthy relationships courtesy of unread email reminders and the like.
Collaboration
The Collaboration section of the MyAnalytics dashboard reveals the percentage of a typical week that is spent working collaboratively. A collaborator is any colleague you've joined for a meeting or with whom you've exchanged emails, chats or calls.
A dedicated Collaboration page is coming soon to MyAnalytics, which will provide more suggestions on how to strengthen work relationships as well as modify work patterns to ensure collaboration isn't taking up too much time, especially outside of work hours.
MyAnalytics is now available for Microsoft 365 and Office 365 subscribers. Click here to find out if the MyAnalytics experience is available on your current plan.
Why not sign up to our newsletter?
Sign up to our monthly newsletter, full of tips, tricks and news to help you to be happier and more productive at work.
Sign up here
Learn to work smarter in Office 365 with our Online Training Courses
We offer a host of courses that are designed to improve your productivity with Office 365, with many just 90 minutes long!
Each session is held online and is fully interactive. You will be asked questions, have activities and will be involved just like our classroom sessions.
Why learn online with Happy?
Interactive and engaging - just like our classroom sessions
Bitesize or full-day sessions - fit around your schedule
Learn from home - all you need is a quiet place to call from and an internet connection
IT Helpline - 2 years of free support after your course
No quibble money-back guarantee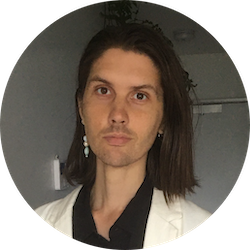 Billy Burgess
Billy has been writing blogs for Happy since 2017, covering mindfulness, stress management, confidence building and emotional intelligence as well as offering handy tips for Office 365 users. He's also an established arts, culture and lifestyle writer.
More by Billy