Happy's Web Development Apprenticeship is a 2020 Learning Awards Finalist
In: Blog
Date: Dec 03, 2019
By: Billy Burgess
It brings us great pleasure to announce that Happy's Web Development Apprenticeship Programme is one of eight finalists in the 2020 Learning Awards – Apprenticeship Programme of the Year category.
Hi, we are Happy
We are leading a movement to create happy, empowered and productive workplaces.
How can we help you and your people to find joy in at least 80% of your work?
More about Happy
The annual Learning Awards, hosted by the Learning and Performance Institute, recognise outstanding achievement in learning and development and being named a finalist is a major honour.
Although based in London, the Learning Awards accept entries from all over the world with the aim to acknowledge and salute genuine innovation in workplace learning. Whether Happy collects the prize will be determined at the awards ceremony, held at the London Hilton on Park Lane in February 2020.
About the Web Development Apprenticeship Programme
Happy's Web Development Apprenticeship endeavours to support people who have not succeeded in our education system. The end goal of the apprenticeship is for these individuals to attain long-term careers in web development.
Dating back to the programme's introduction, applicants are not assessed on qualifications such as A levels or GCSEs. Rather, Happy looks for people with a keen interest in web development and the will to succeed.
As well as lifting up individuals who are unemployed or working minimum wage jobs, the Web Development Apprenticeship contributes to greater diversity in the software development field — the latest cohort of students is 50% female and 66% BME.
Given the programme's active pursuit of individuals with no specific educational qualifications, the completion rate is a staggering 87%. From there, 95% of decorated apprentices continue to work as software developers.
Before starting the apprenticeship, Jack Holding was on a zero hours contract stacking shelves at Sports Direct, having dropped out of college. Now he is a Software Engineer with Manifesto Digital and sees a lifelong career in software development ahead of him.
"It is definitely a lifetime career," explains Jack. "At some point I may start my own company, maybe in the cryptocurrency sector. My skills give me the opportunity to do anything, I have all the technical skills to build the sites I would need."
It is an 18-month programme, which includes two days a month of classroom learning. At the beginning of each recruit's apprenticeship, Happy liaises with a range of employers with whom the apprentices complete the bulk of their learning. The employer feedback truly ratifies the programme aims.
91% of employers rate Happy as 'Good' or 'Excellent' for making the process of employing an apprentice easy to do. 91% also say the programme delivers training that reflects up-to-date practices in the industry/sector.
"The scheme is one of the very best. The assessment process, pre-start boot-camp and knowledgeable trainers mean we get engaged, motivated apprentices contributing to our business from day one," says Mark Hope, Director at Access Digital.
The most significant of the programme's achievements, however, is the life-changing opportunities it gives the participating apprentices. The programme seeks to recruit people with untapped potential, and this often means welcoming individuals who have endured difficult life experiences.
In doing so, Happy's Web Development Apprenticeship at once injects wider diversity into the software development industry and makes a difference in people's lives.
"I am very excited that our Web Development Apprenticeship has been shortlisted. This programme has been life-changing for many of those involved and is one of the things I am most proud of at Happy," says Henry Stewart, Founder and Chief Happiness Officer at Happy.
Wish us luck for the Learning Awards in February!
Why not sign up to our newsletter?
Sign up to our monthly newsletter, full of tips, tricks and news to help you to be happier and more productive at work.
Sign up here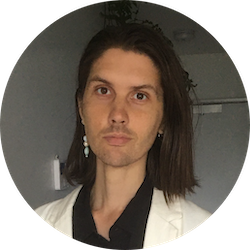 Billy Burgess
Billy has been writing blogs for Happy since 2017, covering mindfulness, stress management, confidence building and emotional intelligence as well as offering handy tips for Office 365 users. He's also an established arts, culture and lifestyle writer.
More by Billy
Bolster your team by taking on one of our web dev apprentices
All apprentices have passed our rigorous selection process and code boot-camp. Our programme is run by expert developers and the training is tailored to your business needs. We are sure they will prove to be an asset to your team. We operate across the country with dedicated training centres in London and Leeds.