Work Smarter with Google Groups Using Our Guide
In: Blog
Date: Jan 16, 2018
By: Ed Lepre
Google Groups makes it easy for groups of people to keep in touch with friends, connect with people who have similar interests, and organise projects and presentations such as project teams, departments, or teamwork to communicate and collaborate easily.
Here's a look at some attention-grabbing features to have shown up in recent months.
Hi, we are Happy
We are leading a movement to create happy, empowered and productive workplaces.
How can we help you and your people to find joy in at least 80% of your work?
More about Happy
You can send an email to everyone in a group with one address, invite a group to an event, or share documents with a group. You can also create an online forum to discuss a popular event or answer questions about a topic.
With Google Groups, you can:
Find and join a group
Post topics and responses
Create a group
Collaborate with your team
Manage groups
Share content quickly and easily with multiple people using Google Groups
You can share your G Suite content with multiple people at once using Google Groups such as:
Docs
Calendar
Sites
Files stored in Google Drive
If you add someone to your group, that person automatically gains access to content you previously shared with that group.
If you remove someone from a group, that person no longer has access to any content you shared with the group.
What is the advantage of having Google Groups?
You can use a single team email address instead of having multiple individual email addresses.
You can share resources from Google Docs, Calendar, Site and Files stored in Google Drive to your Google Group.
You can update your status to the Google Group
You can change the permissions for everyone at once, instead of changing individually.
If one of the individuals leaves your Google Group, you just remove them from the group so that they can't gain access to content you previously shared with the group. There is no need to search for it.
Here's how to create a Google Group:
In Groups, click CREATE GROUPand enter your group name and the group's email address, and group description (Optional).
Option 1
If you are creating a group within your organisation, your group's address will end with com, e.g. happy.co.uk
Note: To find or create web forums within your organisation that are not public, go to Groups and click My Groups > Switch organisation view to yourdomain.com before continuing the following tasks.
Option 2
If you're creating a public group, your group's address will end with com.
At the top of the page, click CREATE
Add people to your new group.
Select content that you want to share, such as calendars, sites, docs, and files stored in Drive.
Find the sharing feature for your content:

Calendar: Under My Calendars, go to your calendar and click More options > Settings. Go toAccess permissions and choose your sharing options. If you want to send a shareable link to your calendar, at the bottom, click Get shareable link > Copy Link. If you want to share your calendar with a specific person, go to Share with specific people and click Add people.
Classic Calendar: In the sidebar, next to the calendar you want to share, click the Down arrow > Share this Calendar.
Sites: Click Add people.
Classic Sites: Click Settings >Sharing and Permissions.
Docs, Sheets, and Slides: ClickShare in the upper corner.
Forms: Click More> Add collaborators.
Drive: Click Share.
6. Enter your Groups address (such as happy@happy.co.uk) where prompted and confirm your sharing permissions.
Do you use Google Groups? How have they helped you to work more effectively?
Why not sign up to our newsletter?
Sign up to our monthly newsletter, full of tips, tricks and news to help you to be happier and more productive at work.
Sign up here
Learn to work smarter in Microsoft 365 and Google Workspace with our Online Training Courses
Our online training sessions are 90-minutes and full of interaction with your trainer and other learners — just like our classroom training courses!
Each session covers a feature that will help you to be more productive at work. You can take just one session or take several from different Microsoft and Google packages — pick and choose the sessions that will be most relevant to you. And because the sessions are online, you can learn from home at a time best suited to you.
Why learn online with Happy?
Interactive and engaging - just like our classroom sessions
Bitesize or full-day sessions - fit around your schedule
Learn from home - all you need is a quiet place to call from and an internet connection
IT Helpline - 2 years of free support after your course
No quibble money-back guarantee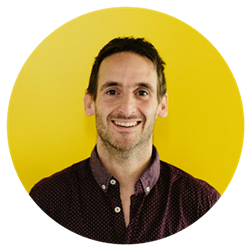 Ed Lepre
Ed is a Microsoft Certified Trainer (MCT) and has worked at Happy for over 12 years. Although he trains the full suite of MS Office and non-Office packages at all levels, his favourite package is Excel. A previous winner of the prestigious Learning and Performance Institute's 'Learning Professional of the Year' award, as well as other training accolades, he is also the IT Helpline Manager.
More by Ed