The One Question That Gets Results in Learning
In: Blog
Date: Sep 06, 2016
By: Lucy Blake
When you are commissioning learning or designing your own, one thing you want to be clear about is its purpose.
Hi, we are Happy
We are leading a movement to create happy, empowered and productive workplaces.
How can we help you and your people to find joy in at least 80% of your work?
More about Happy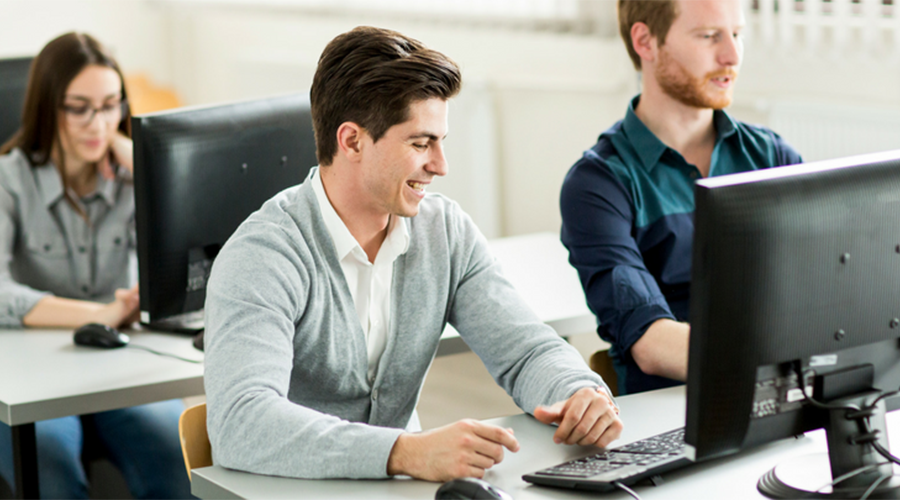 This is, of course, obvious. Nobody would initiate a learning project without knowing the need for it and understanding how that need aligns with where the organisation is going. But it's amazing how often the core aims of a learning project can remain uncovered or get lost once a project is underway.
Here at Happy we use one key question to get that thinking back on track. And it's important because the answer to this question should act as a guiding light for every step of the learning development.
So if you are commissioning learning or designing your own – whether it's for the classroom, online or somewhere in between, ask yourself this one question:
'Imagine for a moment you have rolled out the learning, imagine what's everyone has completed it and imagine it's been a great success. Now tell me, what's changed?'
This question is the quickest way we have found to get to the heart of the problem that the learning should address.
When you stop and focus on the change you want to affect a number of things become a lot clearer:
It is suddenly easier to think about and sum up the ways in which your organisation or project will work better as a result of the training.
The specific behaviours, practises and skills that need to be enhanced or change become easier to identify.
The key messages of the learning become tangible and what needs to be covered and the most effective way for learners to explore it becomes more obvious.
Let's look at a real life example.
We were recently approached by a global organisation that needed to roll-out online anti-corruption training to all its employees. They were clear that the learning needed to be completed in a one-time sitting and it should be no longer than 30 minutes. It was a fairly standard eLearning brief, particularly where there is a compliance need.
The business sponsor and subject matter expert had already identified and produced a lot of interesting, good quality content for us to work with and transform into active learning.
We assumed from early conversations and the content sourced that their aim was to raise all the employee's ability to identify and counter bribery risks.
But then we asked our question… imagine for a moment that everyone has completed their training and imagine it's been a great success. What's changed?
What the client said was unexpected:
"Well… it is important that we raise people's awareness and understanding of corruption, but we have a dedicated helpline to support those reporting potentially problematic situations, the problem is that very few people ever contact them.
"If this training was successful people would be more alive to the risks and seek help sooner. Basically the helpline phone would be ringing a lot more often."
This simple but crucial bit of information completely transformed our approach and their learning programme.
We did the obvious things of finding lots of ways to make references to the helpline and included 'ask the expert' sections to demonstrate the sorts of real world queries the helpline might assist with.
Much more importantly, we changed the emphasis of our content. Whereas we had previously focused on certainties, for instance what a bribe might look like, we now reframed our approach so that we focused on the ambiguities.
We still covered the basics of anti-bribery, but we also provided lots of activities designed to focus the learner on the nuances and complexities of bribery and in recognising the sorts of situations in which they might want to get help.
The result was a highly targeted course that got the helpline phone ringing.
So if you are developing learning or about to approach a third party to develop it for you, make sure you imagine everyone has completed their learning, it's all been a great success. Now ask yourself what's changed?
That question will lead you to the most useful summation of what you are trying to do and how you should do it.
Why not sign up to our newsletter?
Sign up to our monthly newsletter, full of tips, tricks and news to help you to be happier and more productive at work.
Sign up here
How will we bring your learning resources to life?
We create digital learning on any subject matter or specialism.
You don't need to have any existing learning materials, either. Whether it's formal SCORM packages or online resources, we work with your subject expert to create material that your learners will love.